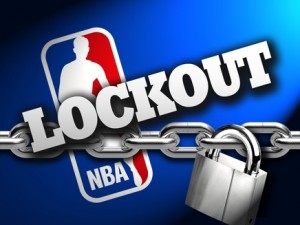 Within the four major North American sports, it is no secret that the NHL has been entrenched at the number four spot behind the NBA, MLB and the grand-daddy of them all, the NFL.
Hockey is without a doubt the most popular sport in Canada, that has never been an issue. It's within the good ole' US of A where the NHL has finished 'outside of the medals' on a year-in and year-out basis. Compared to the other three majors, the NHL has the smallest amount of sponsorships, smallest total fan base and smallest revenue from TV deals.
Chances of the NHL being a competitive threat to the NFL and MLB is a long shot to say the least. It would be like trying to sink a battleship with a rowboat and a Nerf gun.
However, there is the NBA. The NBA is without a doubt the NHL's closest, and most realistic, competitor. As the NBA heads into what looks to be a long and perhaps season ending lockout, the NHL can maybe gain some fans, popularity and extra revenue in the wake of a winter with no pro hoops action.
It is possible. The NBA's number have dropped in recent years after all, both in ratings and revenues. Conversely, the NHL has been gaining popularity since their own work stoppage during the 2004-2005 season. The league has seen a 66 percent rise in advertising since the lockout. During the 2010-2011 season, the league's website traffic increased 29 percent and merchandise sales were up 22 percent over the previous season.
So things were already looking up. The NHL's recent upward trend could be attributed to their Chief Operating Officer John Collins. Since the lockout, Mr. Collins started a strategy of using various digital medias in reaching out to fans, playing right into the league's largest demographic, the coveted males aged 18-34 bracket. The league has also used big events such as The Winter Classic and The Heritage Classic to become more visible to sport fans. These efforts showed when the NHL posted their largest ratings ever during the 2010-2011 regular season and playoffs, according to Reuters.
The NHL also has done a great job of promoting their stars like Sydney Crosby and Alex Ovechkin through various ad campaigns and shows like last year's Winter Classic 24/7. Casual fans now know who to root for and can relate to the players. NHL players are known for being "down to earth" and humble guys. Guys you would want to have a beer with. HBO's 24/7 showcased that beautifully.
Currently, there are 30 cities that lay claim to an NBA franchise. Of those 30, 14 also boast an NHL franchise, leaving 16 cities where there is no other major pro sport being played between NFL Sundays. So how can the NHL take advantage of this?
First, they should get more media coverage by default. Sport shows still need highlights to fill air time and news papers still need content to fill pages. SportsCenter has to replace all those lost dunk highlights with something, right? In those cities that have both an NBA and NHL franchise, sport shows can't talk about games that aren't being played, so the NHL team should see more coverage.
Second, sponsors still have money to spend. With no NBA games being played, they need to find another vehicle to attach their ads to. The NHL should fit nicely there. Over the summer Comcast, who owns Versus, bought NBC Universal. This will result in Versus becoming NBC Sports. It will also result in more NHL games being aired nationally, becoming more attractive to national and local sponsors.

Third, some cities are poised for NHL fandemonium. Cities like Boston, Chicago, New York and Dallas all have great potential to have fans begging for hockey without NBA games to distract them. Plus they are some of the largest markets in the United States. Boston and Chicago both have recently won championships. Cities love championships and people will tune-in and open their wallets if they believe they are watching a winner. New York brought in some major talent over the summer in Brad Richards and can steal some basketball fans from struggling teams like the Knicks and Nets. The Dallas Mavericks just won the NBA title and fans in that market are more sports hungry than ever. They may tune into Stars game in order to fill the Sunday to Sunday void.
Gaining fans, revenue and market share isn't going to happen all on its own. The NHL will have to work a little. There are still some major factors working against them.
Even though pro basketball is stopped as of now, college hoops will still be played and televised. Hockey has also been known as a niche sport and hard to understand. Will fans take the time to learn the game? Will the stigma of a rough and goon laden league keep uniformed fans away?
It will remain to be seen. The NBA lockout can end tomorrow and all this talk will be moot. Even if the NHL does gain large amounts of converted NBA fans, can they keep them once the NBA does come back? Who knows?
Those are questions for the league's powers-that-be. Hockey fans around the world can rejoice tonight as the puck drops on what should be another exciting season of NHL hockey, while basketball fans look as if they will channel surfing for the time being. Will they land on an NHL game? Let's hope so.