The Central Division was easily the best division in the NHL this past season. All seven teams finished with at least 90 points and five of them qualified for the postseason, including Nashville and Winnipeg. Before the season began, those two teams were not often being considered as playoff contenders in the Central. Nashville was able to rise to the top of the standings early while Winnipeg had an excellent second half to make the postseason. Next season is bound to be just as unpredictable as this past one. Each team has a lot of good in them but there are key weaknesses for each club as well. Let's take a closer look at the strengths and weaknesses of each team in the Central heading into next season.
Chicago Blackhawks
Let's start with the defending Stanley Cup champions, shall we? They finished third in the Central in 2014-15 with 102 points and will look to be a playoff team yet again.
Strengths: Forward depth, elite top defensemen
Despite losing emerging star Brandon Saad to the Columbus Blue Jackets, the Blackhawks possess one of the best forward groups in the entire NHL. They had ten players score double-digit goals this past season. As of now, eight of those players will be returning next season and newly acquired Artem Anisimov will likely join that group of double-digit-scorers. It starts at the top, as Johnathan Toews and Marian Hossa are two of the best dual-threat forwards in the NHL. They can defend just as well as they can score and are two big reasons the Blackhawks have won three Stanley Cups since 2010. The two Patrick's (Sharp and Kane) are absolutely deadly with the puck, both while shooting and passing. Depth forwards Andrew Shaw, Marcus Kruger and Andrew Desjardins produce well for the minutes that they play. Teuvo Teravainen exploded in the postseason and could be the Blackhawks X-factor for the 2015-16 season. The Blackhawks are stacked up front and will continue to contend in the postseason with that elite group of forwards.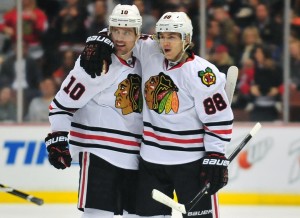 The Blackhawks also have a group of three, yes three, elite defensemen. In my eyes, nobody has a better top-three in the league than Chicago. We all know about Duncan Keith playing absurd minutes and posting incredible possession statistics, but the other two deserve just as much praise. Brent Seabrook is physical and can score while Niklas Hjalmarsson is one of the best shot-blockers in the NHL. Come playoff time, those three turn it up to a new level and are difficult to beat.
Weakness: Defensive depth
If the Blackhawks do end up trading Brent Seabrook, their defensive depth situation gets worse than it already is. It is a good thing they have the best top-three in the league because after that it starts to get a little murky. As of writing this, the only other NHL defenseman the Blackhawks have under contract aside from the top-three is David Rundblad. Trevor Van Riemsdyk could be an NHL regular next year, bringing their total to five NHL defenseman. Johnny Oduya and Michal Rozsival are both unrestricted free agents and the Blackhawks have zero space to work with in the salary cap. Chicago would like to move Patrick Sharp or Bryan Bickell, but both have clauses that restrict the Blackhawks' options. They will need to make some space to bring in NHL-level defensemen or the bottom-three blue-liners will be victimized often next season.
Minnesota Wild
Although the Wild once again fell victim to the Blackhawks in the playoffs, they were the last Central division team to be eliminated from the playoffs. They finished fourth in the division in 2014-15 with 100 points.
Strengths: Team defense, skillful youth
While Devan Dubnyk was (rightfully) receiving a ton of praise for his play to get the Wild into the playoffs, one thing that needs to mentioned is the overall team defense this group plays. Mikko Koivu and Zach Parise are severely underrated in terms of their defensive ability, while Minnesota boasts one of the best blue-lines in the NHL with Ryan Suter, Jared Spurgeon, Marco Scandella, Jonas Brodin and Matt Dumba all playing well this past year. Their system will continue to contribute to their success, as long as their players are buying in.
Veterans like Parise, Suter and Koivu are well-known for their talents, but the Wild have a large group of youth who are emerging as some of their best players. Mikael Granlud enjoyed a 39 point campaign last season and is on the verge of breaking out for Minnesota. Nino Niedderreiter and Jason Zucker each had 20-goal seasons and they are 22 and 23 years old, respectively. Remember that stacked defensive unit I touched on earlier? Brodin, Dumba, Scandella and Spurgeon are all under the age of 26. That group is going to be strong for a very long time.
Weaknesses: Top-end scoring, goaltenders not named Devan Dubnyk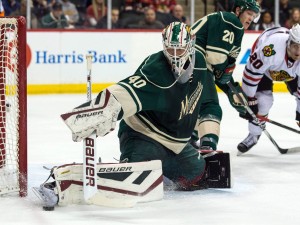 Parise finished the year with 62 points, which was tops for the Minnesota Wild. He finished tenth in the NHL with 33 goals but after that it gets a little troublesome for the Wild. They have a quality mix of forwards but could use more scoring from the guys that they pay to do it. Vanek's 52 points are not reflecting his price tag and his defensive game leaves no room for excuses on the offensive end. If Dubnyk falters a little next season, which wouldn't be unheard of, the Wild will need some of their top players to put more pucks in the net.
Speaking of Dubnyk, it was his incredible play that lead the Wild into the playoffs this past season. That being said, if they didn't trade for him in January the Wild may have been a lottery team thanks to Darcy Kuemper and Niklas Backstrom. Dubnyk started 39 straight games for the Wild which was the longest streak of starts for a goaltender since the 2007-08 season. Can the Wild afford to give Dubnyk some rest next season? If Backstrom and Kuemper play as they did in 2014-15, it will be hard to stray away from Dubnyk. Fatigue could play a factor here and it will be something to look out for next season.
Nashville Predators
The Nashville Predators were also eliminated by the Chicago Blackhawks in the postseason after finishing second in the Central with 104 points.
Strengths: Wealth of defensemen, strong goaltending
Both of their strengths go hand in hand, but the Nashville Predators boast one of the best defensive teams in the NHL. Only three teams in the NHL gave up less even-strength goals than the Predators did in 2014-15.
Remember when I said the Wild have one of the best blue-lines in the NHL? Well the Predators have the best blue-line in the NHL (sorry Calgary). Top-to-bottom, nobody is better than this group of defensemen. Shea Weber has seven straight top-eight finishes as far as Norris voting is concerned. Roman Josi might even end up winning one before Weber does (Weber finished fourth, Josi fifth in this season's Norris voting). Now that I'm done talking about the two almost-Norris winners, I better touch on the other four defensemen who all finished as better even-strength possession players than Weber and Josi. Mattias Ekholm (56.33 Corsi-for-%), Ryan Ellis (55.51 CF%), Seth Jones (54.08 CF%) and Anton Volchenkov (51.64 CF%) all finished the season better than Josi and Weber on the possession meter. Volchenkov won't be returning next season, but the Predators have already signed a similar defenseman in Barret Jackman. This defensive unit is only getting better as the years go on, and that is a scary thing to think about.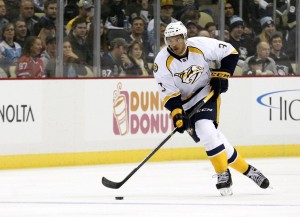 Many strong defensive groups are complimented by an excellent goalie and the Predators have that in Pekka Rinne. He just finished second in Vezina voting this season and has been a top-three finisher three times in his career. He is still one of the best goaltenders in the NHL and playing behind that defense certainly doesn't hurt Rinne's statistics.
Weaknesses: Depth scoring
Although known for being a defensive team, the Predators scored a ton of goals this past season. Most of them came from their top two lines as Nashville struggled tremendously finding some scoring down the lineup. Just six forwards scored more than nine goals for them in 2014-15. That will have to get better if the Predators are going to continue to succeed in the ultra-competitive Central division.
Depth scoring is important for several reasons. It provides a backup for when the opposition is shutting down your top lines. It helps make up for injuries to top players. The Predators were rather fortunate on the injury front this past season, as most of their best players played almost the entire season. They recently signed Cody Hodgson, could he rebound his career and provide the depth scoring the Predators need? Only time will tell.
St. Louis Blues
The St. Louis Blues were downed in the first round (again) by the Minnesota Wild. They finished first in the Central Division with 109 points.
Strengths: Elite scoring, strong top-defensemen
Somebody call Blues General Manager Doug Armstrong and tell him to pay Vladimir Tarasenko whatever he wants, because he is the real deal. 37 goals and 73 points for the 23-year-old Russian and one of the more entertaining players in the entire NHL. After him, the Blues have some more really good scoring threats. Alexander Steen proved that his breakout 2013-14 season was no fluke, as he scored 24 goals and 64 points this past season. Like Tarasenko, Jaden Schwartz and Jori Lehtera are developing into young stars for the Blues. Paul Stastny didn't quite live up to expectations but the common-thought there is that he got better as the season went on. The Blues lost T.J. Oshie but that won't be as big of an impact as some think. The Blues have some of the best goal-scorers in the division and it is a major strength for them heading into next season.
Their best two defensemen, Alex Pietrangelo and Kevin Shattenkirk, are elite talents as well. They each posted 40+ point seasons, a tremendous feat for two defensemen. A lot of their production came on the powerplay and they are lethal with the man advantage. Rumors are abound that Shattenkirk is on the trade market, but I just don't see that happening unless the return is enormous. Elite right-handed defensemen are highly coveted commodities and the Blues have two of them. It isn't likely either of them are going anywhere.
Weaknesses: Defensive depth, Who's the Starting Goalie?
After Pietrangelo and Shattenkirk, it gets pretty ugly for the St. Louis Blues. Bouwmeester appears as though age is starting to catch up to him, as his 2014-15 season was a struggle. Carl Gunnarsson was decent, but his possession stats are among the worst in St. Louis. Following Gunnarsson, you have a group that hasn't played a lot for St. Louis so it is tough to tell what they will bring to the table. Chris Butler and Petteri Lindbohm were average for them last season playing somewhat sheltered minutes. They each played 33 and 23 games last season, respectively. Robert Bortuzzo looked promising but only played 13 games for the Blues, we will have to wait and see what he brings to their blue line next season. The defensive depth is a question mark and it leads to another one in the net.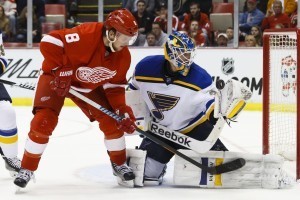 Who's the starter for the St. Louis Blues? Brian Elliot played more games than Jake Allen in the regular season and put up better numbers, but then it was Jake Allen starting in the playoffs. Elliot finished 21st among qualified goaltenders in save percentage while Allen finished 29th. Those aren't terrible numbers and at least their goaltending duo is cheap (looking at you Dallas), coming in with a combined cap hit of $4.85M. The real issue with the dual-goalie format is the postseason. At that time, teams establish a starter for the postseason and rarely do you see them alternate starts because it can become a giant "what if" if they lose. Both of these goaltenders let in their fair share of soft goals, leading more into the difficulty of this situation. The Blues really need one of these two to establish themselves as the full-time starter or they could be looking at another first-round exit.
Winnipeg Jets
The Winnipeg Jets made a surprise appearance in the playoffs before being swept by Anaheim in the first-round. They finished fifth in the Central Division with 99 points.
Strengths: Goaltending (!!!), team defense/physicality
Let's just acknowledge it now, Ondrej Pavelec was nothing short of outstanding this past season. He finished 16th in save percentage and 12th in goals against average. His backup, Michael Hutchinson wasn't far behind him in either category. Both goaltenders at the NHL level played superbly for the Jets this season and was a big reason why they were able to surprisingly crack the top-eight in the Western Conference. The big question will be can they sustain that level of play heading into next season. I think they can, and it is because of their other strength I have listed.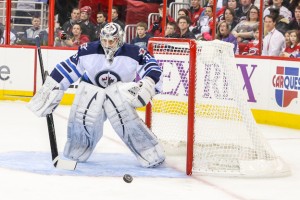 As many people found out in the postseason, the Winnipeg Jets are among the most physical in the NHL. If you're on the other side and you are trying to make a play, you better be prepared to pay for it. Aside from just the physicality portion of it, the entire team plays fantastically as a defensive unit. They don't give up a lot of shots, in fact only three teams gave up less even-strength shots against than the Jets this past season. Their defensive group is as intimidating as they come. Mark Stuart, Dustin Byfuglien, Tyler Myers, Ben Chiarot and Jacob Trouba are all big guys that use their size to their advantage. In part thanks to their excellent shot suppression, the Jets finished last season as a top-10 possession team. They will have to duplicate that performance to make the playoffs against next season.
Weaknesses: Depth scoring, discipline
The Jets didn't have to be great offensively thanks to their defense but if the defense slips up next season Winnipeg could be in trouble. They were 20th in the league in even-strength scoring and a lot of that has to do with a lack of depth scoring. Andrew Ladd and Blake Wheeler provided a lot of the scoring for the Jets, with Bryan Little and Mark Scheifele a little behind them. Michael Frolik put up some points for the Jets but he is headed to Calgary now. Mathieu Perreault has emerged to be the only real threat to score on the Jets outside of the top-two lines. They haven't made any notable signings to increase that potential, but some of their prospects could help. The Central Division and Western Conference is getting better and the Jets will need their scoring to get better in order to keep up.
The main problem that has to be fixed going into the 2015-16 season for the Jets is their team discipline. At even strength, nobody in the NHL had a worse penalty differential than the Winnipeg Jets in 2014-15. Part of that is the physical style of game they play, part of it is just a lack of discipline. We saw some of it emerge in the playoffs against the Ducks. Of the top-seven penalty-takers in the league in the regular season, the Jets were three of them. Nobody took more even-strength penalties than Dustin Byfuglien this past season. As a result, only four teams gave up more power play goals than the Jets, despite Winnipeg posting the 13th best penalty-kill percentage in the entire league. The team discipline issue will need to be addressed heading into next season.
Dallas Stars
The Dallas Stars struggled out of the gate and ultimately couldn't recover, finishing sixth in the Central Division with 92 points. They were seven points back of a playoff spot.
Strengths: Overall team offense, elite scorers
Take one look at a stat sheet for the Stars and there is no questioning what their strengths are heading into the 2015-16 season. Jamie Benn won the Art Ross trophy for most points in the NHL, Tyler Seguin was not far behind in seventh place and only the Tampa Bay Lightning scored more goals than the Dallas Stars this past season. Jason Spezza's 62 points would have had him leading a handful of teams as well. John Klingberg had 40 points in 65 games, his points were the most among rookie defensemen and 26th among all defensemen. Those four players make up the top-end of the insane offensive attack for the Dallas Stars, but every player on the team had a big impact on the offense.
Top-to-bottom, there is not a better offensive group in the Western Conference. Cody Eakin had the most defensive zone starts than any other forward on the team and still managed an impressive 40 points. Fourth-line players such as Shawn Horcoff and Vernon Fiddler each were able to get to the double-digit goal marker. Patrick Eaves contributed 14 goals and 13 assists. Despite his defensive struggles, Trevor Daley scored a career-high 16 goals. Almost everyone scored at or near a career-high pace. All that being said, Ales Hemsky only put up 32 points and was dealing with an injury for most of the season while Valeri Nichushkin only played in eight games due to injury. This offense might be even better next season.
Weaknesses: Questionable goaltending, team defense
The Stars have already attempted to right the goalie ship by adding Antti Niemi, giving Dallas the most expensive goalie-duo in the league. The hope is that both Niemi and Lehtonen can recover from poor seasons, but the fact is we won't know if that is going to happen until they hit the ice. So that part of the game remains a question mark heading into 2015-16. In the 2014-15 season, the Stars were a top-ten possession team and actually gave up less shots than over half of the league. The team save-percentage was atrocious thanks to Lehtonen having his worst year in Dallas and the collective backups rarely winning a game. If Dallas can even post a league-average save percentage next season, that could be enough to get them back into the playoffs.
There are two sides to giving up goals and another one is overall team defense. Many like to point to just the blue-line group and put fault on them, but they actually were not that bad for 3/4ths of this past season. The system that Lindy Ruff has the Stars play can be a risky one, but it has its benefits as evident by the goal scoring. The team as a whole gave up a lot of quality scoring chances. If they aren't able to improve on the team defense, the goaltenders will have to make up the difference.
Colorado Avalanche
There may not be a better example of how tough the Central Division is than the past two seasons for Colorado. First in the division to last in the division in just one year, as they finished seventh this season with 90 points.
Strengths: Goaltending, Goaltending, Goaltending
The Avalanche struggled in a lot of aspects of the game this season but once again their goaltending kept them in the fight, probably a lot longer than they should have been. Semyon Varlamov wasn't as good as he was in the previous season but he was still an absolute force, posting the 12th best save percentage in the NHL. Backup Calvin Pickard played in 16 games and posted an absurd .932 save percentage while Reto Berra appeared in 19 games and put up a respectable .918 SV%. All three goalies played really well for Colorado, and they had to. Colorado finished 23rd in the league in goals per game, 29th in even-strength shots against, and 26th in even-strength scoring chances against. No matter how you look at it, goaltending was the reason that the Avalanche were even in the playoff discussion this season.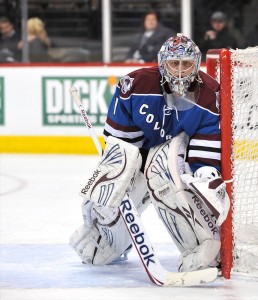 Weaknesses: Team defense, elite scoring
As I touched on above, the Avalanche were not good at shot-suppression whatsoever. They were bottom-five in the NHL in even-strength shots against, scoring chances against, high-danger scoring chances against and Corsi-for percentage. Predictably, nobody on the team finished the season as a positive possession player. There are some bright spots, such as Nathan MacKinnon, Gabriel Landeskog and Erik Johnson. However losing Ryan O'Reilly will hurt as he was one of the better defensive forwards on the team. Goaltending can take you a long way, but if the Avalanche continue to give up shots at the pace they did in 2014-15, it could be another long offseason for them next summer.
Another thing Colorado is missing is a truly elite scorer. Jarome Iginla and Gabriel Landeskog tied for the team lead in points with 59 a piece. They are missing that elite scorer, as evident by their top point totals and being in the bottom-ten in the NHL in goals per game. They possess players with the elite potential, as both Matt Duchene and Nathan MacKinnon have shown flashes of it. For the Avalanche to be competitive in the league's best division, guys like Duchene, MacKinnon and Landeskog will need to take the next step.
There you have it, the biggest strengths and weaknesses for each Central Division team heading into the 2015-16 season. We will see in the coming weeks if these teams address some of their weaknesses in free agency or through the trade market. It is bound to be another close race in the Central next season.