Mike Ribeiro brought enormous amounts of entertainment value night after night during his stay with the Dallas Stars. He dazzled fans with borderline-impossible shootout goals and ridiculous dangles and passes. After all was said and done, perhaps the best thing he brought to Dallas was Cody Eakin. In June of 2012, Ribeiro was traded from Dallas to the Washington Capitals for Eakin and a second round pick. Since then, Eakin has continued to develop into a perfect third-line center and has been used in a variety of roles in Dallas.
Lindy Ruff's Go-To Guy
As this past season progressed, Eakin developed more and more into a shutdown role and was looked towards when the Stars needed to counter a strong opposition. Ruff clearly has shown a ton of faith in him, evidenced by Eakin's 386 defensive zone starts at even strength. Only Alex Goligoski had more. Despite playing the toughest forward minutes on the Stars, Eakin still managed to be slightly positive on the possession meter. He finished the season with a 50.12 corsi-for-% at even strength which is OK considering his role on the team and his usual linemates. The Stars gave up just one more goal than they scored at even-strength while Eakin was on the ice and that differential should continue to improve as Eakin develops more into this role.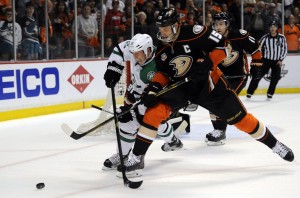 One of Eakin's better attributes is how relentless he is on puck carriers. Aside from maybe Antoine Roussel, you won't see a player on the Stars fore-checking or back-checking with the pure tenacity that Eakin shows on a nightly basis. He finished tied for ninth among all players in the NHL in terms of takeaways and played less minutes than everyone in front of him. He gets in shot lanes as well, only Roussel and Vern Fiddler had more blocked shots among Dallas forwards.
He Can Score, Too
Guess who scored the most goals on the Stars this season aside from the dynamic duo? Nope, not Jason Spezza. Ales Hemsky? Not even close. If you're good (or average) at recognizing themes, you probably guessed Eakin. You would be correct, as Eakin scored a career-high 19 goals finishing behind only Tyler Seguin and Jamie Benn on the Stars. Even though he wasn't privileged with a ton of offensive zone starts at even strength, he still managed the fourth-highest point total on the Stars while at even terms on the ice. He pitched in on special teams as well with a couple of power play goals and a couple of shorthanded goals. His last goal of the season ended up being pretty important too.
The Future of Eakin in Dallas
Eakin's future with the Dallas Stars is a little cloudy despite how well he has performed in his role. He is entering the last year of his current contract and will be a restricted free agent next summer. Some have speculated what Eakin could add in terms of value in a trade package and that option could be explored before the season begins. Personally I think that would be a mistake, as Eakin provides a ton of center depth which has shown to be perhaps the most important position in terms of securing a Stanley Cup. While I don't think he will become the next Patrice Bergeron, I do think he is capable of becoming one of the best third-line centers in the NHL.
Eakin is only 24 years of age and will be entering just his fourth full season in the NHL. There is still a ton of room for him to grow and develop into an even better third-line center. He has shown the capacity to be placed in the top six and has more offensive upside than meets the eye. After Spezza is done in Dallas, Eakin could potentially secure the #2 center slot behind Seguin if he continues to improve his game. Eakin certainly has a lot left to give, let's hope it is with the Dallas Stars.