It's that time of the year again! The leaves are changing and the temperatures dropping, but the action on the ice is still red-hot. The season is well under way and there is plenty of Colorado Avalanche news to report.
The 23-man roster was finalized October 5th and to the surprise of many fans, defenseman Stefan Elliott wasn't on it. Elliott had a solid camp and was a fan favorite throughout the preseason. Several people were upset at Joe Sacco and Greg Sherman for reassigning the budding prospect to Lake Erie of the AHL, but his professional experience spans all of five games which were played for the Monsters in last year's Calder Cup playoffs.
Allowing him time to develop further in the minor leagues is not going to hurt him as a player and should help him become that top four defensemen that everyone thinks he will be. With the recent trading of another defenseman there is a chance that Elliott could crack the NHL lineup this season, especially with the injuries that usually plague the Avs every season.
That defenseman that was traded has been on the outside looking in for a while now, and it was only a matter of time until Kyle Cumiskey was moved somewhere. The trade was announced Saturday evening during the Avs 3-0 loss to the Detroit Red Wings. Cumiskey was sent to the Anaheim Ducks for a conditional draft pick and defenseman Jake Newton.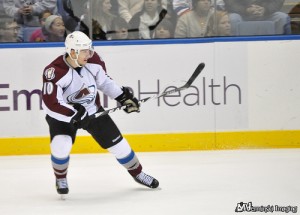 Looking past that 3-0 loss and moving on to today – The Avs began a five game road trip this afternoon in Boston where they faced the Bruins in a 1:00pm EST matinée. If you opened up a dictionary and searched for goaltender duel; you probably wouldn't find it, but there should be a summary of todays back and forth action between Semyon Varlamov and Tuukka Rask. Both men made many great saves to keep their teams in the game, but Milan Hejduk managed to break the 0-0 tie midway through the third period. The Avs were able to hold on and squeak out the 1-0 win.
Ryan Wilson and the beefed up defensive corps were throwing their weight around which was great to see. Varlamov was absolutely outstanding in net and bailed out the team a few teams after careless mistakes almost cost them the game. Rookie Gabriel Landeskog is appearing to grow more comfortable after a bit of a shaky season opener. All in all this new look Avalanche team is a force to be reckoned with.
What do the readers think about the Avs so far? Have they made the right improvements to get back into the playoffs or will it be another year of trading in the hockey sticks for golf clubs come early April?