In what is yet another confusing decision by the Edmonton Oilers, Leon Draisaitl, the third overall pick from the 2014 NHL Entry Draft, has been returned to the Canadian Hockey League.
Draisaitl had scored two goals and seven assists in 37 games this season with the Oilers prior to the demotion.
A former star with the Prince Albert Raiders of the Western Hockey League, the decision was facilitated by the acquisition of Draisaitl's rights by current WHL league leader the Kelowna Rockets, who appear destined for a long playoff, and likely Memorial Cup run this season. Leon will join a star studded team which boasts current Canadian World Junior players Josh Morrissey and Madison Bowey, as well as budding star Rourke Chartier and top draft prospect Nick Merkley.
The decision to send Draisaitl back to Junior is downright confusing, however such moves have become the norm with Edmonton throughout their prolonged inferiority in the NHL.
Since Draisaitl has played well over the rookie limit of 10 games, one year of Leon's three year Entry Level contract has now been burned off for a mere 37 game NHL exposure. However, because Leon was returned to junior before the 40 game mark, his potential Unrestricted Free Agency date is extended as a result.
The vast majority, except for Oilers management, will struggle to understand why such a decision would have been made. The Edmonton Oilers were not going to contend for a playoff spot this year, and any expectations of such should be considered extremely optimistic. So why keep Draisaitl at the NHL level only to send him back to junior hockey past the 10 game deadline? His presence as an 18 year old rookie when the season began playing center on the second line in the Western  Conference was never going to be just what the Oilers needed to take the next step and reach the playoffs.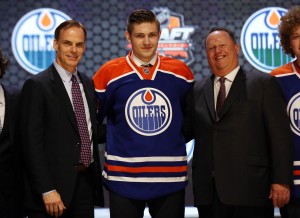 Secondly, why make the decision to send Leon Draisaitl back to the CHL yet not allow him to play in the World Junior Hockey Championship? If the Oilers felt the quality of competition at the NHL level was too great for Draisaitl, the WJC presents itself as the next best hockey for Draisaitl to play, given he is not AHL eligible. An opportunity to play against the best players in the world in his age group would be a great opportunity for Draisaitl to regain the confidence he likely lost while playing for with the Oilers.
The handling of Leon Draisaitl has been a whirlwind of confusion for many, however the decision will allow Draisaitl to further develop and hone his skills as a player under considerably less pressure.
Due to the impatient mentality present in Edmonton, virtually all decisions are scrutinized to a certain extent. However, whether or not this particular decision was right or wrong will not been determined for some time.