Beginning June 1, NWHL teams can start signing players for the 2018-19 season. For players who have completed their college eligibility and want to continue their hockey careers, the free agency period provides them an opportunity to continue playing at the highest level of professional women's hockey. The fourth season of the NWHL will begin in October as the Metropolitan Riveters defend their Isobel Cup championship, and with the addition of a fifth team – the Minnesota Whitecaps – as well as the inclusion of players who participated in the 2018 Winter Olympics, this very well could be the most competitive season yet. 
My colleague Nathaniel Oliver will keep THW readers up-to-date on Boston and Buffalo's signings throughout the summer, while I post updates on Connecticut and the Riveters. Together we will collaborate to keep readers informed of all of Minnesota's signings.
Ott is Back with Boston for Season Four
Riveters & Whale Add Depth with Late Signings
Whitecaps Roster Filled with Schlagel, Martinson Signed
🚨 SIGNING NEWS 🚨

Finnish National Team goaltender Meeri Räisänen has signed with the @CTWhale_NWHL!

✍ https://t.co/RgeD6zc8so
🎟 https://t.co/DE7692NBvw pic.twitter.com/bwCqz6xrBM

— NWHL (@NWHL) October 1, 2018
On October 1 the Connecticut Whale signed goaltender Meeri Räisänen, who has represented Finland at the past two Winter Olympics – taking home a bronze medal at the most recent games in Pyeongchang; she also has a bronze medal (2015) on her mantle from her four appearances at the World Championships. The 28-year-old will join Maria Sorokina and Sam Walther as the goaltending trio that looks to help the Whale get out of the tailspin they have been in since the middle of the inaugural NWHL season.
Räisänen is the first player from Finland to sign in the NWHL, joining the league's most international team. The Whale also signed the league's first Swedish player, Michelle Löwenhielm, and its first Czech player, Katerina Mrázová. The 23 players on Connecticut's roster represent seven different countries (USA: 15, Canada: 3, Russia: 1, Sweden: 1 Czech Republic: 1, Finland: 1, South Korea: 1) – by far the most in the league.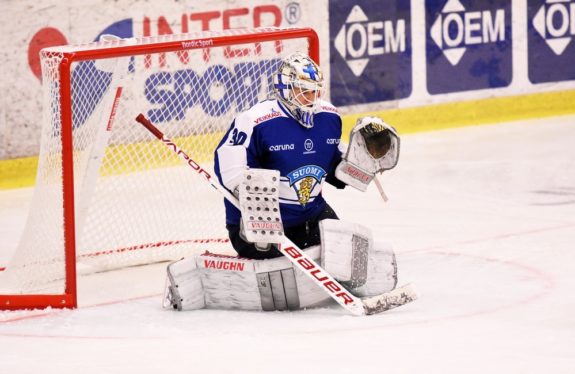 "I have dreamed about living and playing in the States for the past few years and now I am very excited to join the NWHL and the Connecticut Whale," Räisänen said in a press release announcing her signing. "The NWHL has many of the best players in the world and I am really looking forward to playing with, and against them. This will be a thrilling new challenge for me and I know I'm going to learn a lot more from my teammates and my coaches. Every game will be good hockey and I am ready to give my all for the Whale."
She also played two seasons (2015-16, 2016-17) in a men's league in Finland and last season in a Finnish women's professional league she won the Tuula Puputti Award, awarded to the league's best netminder.
This is a move that had been speculated for a while with Connecticut in need of a third goaltender for the upcoming season. She was drafted in the 8th Round of the 2018 CWHL Draft by the Markham Thunder, but they already have a fantastic tandem in net with Erica Howe and Liz Knox. In an odd twist, the Worcester Blades also tried to draft her a few rounds later (someone wasn't paying attention!).
Gotta say I was little confused.

— Meeri Räisänen (@meeriraisanen) August 26, 2018
In this case, the CWHL's loss is the Whale's gain as they add a top-flight goaltender who will likely see a decent amount of playing time as the franchise looks to improve upon its 3-11-2 record. The past two NWHL postseasons have been single-elimination games and now the Whale will be able to play either Räisänen or Sorokina, who both have big game experience on their resumes.
The 2018-19 Whale will be returning 11 players from last season's roster (as of today): Emily Fluke, Juana Baribeau, Jamie Goldsmith, Samantha Donovan, Kaycie Anderson, Shannon Doyle, Cydney Roesler, Elena Orlando, Rachael Ade, Hanna Beattie, and Jordan Brickner. The other 12 players on the roster will be making their NWHL debuts –  Meeri Räisänen, Kayla Meneghin, Kim Tiberi, Sarah Schwenzfeier, Melissa Sheeran, Nina Rodgers, Sarah Hughson, Randi Griffin, Michelle Löwenhielm, Maria Sorokina, Sam Walther, and Katerina Mrázová.