Remember when player analysis included things like size, physicality, and strength as imperative assets needed to compete at the NHL level? While some still view the game of hockey in that traditional light, individuals like Conor Sheary are proving just how much this game has changed.
And it has changed for the better.
Sheary has been overlooked throughout his young career due to his size. The 5-foot-9, 175-pound winger took a hard road to the NHL, playing collegiate hockey at UMass-Amherst and then signing an AHL deal in an attempt to prove himself with the Wilkes-Barre/Scranton Penguins. He wasn't drafted into the NHL — and as a matter of fact — he wasn't really viewed as someone who could compete at this level, despite his production throughout his playing career. That didn't stop him, however, and now he's playing alongside the best center in hockey in Sidney Crosby.
And he isn't just a passenger next to number 87.
Big Numbers Can Come in Small Packages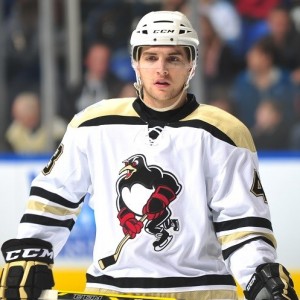 Sheary posted 38 goals and 104 points through four seasons (138 games) at UMass-Amherst, according to his profile at HockeyDB.Com. While playing on an AHL contract in Wilkes-Barre in 2014-15, meaning he could not be called up to the NHL level, he tallied 20 goals and 45 total points through 58 games. The Penguins signed him to a two-way deal the following season — officially making him an option for recall if needed — and prior to joining the Penguins at the NHL level, he amassed 36 total points in just 30 games.
An average of 1.2 points-per-game in the AHL was certainly a sign that he just might be for real.
He was launched into top line duties last season, playing alongside Crosby and Patric Hornqvist for most of Pittsburgh's postseason run. He rewarded the Penguins with a productive playoff run, scoring four goals and tallying 10 total points to help push them toward their fourth Stanley Cup Championship in franchise history. He also scored one of the most memorable goals of that playoff run, an overtime winner that stemmed from an impromptu set play by Crosby.
So far this season, Sheary has 15 points through his first 20 games and looks like a perfect replacement for the retired Pascal Dupuis, Crosby's longtime linemate.
Fitting the Mold
Fast, skilled, tenacious, and intelligent. You know, all the assets a guy like Dupuis offered while flanking Crosby's left side for so long. Sheary boasts all of those assets but may actually offer more of an offensive upside.
And that's saying a lot when you consider just how productive Dupuis was throughout his Pittsburgh tenure.
Head coach Mike Sullivan consistently compliments Sheary's hockey I.Q. He sees the ice well, makes sound decisions and relentlessly pursues the puck, no matter the size of the opposition. The goal above, which Sheary scored on Thursday night in Pittsburgh's rout of the Florida Panthers, is a perfect example of how a play is never over when Sheary is on the ice. It's also a great example of his ability to read and react while playing with Crosby. Remember that narrative about how hard it is to play alongside him?
Maybe most impressive is Sheary's ability to play with instinct, rather than feeling as if he needs to defer to Crosby when given the opportunity. If he has a lane, he takes it. When he's presented with the opportunity to shoot, he puts the puck on net. That may seem minuscule in the grand scheme of things but it's just opposite of that. Ensuring that opponents have to respect him with the puck on his stick is how you create room for a generational talent like Crosby to do what he does.
No Signs of Slowing Down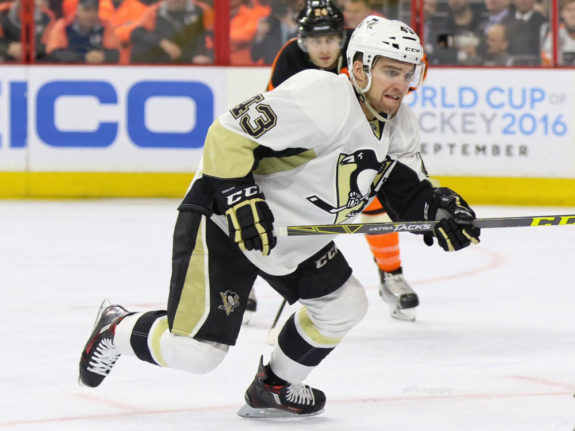 There's often an adrenaline rush of sorts when players are recalled to play at the NHL level, which seems to push individuals to hot starts they can't sustain. It's quite common to see a player impress the masses for a few games upon getting his shot in the big leagues, only to disappear shortly thereafter.
Sheary isn't one of those individuals.
You can see an appreciation in Sheary for everything that he's accomplished to this point. It makes sense, considering the path he took and the work involved for a player of his stature to break through the NHL stereotypes and prove himself in this manner. You can hear it in his voice, and you can see it in his approach. The game — as well as the league — will continue trending toward more attention to speed and skill. That's what people want to see, and the product on the ice is beginning to catch up.
Sheary is a testament to where hockey is headed and he's capitalizing on this opportunity every chance he gets.