At the end of the 2010-11 season, Chicago Blackhawks rookie goaltender Corey Crawford came in fourth in the Calder trophy voting. He also had a solid 33-18-6 record with 4 shutouts and a 2.30 GAA/.917 sv%.  That record put him on par for wins with Pekka Rinne (33-22-9); with a save % ahead of goalies with bigger names, like Ryan Miller (.916), Dwayne Roloson (.914), and Jimmy Howard (.908); and a better GAA than such veterans as Ilya Bryzgalov (2.48), Miikka Kiprusoff (2.63), and Martin Brodeur (2.45).
Crawford only allowed 5+ goals in a single game, and that was early in the season – November 30th, against the Blues – and the Hawks outscored St. Louis 7-5 for the win.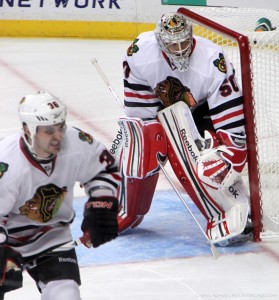 Crawford was the unsung MVP of the Blackhawks' spring; he stood tall between the pipes and gave Chicago enough time to get their legs in the game, night after night. Nowhere was that more true than in the playoff series against Vancouver, where his stellar play earned him more press time than the goalie-go-round in the Canucks' net. He had a 2.21 GAA and .927 sv% in the 7-game series, and there's no doubt that he flat-out stole the Hawks a win in Game 6, holding the Blackhawks in the game for 15:30 of OT until Ben Smith scored the winning goal, and pushed Chicago to a winner-take all Game 7.
After solidly beginning the season on the same form as he left last season, Crawford has hit a rough patch of late. In his first 10 games of the season (out of 23 GPI), Crawford went 6-2-2 including a 2-1 record in shootouts, with a .919 sv% and 2.33 GAA, including shutting out the Canucks in Vancouver.
In his last 10 appearances, however, Crawford has gone 5-3-0, gotten pulled twice, and went in as relief for backup Ray Emery once. During that time, he's had a 3.74 GAA and .879 sv%, and having five or more goals scored on him twice. He's already outpaced last year in that department, allowing five or more goals three times. His overall record thus far this season is 12-7-2 with a 3.00 GAA and .896 sv%, so, despite being sixth overall in the league for wins, Crawford's play has not been nearly so stellar.
Emery hasn't fared much better, with a road win Thursday against the Islanders taking him up to .898 sv% and a 2.80 GAA with a 5-1-2 record. Emery, too, is not in the same form he was last season, when he helped the Ducks finish out the season, going 7-2-0 w/.926 sv% and 2.28 GAA in the end stretch.
Emery has often looked awkward in goal in his time with Chicago. His range of movements can be jerky and at times, he's can be slow to recover from saves. Emery has also had two games where he has given up five or more goals, and been pulled once, and that's in only 9 games he's played in.
While some openly wonder about yet another "goalie controversy" brewing in Chicago, as has happened in the past three seasons, it's simply too early for that to be reality. In addition, Crawford just signed a three-year contract extension with the Hawks after patiently waiting his turn for years in the Blackhawks system. There's understandable concern of the potential for Crawford to become "Steve Mason v.2" (Mason won the Calder, only to follow that up with a hideous sophomore season).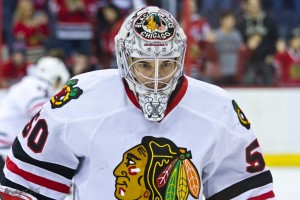 Admittedly, there certainly have been some soft goals that Crawford has allowed, and there's been games where he's looked like he was fighting the puck too much, but some hits to your confidence after bad games will do that to a goalie. Despite that, there have also been plenty of games where the five men on the ice in front of him have demonstrated the same type of inconsistency that plagued the Blackhawks last season, so to lay all the blame upon either goalie is erroneous.
On a certain level, other teams now know far more about Crawford's style of play than they did last year, when he was still relatively unknown. Also, after last season, are the Blackhawks players also guilty of expecting Crawford to carry them more when he's in the net?
While every team should feel their goalies – starter or backup – are capable of carrying them, they shouldn't rely on the goalie stealing every game. A team needs to be consistent and play 60 solid minutes, no matter who is in net. One only needs to look across the league to the Panthers and Wild, both of whom have won games in front of 3 different goalies. If circumstances found either Alexander Salak or Alec Richards (Blackhawks prospects currently playing for the Rockford IceHogs) in net, how would this team play in front of them?
Many have noted that the team seems to tighten up its defense and play better in front of Ray Emery – most of the time, but not always. It was noticeable the other night when Emery came in to replace Crawford in the December 5th game vs. Phoenix, just 21:09 into the game. The Blackhawks then rallied back with a three goal second period, and pushed the Coyotes to a shootout. Is it because the team is responding to a switch in goalies and realizing they need to fix something in their play? Or is it something else?
Emery looked confident in net tonight against the Islanders, but while his game was overall very strong, it was not perfect. He got caught out of position his fair share, which has cost him against fast teams or teams that willingly crash the net and create a lot of traffic. (When a save looks "spectacular", it's often because the goalie was out of position.) For example, against the speedy and talented Oilers, Emery played 47:32 and gave up seven goals before being yanked in favor of Crawford (who gave up two as well). After that debacle, Emery stated, ""It's personally embarrassing. I want to play better than that. We have to remember how bad this feels because we don't want it to happen again."
In other words, both goalies in Chicago have had their share of struggles this season. Both goalies are highly competitive battlers with excellent work ethics, which will allow them to work through these early season issues, and be the strong men in net that Chicago needs them to be.
In the meantime, the team as a whole needs to continue to be consistent in their defensive play and increase the support they are giving to whichever goalie is in net. If the defense can be more reliable, then both goalies will feel confident behind them.