Don't ask Cory Schneider about a goalie controversy. For the first time in his National Hockey League career, the ginger-haired backup to Roberto Luongo has:
started four consecutive games.
won three games in the same calendar week.
posted back-to-back shutouts.
Throwing bagels at the Phoenix Coyotes and Colorado Avalanche doesn't exactly make Schneider a world-beater. The Yotes are 16th in league scoring, and on this night they looked so disinterested that their 22 shots is more a testament to an eager statistician than the Phoenix offense. Schneids had to be sharp, but few of his saves were what you'd call memorable. He was solid. No snack goals to be had here.
The other night, when the Avs launched 24 pucks at him, there were several that pointed to the man Vancouver fans are calling "Ginger Jesus" as being squarely on his game
(as we discussed at Pucked in the Head Wednesday night)
. Case in point, these two stops on Ryan O'Reilly:
Is the backup a good goaltender? Yes, yes he is. He wouldn't have his name on the Jennings trophy along with Bobby Lou if he weren't. These two shutouts coming back to back are the first consecutive shutouts of any Canuck goalie since April of 2009 – an impressive feat that should be lauded. I mean, he's stopped 74 of the last 75 shots he has faced going back to the November 20th 2-1 win over the Ottawa Senators. But he's got three shutouts in his career. The fact is, Luongo and Schneider have each won three of their last four starts. The Canucks are starting to straighten out their defensive shortcomings, which in the first 15 games of the season rekindled fickle fans' hate-on for Luongo and his massive contract. They're beginning to see scoring from Ryan Kesler, David Booth in addition to the Sedins – it's amazing what some goal support will do for a goalie's confidence.
Schneider has better numbers than Luongo at this point in the season, and he's also gone a long time without allowing a goal. To be precise, he's sitting at 136 minutes and 46 seconds of shutout hockey since Colin Greening tapped a bullet of a centering pass from the edge of the crease past Schneider early in the third period on Monday night. While that gives Cory Schneider every right to a few more starts over the next few weeks, it should be remembered by those questionable yahoos waffling between Lou and Lou-urns that Schneider's still over a hundred minutes away from the team record of 242:36 – held by that other guy wearing pads in practice.
There ain't no controversy in the goal crease in Vancouver – just two very good goalies playing behind a defense that's starting to come together.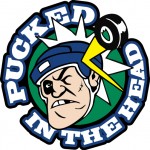 Jason Kurylo is the creator and co-host of Pucked in the Head, a hockey podcast with listeners on four continents – that suggests a minimum of four listeners, but who's counting? PITH also includes an occasional blog that balances knowledgeable hockey analysis with an admittedly bent sense of humour. Want a taste? Check out Somebody Approved This: The Ugliest of Ugly Jerseys. When he is not memorizing useless hockey trivia, Jason can be found making googly eyes at his wife Nadia and young daughter Milla. He is almost certainly eating a chewy, nougat-filled treat at the very moment that you read this.

Jason [at] puckedinthehead.com
Recent articles here at The Hockey Writers by Jason:
Daniel Sedin now 4th in Vancouver Canucks all-time scoring