During the course of a challenging season, certain players may undertake many personas.
Yet, here's Arizona Coyotes' goalie Mike Smith, traversing hockey rinks in North America in his best zombie makeup. Bloodied, wandering, looking disoriented and following no path in particular, Smith is trying to make the most of a difficult season.
Out in front, Smith's challenging start and banishment to the bench for games in mid-season provided enough pain to end a season right in its tracks. To his credit, Smith has picked himself off of the mat, and provided a glimpse into the both the past and a peak into the future.
Despite gaining two victories in his 14 games, Smith has demonstrated a propensity for keeping his team in recent contests, and renewing his confidence.
While echoing the refrain "I'm trying to get better," Smith is also laying the foundation for what he, his teammates and coaches hold, is a viable comeback.
"In the last couple of games, he's played well," said Arizona coach Dave Tippett after the Coyotes dropped a 2-0 decision to Montreal on Saturday night at home. "He has to put a good string together, and that's been the issue all year. If he can put a good string together at the end here, I think it will bode well for him next season."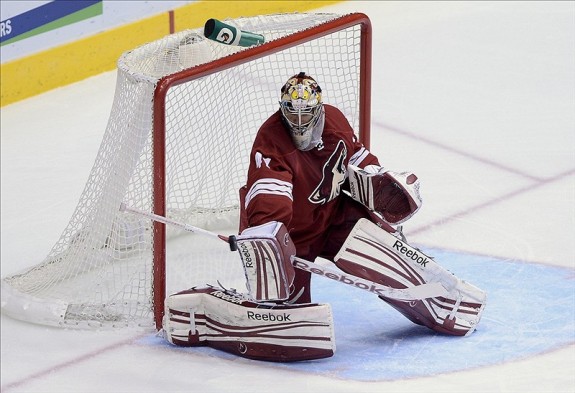 To be fair, Smith's inconsistency has been maddening.
The native of Kingston, Ont. started the season by dropping eight of his first 10 games and then benched for Devan Dubnyk. Eventually, Arizona general manager Don Maloney made the decision to trade Dubnyk in mid-January, and told Smith to ride out the season.
Since the deal, Smith's level of performance has risen, but over the course of the season, he has put together a personal winning streak of two wins in a row only once. That was a pair of  3-2 victories over the Leafs on Nov. 4 and at Anaheim on Nov. 7. Since, Smith has won only seven games.
Still, he seems to have a renewed spirit and sense of purpose.
That has resulted in stronger play between the pipes, and to allow his team the ability to feed off of his effort.
Here, Smith cited the push against Montreal last Sunday as a prime example. Though the Coyotes were shut out for the ninth time this season, Smith sensed a heightened energy in the Gila River Arena.
renewed confidence
"When you're playing well as a goalie, I think your team senses that," he said. "That way, you can let it go a little bit more. (Against Montreal goalie Carey Price), we couldn't squeak one in. I do think we did many things well, and in the second and third periods, we had some chances and stuff to build upon."
Beginning with Monday's home game against Nashville, the Coyotes have 16 contests remaining and for Smith, that time period should provide a window to next season and beyond.
After all, Smith signed a six-year, $34 million deal during the summer of 2013, and the contract lasts until through July 1, 2019.
Follow Mark Brown on twitter, @journalist193