When the Dallas Stars acquired forward Patrick Sharp from the Chicago Blackhawks on Friday night, in exchange for defenseman Trevor Daley and forward Ryan Garbutt, Stars fans were overcome with excitement.
The most obvious reason why is, of course, Sharp, a three-time Stanley Cup winner in Chicago and a four-time 30-goal scorer. Few veteran players in the NHL have that impressive of a resume.
But it was another, lesser-known player that was also acquired in the deal that seemed to steal the thunder and generate a larger abundance of chatter among Stars fans: defensive prospect Stephen Johns.
It's pretty easy to see why, as Johns is quite an impressive prospect. His size, at roughly 6 feet 3 inches and 230 pounds, is perfect for a defender at the NHL level, and he has enough mobility to not make that same size a liability against fast opponents. The-23 year old earned glowing reviews from his four years with Notre Dame in the NCAA, and then had a seamless transition to the AHL last season, finishing in a tie for the league-lead in plus-minus with a plus-30.
Hockey's Future even went so far as to name Johns as Chicago's best defensive prospect last season, which is pretty high praise.
The craziest part about this trade, however, is that it was essentially taking from the rich … and then giving it back to the already rich.
Even before Friday, the Stars possessed an abundance of quality young blueliners, the most notable of which are those who played in the NHL last season. Dallas dressed four rookie defenders last year that were 23 or younger – John Klingberg, Patrik Nemeth, Jyrki Jokipakka and Jamie Oleksiak – and all of them held their own, with Klingberg going well beyond just "holding his own" and cementing himself on the team's top-D pairing.
As if having four young NHL-ready defensemen wasn't great enough, the Stars also have many others with real NHL potential that are steadily rising up the organization's prospect pipeline. Adding Johns now is like adding more icing onto a cake that's already overflowing with it.
Let's take a look at some of these other defensive prospects and what they bring to the table:
The Cream Of The Crop
Julius Honka: The 14th overall selection in the 2014 NHL Entry Draft, Honka oozes the confidence, maturity and poise of a player well beyond his young age. He was just 18-years old when he started his first season in the AHL, but didn't look out of place at all, scoring 31 points in 68 games. The smooth, mobile defender played a key role in Finland's gold medal victory at the 2014 World Juniors.
Esa Lindell: Lindell showcases a tantalizing blend of size, smarts and well-developed skill at both ends of the rink. The 6-foot-3 blueliner had 37 points in 57 games last season in The Liiga, tied for first in the league among all defensemen. Another member of the championship Finnish team at the 2014 WJC, Lindell also scored an impressive six points in eight games for Finland at this summer's World Championships, despite being one of the youngest players on the team.
The Next Best
Niklas Hansson: Hansson is only average in size, but is an excellent skater and mover of the puck. He played consistent minutes for Rogle in Sweden's second highest league the past two seasons as a teenager, and was even named as an assistant captain for his team last year.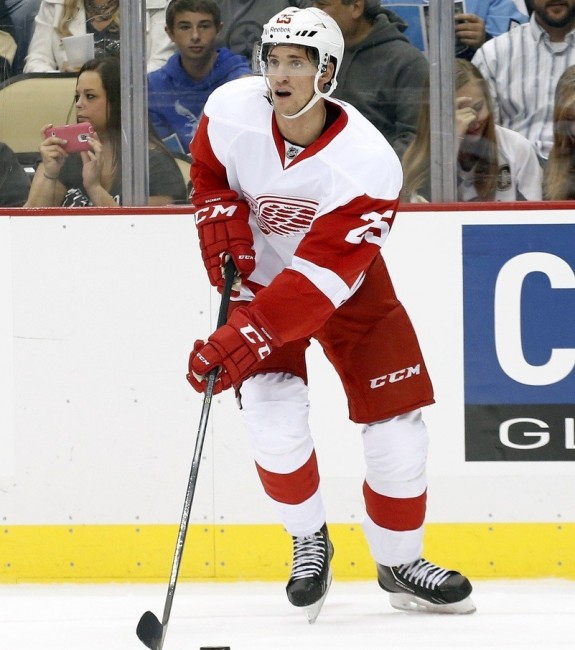 Mattias Backman: Acquired from the Detroit Red Wings at the trade deadline, Backman stands 6 feet 2 inches, but focuses his style of play more on the offensive side than the defensive. After a tough start to the season in the AHL, he headed back to his home country of Sweden, where he registered an impressive 17 points in 25 games in the Swedish Hockey League.
Ludwig Bystrom: Bystrom wasn't able to put up gaudy offensive point totals in any of his four professional seasons thus far, but still has a reputation for making smart decisions and having the ability to get the puck out of his zone and up the ice. If he can use his skills to become a quietly effective possession-driving player (think Anton Stralman) at the NHL level, then the Stars will have a valuable talent on their hands.
Cloudy With A Chance Of Sunshine
Alex Peters: A nasty knee injury limited Peters to only eight games in 2014-15, but the 2014 third round pick still has the size, defensive zone awareness and leadership abilities that could make him a very effective shutdown defenseman in the NHL.
Dmitry Sinitsyn: Sinitsyn had a hard time cracking the KHL as a 20-year old last season, playing in only 15 games, but showed some serious potential when he scored 44 points in 69 for the WHL's Regina Pats in 2013-14. He possesses a great blend of size and two-way capabilities.
Michael Prapavessis: A very under-the-radar prospect, Prapavessis was an NCAA freshman last season but still played more games than any other defenseman on his team. His sparkling 54 points in 47 games in the OJHL in 2013-14 suggests that he could have some massive untapped offensive potential.
Aleksi Makela: Something of a forgotten prospect among Stars fans, Makela spent most of last year playing for Ilves in The Liiga, picking up six points in 30 games. He still needs a lot of development time, but earning a roster spot for Finland at the 2015 WJCs was a promising sign.
John Nyberg: Much like Sinitsyn, Nyberg is a skilled two-way defender with size who spent most of last year fighting for consistent ice time (he would suit up for three different pro teams before the season was done). Nyberg is a real dark-horse prospect that could end up being a pleasant surprise if his development can move more smoothly going forward.
Aaron Haydon: Big, scrappy, and possessing a sneaky amount of skill, Haydon is still incredibly raw but has plenty of individual attributes that make him interesting. Should be able to carve out a nice, long pro career if he can consistently put all the pieces together as he gets older.
Chris Martenet: Standing at a gargantuan 6 feet 7 inches, it's no secret why the Stars selected Martenet in this year's entry draft, but he's also a surprisingly efficient skater for his size. He is currently in a great place development-wise as a member of the London Knights, the best organization in all of Canadian junior hockey.
Joseph Cecconi: Cecconi will never be a player that particularly stands out on the ice, but he seems to have an excellent understanding of what it takes to be a safe, reliable defensive defenseman, and the natural tools required to make it happen. He'll get plenty of time to hone his game over the next four years as a member of a great hockey program at the University of Michigan.