Teemu Pulkkinen, Calle Jarnkrok, Tomas Tatar, Tomas Jurco, Gustav Nyquist, Riley Sheahan; You've likely heard those names before. They're some of the Detroit Red Wings' most exciting prospects, all potential NHL stars, and all acquired via the draft. They have another thing in common as well, they're all forwards.
The Red Wings have been able to cultivate this impressive young group of forwards, despite less-than-desirable drafting positions (only Sheahan was a first round selection), thanks to some of the best scouting in the league, and a player development program that is second to none. The litany of their successes in doing exactly that in the past, is a long one. Pavel Datsyuk, Henrik Zetterberg, Johan Franzen, Jiri Hudler, Valtteri Filppula—nearly the team's entire top 6 forward group is comprised of their own draft picks, and not a single one of them came in the 1st round. They've been able to find hidden gems, diamonds in the rough, and polish and cut them into multi-million dollar masterpieces.
With the exception of Jonathan Ericsson (291st overal, 2002), they haven't enjoyed the same amount of success when it comes to defensemen. They've relied heavily on early selections (Niklas Kronwall, 29th overall 2000), free agent acquisitions (Ian White, Brian Rafalski), and trades (Brad Stuart, Kyle Quincey) to supplement their defense. It hasn't been as much of a home-grown effort as the offense, because the team hasn't put a priority on defense for years.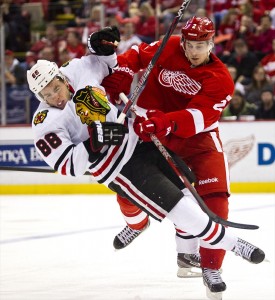 Just twice since the lockout have the Red Wings taken a defenseman with their first pick in a respective draft; In 2005 they selected Jakub Kindl 19th overall, and in 2007 Brendan Smith was their 27th overall selection.  It's no coincidence that they're the only 2 post-lockout Red Wings' defensive prospects to play in the NHL. Their later selections just haven't panned out.
That fact has resulted in a shallow talent pool among their defense prospects, a realization that lead to the Wings using 5 out of their 9 picks on the position at the 2011 draft. Yet the highest choice in that crowd was Xavier Ouellet at 48th overall, and 3 of the other 4 came in the last 3 rounds. While some of those selections show promise, it's still too early to get an accurate reading on where they're at. They could all turn out to be duds, and even if that's not the case, the need to acquire another top-notch prospect is glaring.
It may not, however, be their most glaring need. Since the selection of starting netminder Jimmy Howard in 2003 (64th overall), the Red Wings have drafted just 3 goaltenders (choosing to do so every other year since 2006).  They go by the names of Daniel Larsson (92nd overall, 2006), Thomas McCollum (30th overall, 2008), and Petr Mrazek (141st overall, 2010). In addition to those selections, they also signed the undrafted Jordan Pearce in 2009. Of the bunch, only Mrazek shows signs of brilliance, leaving a gaping hole in the future of Red Wings goaltending. They've been bitten hard by the unpredictable nature of goaltenders.
And they truly are unpredictable. Of this season's Vezina Trophy finalists, none were taken in the 1st round, and all were passed up by goaltender selecting teams. Detroit's prospects tell that story themselves. The 1st round selected McCollum has been unable to hang onto a starting role in the AHL, while their 6th round selection Mrazek has been wowing critics all year long. It complicates the picking process, and may make the Wings wary of grabbing a goaltender early.
Early for Detroit won't be until late in the 2nd round. Their first round selection, and perhaps only real opportunity to select quality talent in a draft regarded as especially weak, was dealt to the Tampa Bay Lightning for defenseman Kyle Quincey near the trade deadline (Quincey, you'll remember, was a former 4th round pick by the Wings in 2003). While the move wasn't a terribly bad one, and Quincey has shown signs of both brilliance and shear awfulness as he's attempted to reacquaint himself with the Red Wings' system, it does further complicate matters. One of their needs won't be addressed until at least the 3rd round.
Do the Red Wings take a defenseman, or a goaltender with their 2nd round pick? "Experts" have been predicting a defenseman all season long, but draft selections are more unpredictable than a goaltending prospect, and no one will truly know the answer to that question until the pick has been made. The draft won't take place until June 22-23, so we've got a while to wait.
What do you think? Do the Red Wings need to address these positions as badly as I suggest, and which position will they tackle first if they do? Is there a specific player you want to see wearing a red and white sweater on draft day? Let me know in the comments.
And if you'd like to learn about 2012's draft prospects, check out our complete draft guide: The Next Ones