In this translated interview, that originally appeared on HC Lada website, Dallas Stars prospect Denis Gurianov talked about the NHL draft and confirmed that he intends to play in the NHL, but that first he wants to honor his contract with his home club Lada Togliatti.
For the original hclada.ru article, click here.
– Denis, were you nervous before the start of the draft ceremony in Florida?
– No, I was not, I didn't have time. Everything is detailed up to the minute. But I was ready as I watched older [draft] ceremonies on tape and it was pretty much all the same. The thing that surprised me the most was that I was picked with the 12th overall pick, while in the KHL I was picked 42nd.
– As far as I know during the last season you were in touch with some NHL teams' representatives. What did they ask you?
– After some games I was approached by scouts from Dallas, Montreal, Pittsburgh, Florida, and New York Rangers. They asked me standard questions, about me, my family. They wrote my replies down and went away.
– And maybe they asked if you wanted to play in the NHL.
– Of course they did. But I said right after that I still havea two year contract with Lada. During this time, I want to get a regular spot on the team and showcase my skills in the KHL. After that I can seriously think about the NHL.
– Considering your comments after the draft it looked like you were going to play in the NHL this season already.
– Something was lost in translation. I said that I was thinking about attending the Stars training camp in the summer 2016. I want to see how everything works and get in shape for another year in the KHL. But the media wrote as though I was going to go to Dallas right away. I want to honor my contract with Lada first.
– What do you think is interesting about NHL teams' training camps?
– Well, I haven't attended one yet. I want to compare it with how the pre-season works in Lada. I was told that going through special training you can lose the kilos you got while on vacation and gain further muscle. I want to try it on myself.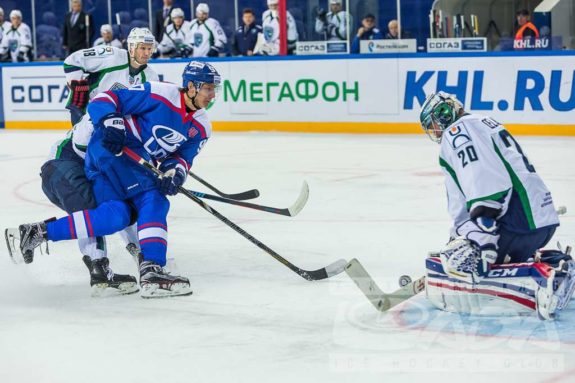 – The draft doesn't guarantee anything, you talked with pretty much all NHL teams' representatives before it. Did you feel any special attention from the Stars?
– It's impossible. Each NHL team rep will talk to you in pretty much the same way, with great interest; they ask you pretty much all the same things. No one makes you think or understand that they are going to draft you. For us players, the draft is like a lottery, where you don't have any chance to influence the outcome. You just sit there and wait until they call your name. But I also think that teams plan to draft players according to their style. Ivan Provorov told me that he was very surprised to get drafted with the seventh overall pick, for a Russian defenseman it's great.
– Did you follow the different agencies' rankings?
– I tried, but they change every day. The important thing for me was that I was drafted in the first round. But of course, I understand that this is just the start and that nothing is guaranteed. I was ready for any outcome. And I say right away: I never imagined myself in a Stars jersey, nor in any other NHL team's jersey or how can I get into any team's style. I have other goals now: to get to Lada's main roster.
 – After the draft you named all the Stars' leaders. Did you check on the internet?
– No, I knew it before. I followed the team during the season as Valeri Nichushkin was playing there. He's a little bit older than me and we constantly write each other through social networks. He gives me good advice and explains how things work in the USA.
– What is the most useful piece of advice he gave you?
– To work hard in practices, improve my technique, generally speaking to improve as a player. And to work on my English. I'm working with a tutor, but I quickly realized that without full immersion in the environment, learning a new language is very hard.
– The media often compares you with Nichushkin. Doesn't that irritate you?
– I can't say if we are similar in our way of playing. And it's not my goal. I want to be Denis Guryanov and play the game my way.
– Many Russian players were drafted this year. Did you talk each other?
– Of course, we lived at the same hotel, were always walking around together. I knew most of the drafted guys as we played together on the National Team.
– If they offered you to play Major Junior hockey in Canada or the USA, what would you have replied?
– I prefer playing at home for now.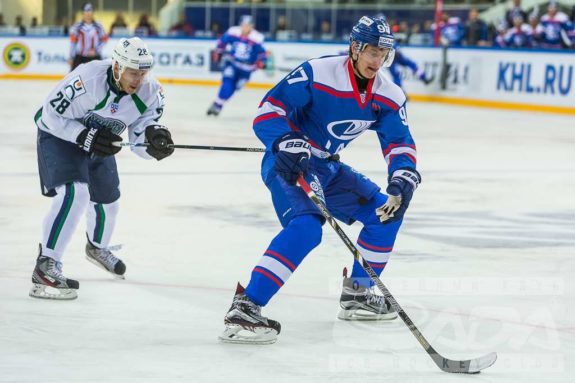 – During the draft they gave you a Stars cap and jersey. Where are they now?
– At home. Many asked for me to give them as a gift, but I wanted to keep them.
– How would you judge your last season?
– Not bad. I played many games, I skated in the MHL, at the U18s, I also got my feet wet in the KHL. My parents and girlfriend attended each home game of Ladya and Lada to support me.
– At home did you analyze your games?
– No, the analysis done by our coaches on the plane or after the games are enough.
– In Ladya you were among the leaders of the team, but in the KHL you played only eight games. Was it hard to go from being a leader to a bottom six player?
– You don't think about it when you play. You get some tasks from your coach, hit the ice and try to do your best. It's not important if you play on the first or on the fourth line.
– On what do you think you should work?
– I think I should work on everything. Skating, shot accuracy, technique, stickhandling, strength. I need to work hard and I'll ask my coaches to give me some specific task to further improve.
– One of the worst defeats ever for Team Russia Under 18 was at 2015 U18s in Switzerland. How can you explain the 5-0 defeat in the quarterfinals against Team Switzerland?
– I, as all other players, was devastated after that defeat. Lose to Switzerland with such a score… We were shocked. We tried hard during that game, but we weren't lucky. We played three games very well earlier in the tournament, but then the whole team played bad. Including myself. We're going to get our revenge at the WJC.
– What about your life outside of hockey?
– There isn't much of it. And it isn't very different, considering that I've played my favorite sport since I was four. Two of my favorite moments from my childhood is me holding on to a backless stool and going to the Lada arena on skates and my parents holding my bag with my equipment because it was too heavy for me.
– Are you studying?
– Yes, I finished my first year at the Togliatti College of Economics. I will specialize in law.
– What are your goals for  the 2015-16 season?
– Getting a spot in Lada's lineup, getting called to the WJC, taking revenge over Switzerland and winning the gold medal. I also want to have an injury-free season!