Derek Stepan is heating up, and it's coming at the perfect time for the New York Rangers. Over the past four games, the center from Hastings, Minnesota has posted seven points, which have been critical for the club because without this output the team would be in the middle of a four-game losing streak.
A Touch of the Clutch
The most impressive part of Stepan's performance recently has been his ability to score when the team needs him most. Those familiar with the Rangers know that Stepan has a knack for scoring big goals — he's done it throughout his career regardless of the time of the season.
The goal that has stood out to me was his tally last week against the New Jersey Devils. Off the draw, Stepan puts himself in a soft area of coverage, and tips Ryan McDonaghs' feed past Corey Schneider who had little to no chance on such a well-placed deflection.

Stepan just has a way of slowing things down to find room, which is what makes him so important when time is running short. Rather than get frantic and fidgety you can see him stay collected read the play and simply react — from there he just lets his skill do the work.
Holding the Fort
When Mika Zibanejad went down, I expected Stepan to become overwhelmed with more responsibility and less support. There's clearly a hole in the lineup, but Stepan has done a tremendous job of absorbing the responsibility as both a player and leader.
He's the team's most experienced center, which is a first for him in New York, and last game against the Ottawa Senators he put those veteran qualities on display by trying to fire up a lethargic Rangers' bench.
#NYR bench leader Derek Stepan: "That was a good time for me to step up and try to light a fire on somebody and try to turn things around."

— Sean Hartnett (@HartnettHockey) December 28, 2016
At the moment Stepan leads the Rangers in points with 28 and he's second among forwards in time-on-ice per game logging 18:13. Looking at the last game against the Ottawa Senators, Stepan played 21:36, which was second to only team captain Ryan McDonagh (27:21). It's reasonable to assume that if Stepan continues to play this way that he'll continue to get tons of ice-time.
A goal that I feel illustrates the kind of all-around player that Stepan is comes from this clip against the Calgary Flames. You'll notice that Stepan finds a way to win a puck battle, hangs around the zone to intercept the attempted outlet pass and the sets up a give-and-go play with little space despite being at the end of a shift.

My Take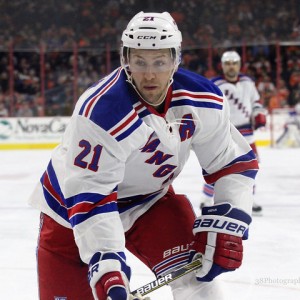 Stepan is one of my favorite players to watch. He doesn't have abilities that jump off the page the way Chris Kreider does with his speed and strength, yet he's a more productive player. What makes Stepan so unique is his ability to read the play and manufacture space. It's a rare gift, particularly in a league where virtually every player flys.
The struggle for Stepan is that he can sometimes slump with his offensive production, but you never get the feeling that he's dead weight. No matter where his game is on offense, you can always see him taking his man on defense and working in the corners for the loose pucks. If the Rangers are going to continue to keep pace in the tight Metropolitan Divison, they will need to do so with Stepan as the main cog of the team's offense.