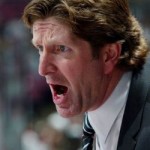 For the first time in 4 years the Detroit Red Wings aren't advancing to the Conference finals. After facing the Pittsburgh penguins in each of the past 2 years in the finals the Red wings will be taking the rest of the summer off for a much needed break. Besides the Penguins no other team in the NHL has played more games these past 4 years than the Wings. What else is one to expect of an organization that has been the most dominant team in the NHL for the past 20 years having won 4 cups since 1996-97 they are the closest thing to a dynasty we as fans have had since the Edmonton Oilers. I believe it would be premature to predict the slow death of the Red Wings based on this year's early exit, in fact looking at their current roster and new replacement for Chris Osgood; Jimmy Howard, how can a Wings fan not be excited about the future? For one, they have one of the best and smartest coaches in the NHL; Mike Babcock who is a student of McGill College from Montreal and is every bit a student of the game of hockey. The man has a propensity to win. And that is because unlike many coaches (Jacques Martin, Guy Charbonneau etc.) Mike Babcock has the ability to motivate individuals and he also has the ability to easily adapt to different situations. To put it frankly Mike is the best in the game right now, having made it to the Stanley Cup finals in his first full year as a Coach back in 2002-03 and winning a Cup a few years later, he knows what it takes, let us also not forget he is the one who Coached team Canada to Gold in this year's Olympics. So based on that it is safe to say coaching is not something Wings fans need to question.
Now let's look at some other promising players, the biggest surprise this year is 26 year old Calder Candidate Jimmy Howard. In 63 games this year Howard won 37 and had a very respectable 2.32 GAA and .922 save percentage, how good was he? Just ask his coach who said "We wouldn't have made the playoffs if not for Jimmy". Sure Red Wings fans owe a lot to Osgood and should pay their respects, however, Osgood's time has come and gone and it is time to pass the reigns to Jimmy Howard.  Being drafted 64th overall and having won a playoff series for the club in spectacular fashion in a sudden death game 7 match against the Phoenix Coyotes, Howard has proven that he is more than capable of being a winner and performing under pressure, and let's not forget how cap friendly he is at only 800K next year before becoming an unrestricted free agent the following year. Next on the teams powerhouse players we have the core of Zetterberg, Franzen, Datsyuk and Rafalski.  Zetterberg is signed until 2020-21, Franzen until 2019-20 (who recently tied 2 playoff franchise records, most points in a game (6) and longest points streak (12 games).
–  Datsyuk until 2013-14 and finally Rafalski until 2011-12. Even with the eventual retirement of Nicklas Lidstrom the wings will have a team that other teams dream of. They will continue to be a force in the regular season and in the playoffs with a team built around these guys. Now, the Red wings wouldn't be the Red Wings if they didn't have young promising stars in their line up.  With Valterri Filipula, Darren Helm and Justin Abdelkader that tradition is sure to keep going. Just like Dastyuk and Zetterberg in their early years these boys are there to learn the system first and deliver later. With big stars of front the young players aren't thrust prematurely on to the grand stage a la Carey Price. Instead they are grown and coached with the end goal in mind, none of that "what have you done for me lately mentality" which has ruined so many careers. The method works and players stick around for their entire careers, case and point Yzerman, Lidstrom, Datsyuk and Zetterberg. So yes wings fans the team is out of the playoffs but you learn a lot more when you lose than when you win. Watch out for the Wings next year.
Manny Douskos from TheHockeyBros.com
Thanks for commenting and reading the article, if you enjoyed this one TheHockeyBros and other articles can also be found on twitter at http://twitter.com/thehockeybros also check out our other blogs on http://thehockeybros.wordpress.com/