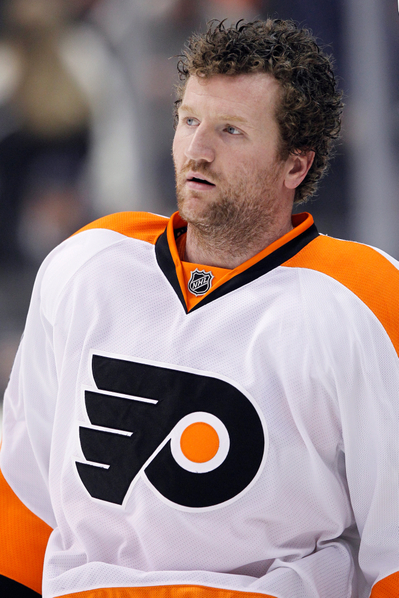 If you were to ask me if the Flyers had any shot at winning today's game against the Boston Bruins, I not only would've said no.  I would've said HELL NO!
Let's break it down.
The Flyers best defender (Chris Pronger) is out for the remainder of the season with post-concussion symptoms.  James van Riemsdyk has been out with a concussion for the past two weeks.  Danny Briere suffered a concussion in the last game against the New Jersey Devils.  Jaromir Jagr managed to tweak his wonky groin again.  The team is playing with two rookie defensemen (Gustafsson and Bourdon).  Tom Sestito was called up to fill in whatever void the Flyers had.  Jody Shelley was in the lineup….always a good decision.  Bryzgalov was in net.  And the Bruins are fighting for a top spot in the Eastern Conference behind a powerhouse team that has no intentions of slowing down.
So am I out of my mind for thinking the Flyers didn't have a chance against the Bruins?  Didn't think so.  And with 50 seconds into the first period, my prediction seemed like it was going to come to fruition.
But the Flyers made a game out of Saturday's shootout loss.
After a quick goal by Patrice Bergeron, Max Talbot scored to tie the game just over a minute later.  The Bruins tacked on two more goals going into the 1st intermission up 3-1.
I immediately grabbed the free beer provided in my club box suite – a perk that I have only experienced one other time at a Flyers game – and started to guzzle it down.  "Tis goin' to be a long game," I thought to myself.  That was until Scott "The Sniper" Hartnell decided to flip a switch and go into Beast Mode.
With the help of superstar, Claude Giroux, Hartnell was fed on three separate occasions for three separate goals, all from virtually the same spot on the ice.  On his 2nd goal, he called his inner Russ Tyler and yelled "It's Knuckle-Puck Time!!!!" (D2 Mighty Ducks reference)
The lead was shortly vanquished by the Bruins when David Krejci and Gregory Campbell connected for two goals, forcing the Flyers to play on their heels.  The jump in their game paid off when, on the powerplay, a Matt Carle blast from the point was redirected by Max Talbot for his second of the night.  The game went back in forth but no one could pot another one in regulation or in overtime.
The Flyers only managed to get one goal on three shots in the shootout (Claude Giroux), as opposed to the Bruins 2-for-2 courtesy of David Krejci and Tyler Seguin.
In the end, Tim Thomas was not his usual self allowing five goals on 38 shots.  However, Ilya Bryzgalov was his usual self, allowing five goals on 37 shots.
The game was extremely chippy with three different bouts taking place on the ice – Lucic vs. Sestito, Kelly vs. Schenn, Thornton vs. Shelley.
The play that likely stood out above all else was Brayden Schenn's perfectly clean hit on Steve Kampfer.  Kampfer was coming around the net, looking at the puck (ala Lindros) while Brayden Schenn was waiting to line him up.  By the time Kampfer looked up, Schenn had built enough speed to lay a devastating bodycheck directly into Kampfer's chest.
So a game that I would have pegged to be a blowout turned into one of the best all-around games I have seen from the Flyers this season – disregarding Bryzgalov's play, of course.  Which begs to conclude why hockey is so great.  Because you should always expect the unexpected.