When New Jersey Devils forward Jesper Bratt was asked about his team's leadership group, there was one name that he specifically mentioned, and it happened to be the player he sits next to in the locker room.

"(Erik) Haula has been the strong voice of the team. (He) has been really pushing guys towards being comfortable with being uncomfortable. He really puts high pressure on himself and the other guys."
Related: Devils' Trade for Erik Haula is a Win-Win
Every successful hockey team is led by a solid leadership core made up of players with and without a letter on their jersey. When it comes to the Devils, everything begins with their captain, Nico Hischier. The 24-year-old may not be the most vocal player in the locker room, but as fans know, that's not his leadership style. On multiple occasions, he has said, "I like to do the action (so) that others can follow me."
His two alternate captains are, of course, Jack Hughes and Ondrej Palat. Both are praised for their work ethic and how they approach the game, and similarly to Hischier, lead by their actions. It led to an opening for a vocal leader, and one of the club's offseason acquisitions naturally stepped into that role.
A New Vocal Leader Emerges in New Jersey
Haula, who is in midst of his first season with the club, has taken on the role of a vocal leader in the Devils' locker room. It makes sense as the Finnish forward has been in the postseason eight times throughout his 10-year career and has an understanding of what it takes to become a playoff team. It is one of the reasons general manager Tom Fitzgerald traded for the versatile forward back on July 13, 2022.
"When you bring in guys like that who expect to be competitive and expect to make a push, it's contagious," Fitzgerald said. (from 'LeBrun: Devils GM Tom Fitzgerald comes into 2022-23 asking, 'Why can't that time be now?', The Athletic, 10/3/ 2022).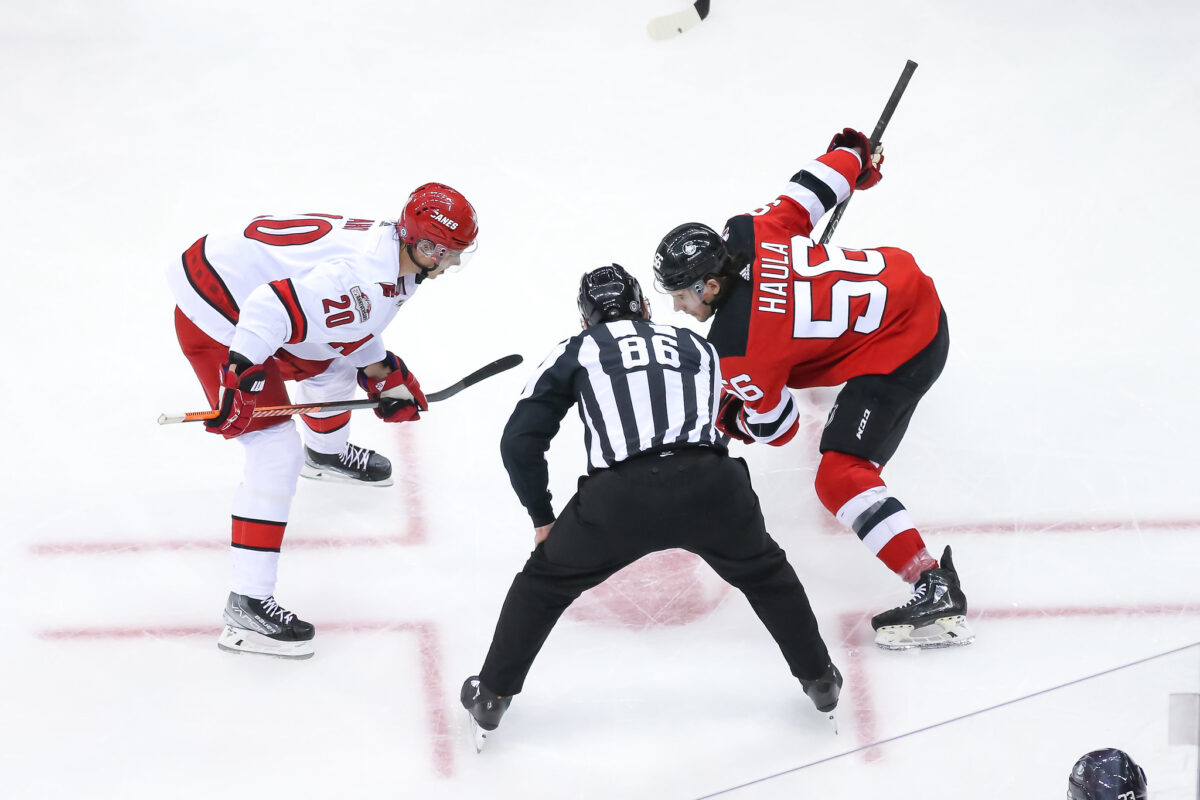 After the team's practice on March 23, Haula sat at his stall while the team geared up for their road trip to Buffalo, New York. Since the start of the season, I have learned what to expect when it comes to the 5-foot-11 forward. He previously said his friends and family would describe himself as intense, and while that intensity is apparent, I can always count on him to be professional and well-spoken during our time one-on-one interviews.

During our latest chat, I asked if he feels he is one of the stronger voices in the locker room.

"I try to be maybe a little bit more vocal than some and tried to kind of take that upon myself," he said. "I feel like along the way, I've learned a lot from a lot of good leaders, especially last year in Boston. You know watching (Patrice) Bergeron very closely and so I was able to take some from there for sure. There's a lot of good leadership there so I learned a lot."
---
Latest News & Highlights
---
Some could consider Haula a journeyman in the NHL suiting up for seven different teams. With that type of career comes experience, and the 32-year-old knows there is a learning curve when stepping into a new locker room and carving out a role.
"You can't lead without having the respect of your peers. I think that's the first step to it. You start working on it and then it kind of comes naturally."

Throughout the past few months, Haula's teammates have spoken highly of him. Whether it's Tomas Tatar praising his defensive responsibility or Fabian Zetterlund acknowledging his hockey IQ, it's apparent that the players in the locker room see how valuable he is to the club.
Haula Continues to Provide the Intangibles
At times it can be a challenge for fans to find value in players who are not leading the charge on the stats sheet, but as Ken Daneyko said on a recent episode of the Dr. Hockey Podcast, "you don't win (championships) without the role guys."
Haula is just that and has provided value both on and off the ice. He can be counted on to win faceoffs, kill penalties, and play an overall sound defensive game. Even though he has been snake bitten when it comes to goal-scoring, he elevates the play of those around him. Some of Hughes' best stretches of hockey this season have been when Haula was on his wing.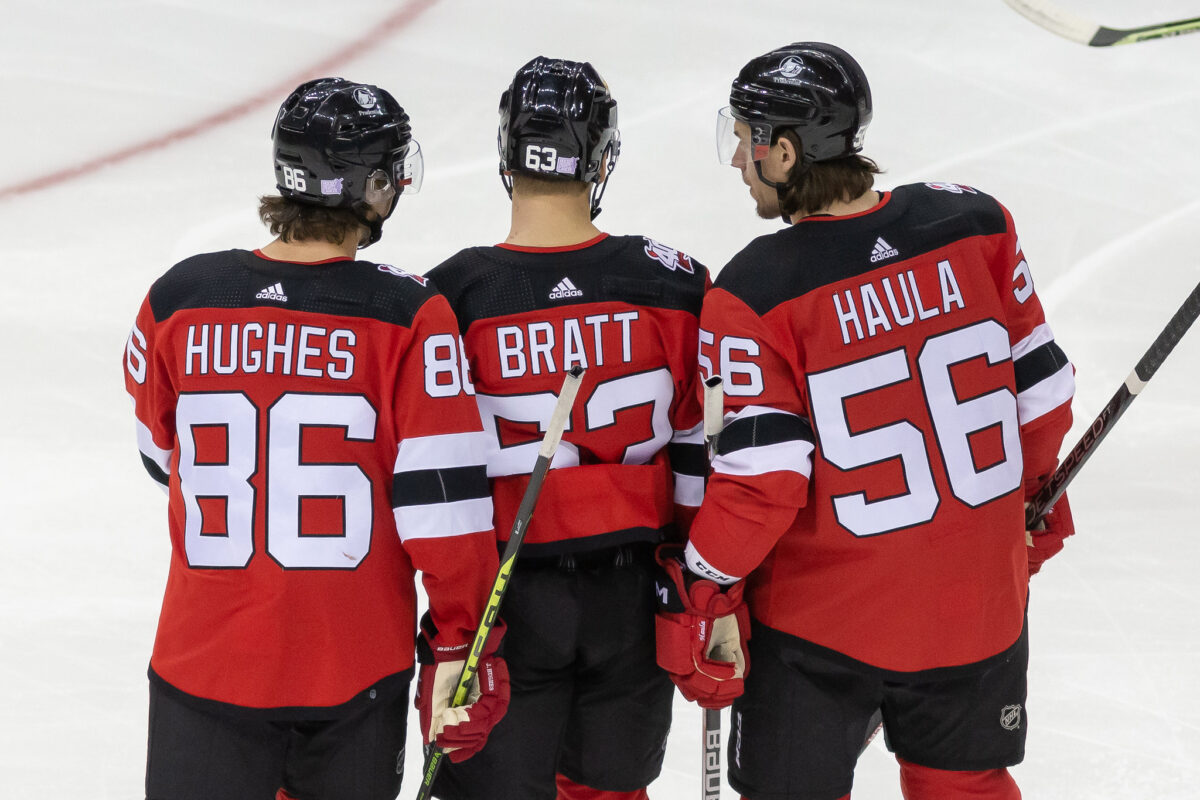 A couple of weeks ago, I asked Bratt if Haula was the veteran voice that has maybe been missing the past few seasons, and without hesitation, he continued to endorse his stall mate.
"Yeah, he's obviously a key guy. He's been around for a long time, and has played for a lot of successful teams. Obviously, that brings a lot of maturity and a good voice in the room for us in the room who on paper, are a younger team."
The Devils have 11 regular season games left and have the chance to clinch a playoff spot tonight with a win over the Buffalo Sabres. You can expect Haula to continue to hold his team accountable and prepare them for the challenges of the postseason ahead. The puck will drop tonight at KeyBank Center at 7:00 P.M.
---
---