The New Jersey Devils dominated the Winnipeg Jets Tuesday night in Newark, behind a strong performance from Martin Brodeur and two goals by sniper Ilya Kovalchuk. The Devils are sitting in a solid sixth place position in the tight Eastern Conference playoff picture after winning their third straight, and Kovalchuk appears to heating up at just the right time.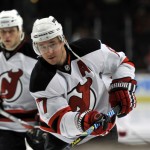 The Russian sniper has scored seven goals in the last six games, and now leads the team with 19 on the season. He's registered a total of ten points as New Jersey has won five of their last six games, with three assists to go with the seven goals. It's the type of play that the team banked on when they signed him to the mega deal in 2010, and it can carry a team.
Perhaps just as impressive as Kovalchuk's scoring is the fact that he's trimmed his once-dismal rating to minus-9, progressing towards his goal of notching a plus rating for the season. He's achieved that plateau only once in his career, during the 09-10 season, when he posted a combined plus-10 for the Devils and Atlanta Thrashers.
Kovalchuk's desire to become a better and more complete all-around player, somewhat uncharacteristic of a pure sniper of his caliber, is good news for the New Jersey faithful, and bad news for the rest of the Eastern conference. He's playing like a man possessed, and earning every penny of the $100 million deal he signed before last season.
DEVILS NOTES
-Center Jacob Josefson logged 13:40 ice time in his first game back since breaking his collarbone on October 21.
-David Clarkson scored a goal against Winnipeg, moving him one short of his career high of 17.
-Adam Henrique missed his second straight game with a nagging groin injury.