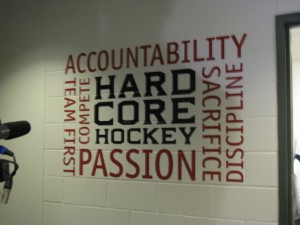 If General Manager Scott Howson was clinging to any hope that the Blue Jackets could turn around their nightmarish start to the season, surely he has to have abandoned it by now, right?  Headed into a Canadian road trip the Blue Jackets had gone 4-2-2 in their previous eight games and had seemingly found a starting goaltender in veteran Curtis Sanford.  There was a light at the end of the tunnel.  The road has not been kind to the Blue Jackets though, they have gone 1-2 so far and gave points to all three teams they played, all Western Conference teams ahead of them in the standings.  Of course, every Western Conference team is ahead of them in the standings, and there are no Eastern Conference teams with fewer points than the Jackets either, but I digress.  The Jackets are seven points out of 13th place in the West.  Theirs is not a position that can be rectified by two or even three good games in a row.  At this point they would need to string together eight to ten regulation wins in a row to put themselves in a position to be in playoff contention.  At this point this team has not shown the consistency or drive to put together a string like that.  They play good periods then play poor periods.  They have good five minute stretches, then bad ten minute stretches.  Whether it is a result of poor coaching, poor leadership, or just a poor roster remains to be seen.
This is Head Coach Scott Arniel's first head coaching job at the NHL level, and it shows.  There are too many times that Arniel seems to have the proverbial deer-in-the-headlights look on the bench.  The team loses focus too often, he doesn't seem to understand why his system isn't working, and seems unwilling to make adjustments to his game plan during the game.  He seems to pass duties off to his assistants in crucial situations, including diagramming plays during timeouts.  Then there are the curious cases of defenseman Mike Commodore last season (now a Detroit Red Wing) and forward Derick Brassard this season, two players who appear to have worked their way into the coach's dog house and earned stretches of healthy scratches.  Arniel seems to have made these players into cautionary tales for the rest of the team.  It also appears to be driven by off-ice issues.   While Commodore wasn't exactly good in the last two years he donned the Blue Jackets uniform, he certainly did not seem to be any worse than some of the other defensemen Arniel played over him last season.  Brassard also started out this season very poorly after being switched from center to the wing, but certainly no worse than veterans R.J. Umberger or Antoine Vermette.  It has gotten to the point with Brassard that his agent, the ever outspoken Allan Walsh, publicly bashed Arniel going so far as to say "The coach has a history of burying players and using them as scapegoats to mask his own lack of success on the ice."  As a point of reference, of the last seven coaches to win the Stanley Cup only two of them were with the first NHL team to hire them (Dan Bylsma and Randy Carlyle).  Perhaps Arniel needs a bit more experience, or perhaps he simply is not cut out for the NHL coaching rigors.  He seems to be over his head and the team is not responding to him.
To put up a list of the first-round selections of this team would probably make some grown men cry.  Others would laugh.  Of their first-round picks between 2000-2008 only two players remain with the team.  Rick Nash (the only overall #1 the team has ever had) and the aforementioned Derick Brassard.  The rest are either out of the league (Pascal Leclaire, Alexandre Picard) or playing for another team (Rostislav Klesla, Jakub Voracek).  This organization has continuously failed to develop top-end talent.  It can be debated whether this boils down to scouting or player development, but either way something in the organization needs to change.  To allow both the developmental and scouting departments to go unchanged implies you think both are performing well, and that simply cannot be true.  There has to be accountability within the organization for the failure to draft and develop their own players.  Columbus is not a proven team that can bring in top-end talent via free agency without overpaying.  The ramifications of this and the lack of development can be seen now.  The Blue Jackets have the eleventh highest payroll in the league, but the product on the ice just does not match the amount they are paying.
Somehow the Blue Jackets organization needs to change the culture of the team from a losing mindset to a winning one.  Whether that means sweeping changes to the scouting and development departments, the coaching staff, or perhaps even in upper management.  Watching this team wallow in last place and seeing nothing change is going to drive away what fans are left.  This team needs to put a winning product on the ice or show that they are committed to getting better.  Perhaps they should look at bringing in a guy like Ron Hextall or even Randy Carlyle as a senior adviser to Scott Howson or team President Mike Priest.  Give the guy some authority and let him overhaul some of the internal operations, even as far down as the AHL affiliate in Springfield.  Create something winning teams have, an organizational identity.  Draft and develop players based on this identity, bring them up to expect to win hockey games at all levels.  Apathy towards poor results will not help turn this team around.