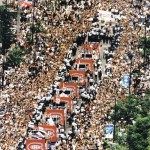 After a loss to the Penguins in pivotal game 5 on Saturday night, the Canadiens will be looking to even things back to three games apiece tonight in Montreal. On the other hand, Sidney Crosby and the Pens are looking to clinch the series in six games. It is not the first time the Habs have had their backs up against the wall during these playoffs. Their first round match-up versus Washington saw them fight off elimination for three straight games, coming back from down three games to one and winning the series in 7 games.
The Canadiens will need to dig deep to pull this one off against the defending Stanley Cup champions. Pittsburgh can feel a birth to the conference finals on the tips of their tongues, and are probably even more motivated to go all the way now that the Western Conference champion will not be the Red Wings, who have finished tops in the West the past two years. The slumping Sidney Crosby has 3 points in the first 5 games and only one since game 1. For most players, those numbers are fairly decent but not for Sidney, not when he lit up the Senators in Round 1 for 14 pts in 6 games. He is due for a big game and it will not surprise me at all in game six when all the spotlights are on him in the Bell Center, is when he delivers.
The Habs will also have to deal with the loss of Hal Gill, who from what we saw had a skate cut his leg, even though press releases have it documented as a lower body injury. Hal Gill is labeled the "octopus" in Montreal, because of his work on the P.K., since it seems as though the man has eight limbs, and uses each and every one of them to block everything in sight. The P.K. tandem of Gill and Gorges played lights out during the Washington series, and has still been relied on very heavily against the pens. It will be interesting who Jacques Martin uses to fill the void left by Gill. One potential rumor is the return of Spacek who did an excellent job of shutting down Crosby.
It is a secret to no one, Halak will have to stand on his head once more if the Canadiens want to see another game 7. The question is not if he has it in him, because we all realize now that he does, the question is how much more does he have in him? At what point does a goalie break down from receiving over 35, 40 and sometimes 50 shots a night? These questions remain to be answered, but after Monday night we should have a perfect understanding of where things stand. One thing is for sure Habs fans are waiting to celebrate like it was 1993 all over again.
Peter Leventakis from TheHockeyBros.com
Thanks for commenting and reading the article, if you enjoyed this one TheHockeyBros and other articles can also be found on twitter at http://twitter.com/thehockeybros also check out our other blogs on http://thehockeybros.wordpress.com/