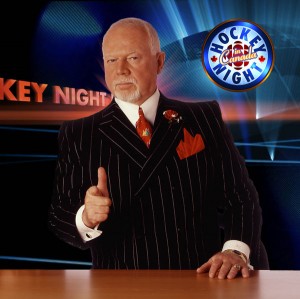 Normally, I'm a pretty even keeled kind of person. It takes a fair amount for me to sit up and speak out negatively against someone, especially in a public forum.
But Don Cherry has stepped over the line. His partisanship towards certain groups, and his distaste for others has been heard far too many times, as he continues to flap his gums on The Coaches Corner on CBCs Hockey Night in Canada.
I personally, was fortunate enough to not have to endure him enjoying the sound of his own voice last night. Following a sound win by the Montreal Canadiens over the Pittsburgh Penguins in the HNIC matinee, I decided that I would forgo the remaining broadcasting – to avoid my ears from a potential bleeding from the idiocy that normally spews from the ex- Boston Bruins coach.
I'm so glad that I did … but sadly – his comments were staring me in the face from my Yahoo home page when I went online today to check my email.
Let me explain something to "Mr." Cherry (and I use that title very loosely).
If Geoff Molson wants to stand up and express his concern with the league, in light of what he believes was a definitive head-shot to one of his players, he has every right to. It's pretty clear that there are far more people in the league that felt Zdeno Chara should have received disciplinary action from the NHL committee.
In an interview yesterday between periods in Pittsburgh,  Penguins coach Dan Bylsma agreed that players need to be responsible in hits where they cause head injuries. And although he danced around the question a bit – he clearly made his point that the NHL had dropped the ball in the Chara case.
We shouldn't discount the fact that players like Henrik Sedin (Vancouver Canucks), and Joe Thorton (ex Bruin and currently with the  San Jose Sharks) have also voiced their displeasure with the NHL's lack of suspension.
From the Iain McIntyre interview with H Sedin (Vancouver Sun):
"What are you doing to do the next time Trevor Gillies(notes) comes down and runs a guy into the thing? You can't give him anything. And you tell the guys [Chara] has no history, so the next time he does it he still has no history because he didn't get suspended. I don't see the reasoning behind it. Give him at least something to show that's not acceptable."

…

"I'll tell you this: if you say that you don't know where things are around the ice, I think you're not telling the truth," Sedin said. "You play the game for 20 years, you know it's there. It's gotten to the point, you have to suspend guys if you hit the head. You have to do it even if guys say they didn't mean to do it or it's an accident. You have to start somewhere.

"I don't think players know where the limit is. That's the bottom line."

From the Matthew Sekeras interview with J. Thornton (Globe and Mail):

"It's just something with Boston," Thornton said. "It just seems like they have a horseshoe. We've seen the [Milan] Lucic cross-check to the head [of Maxim Lapierre(notes)] earlier, and there's no disciplinary thing.

"It's just something about Boston and the disciplinary [process] is on their side. I'm not sure why that is. I'm not assuming that Colin's kid is on the team and that's why, but it's really bizarre."
I can understand Cherry not wanting to listen to Sedin. After all – he's just a dumb European hockey player. But hey Don,  what about Joe? He's a "good ol' Canadian boy"!!!
As far as le Centre Bell being the most injury prone arena in the league … well I'd like to see the official stat on that. I'm assuming that Cherry was talking about the seamless glass in the building – that clearly had nothing to do with anything in this case – and is scheduled to be replaced following this season. There are 5 other arenas in the league (Calgary, Minnesota, Nashville, Colorado and Phoenix) that have the same glass. Should I assume that they're the top 6 offending rinks in the NHL for injuries? Someone please get me some numbers, but I won't hold my breath.
If that's the case – I guess Nationwide Arena in Columbus is safer. Right – tell that to Drew Doughty of the Los Angeles Kings, after he was steered into the stanchion by Columbus Blue Jackets RJ Umberger.
The fact of the matter is this Mr Cherry. Players know where they are on the ice, and they know these stanchions exist in every arena in the league. Rubbing out a player in these areas, especially in an instance where they aren't even playing the puck, is both irresponsible and dangerous; and therefore in need of further disciplinary action. To think otherwise is negligent.
One other point. We all know that Cherry has no love for the people, fans, or franchise in Montreal. He's clearly a Toronto boy. So when he makes idiotic references to Air Canada and VIA rail being stationed in Montreal, it's no surprise. But keep this in mind. Tim Horton's, who is also a major sponsor for the NHL, has issued a letter stating that the league is in need of addressing concerns with head injuries in the aftermath of the Chara hit on Pacioretty. They're corporate head office is in Oakville, Ontario. Something Mr Cherry clearly decided to leave out during his first intermission rant last night.
If there is one thing that Cherry has demonstrated over the years, it's the fact that he is opinionated, rude, intolerant of others opinions, anti anyone who is non-Canadian, anti anyone who is Canadien, and still has a love-on for his beloved Boston Bruins. He is pro fighting, pro dirt, and therefore un-pro-fessional.
It baffles me that the CBC continues to employee such an unfortunate soul as Don Cherry. Do us all a favour. Instead of paying him to run his mouth … pay him to keep it shut.
His days of being a commentary on hockey are long gone – if those days even existed in the first place.