The saga of Don Cherry and his comments towards the three ex-NHL enforcers who spoke out against fighting in hockey continues to be one of the most highly talked about stories around the NHL and hockey in general.
On a recent Coach's Corner segment on Hockey Night In Canada, Cherry responded to the comments made by Stu Grimson, Chris Nilan and Jim Thomson whom all spoke candidly on how fighting in hockey effected their daily lives and pointed to the often brutal profession as a clear cut reason for the recent deaths of Derek Boogaard, Rick Rypien and Wade Belak.
Cherry fired back at the three former tough guys calling them "pukes" and "hypocrites" in his angry tirade which was all too predictable if you are familiar with his stance on fighting. His usage of the word puke was in response to the idea of blaming such serious issues like suicide, alcoholism and drug addiction on fighting; which he considers to be disrespectful to the countless others (not involved in hockey) who suffer and struggle with those problems. He referred to them as hypocrites because in speaking out against the violence, Cherry sees the three as trying to prevent others from making the same comfortable living they were afforded from being "fighters" in the NHL.
So who is right? Certainly the likes of Grimson, Nilan and Thomson coming out and trying to change the game so that other players won't have to face the same demons they did can only be looked at in a positive light, but as egotistical and behind the times that Don Cherry may be; he too has a point. While he is foolish for trying to completely dismiss fighting as a factor in the deaths of Boogaard, Rypien and Belak, it might also be just as foolish to look to their brawling ways as the main reason for their deaths.
The point can be raised that if these enforcers do not want to earn their living punching and taking punches then the answer is simple. They can simply walk away from the sport and get a 9-5 job like everyone else. No one is forcing them to do anything but the fact remains that until fighting is completely removed from the game, there are always going to be players that will do whatever it takes to fulfill their dream of playing in the NHL and when you get down to it; who has the right to tell them they can't?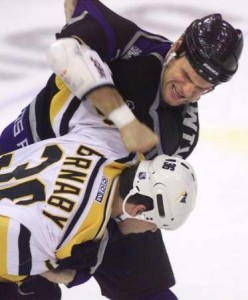 Cherry sees Grimson, Nilan and Thomson as more or less telling an aspiring tough-guy that he can't follow the path of an enforcer because "look at what happened to me and the problems it caused me."  He remembers back to his playing days and imagines what it would be like if someone told him he couldn't or shouldn't do everything in his power to make the NHL, even if it meant having to literally fight his way to achieve it. He sees the countless Canadian kids who realize at a young age they likely will never make it based on their skill, but hold on to the hope that there will be a team out there who covets their toughness and complete willingness to do whatever it takes to please the coach and earn a spot in the lineup.
While there is some truth to what he says, there is no arguing that the biggest knock against Cherry has always been his inability to adapt to any changes to the game he loves. He wants the game to be remain exactly as it was when he himself was trying to scratch and claw his way to the NHL. Unfortunately for him every sport evolves and hockey, while very slowly, seems to be evolving as well.
The NHL has started to take brain injuries more serious than ever before and has begun to remove things like blind-side hits to the head and the old "catch your opponent with his head down"; aspects of the game that once were not only applauded but encouraged. The next logical step seems to be removing fighting as a part of hockey, and that is something that scares Don Cherry and the others who share his idea of "old-time hockey."
If the NHL is ever to seriously consider removing fighting then they should go ahead and do it. Instead of just continuing to discuss it, act on it. The solution seems simple enough. It needs to start from the ground up with coaches, general managers and scouts all discounting the role of the 'designated enforcer'. If the odd fight happens out of the pure passion and intensity of the game then so be it, but eliminating the pre-meditated fisticuffs that occur under the false pre-tense that they spark the team, would go along way in changing the game.
No longer would you have guys living in fear the night before a game, wondering with whom and when their inevitable scrap in the following night's game will take place. No longer would there be guys using alcohol and drugs just to help calm their nerves so that they can get some sleep and put their minds at ease the night before a game in which they knowingly will be trading haymakers with an often enormous opponent.
But until hockey starts to look at this more seriously, the efforts made by Stu Grimson, Chris Nilan and many others will indeed be commendable, but they will be for not, and the arguments made by Don Cherry will continue to hold merit and will (sadly) continue to be legitimate.