Nobody likes to watch their team lose the first game of the season.
Even less enjoyable is watching that team get shut out at home by an old rival in the first game of the season.
And when that first game is preceded by a retirement ceremony wherein a future Hall of Famer's jersey number is raised to the rafters?
Forget about it.
After a classy and emotional ceremony honoring the career of Peter Forsberg, the Colorado Avalanche went on to get shut out 3-0 by the Detroit Red Wings at the Pepsi Center on Saturday night.
"A lot of teams lose their home opener," Matt Duchene told reporters after the game. "There's no reason to panic yet."
He's right. The score of this game is somewhat misleading. This isn't the same team from the second half of last season.
Here's how I know…
1. Semyon Varlamov.
Varlamov looked cool and collected in his post-game interview, and he graciously declined talking about his outstanding performance.
"We have to score," he said. "That's it."
He did his job well on Saturday, making many fantastic saves that kept the Avalanche in the game. 36 of 38 shots is nothing to shake a stick at.
Going forward, Varlamov's presence in net is a comforting one. Having a goalie we can count on to be there to make the big saves against powerhouse teams like the Red Wings is something we finally get to enjoy. Varly gave his team a chance to win, and while the game ultimately didn't go his way, it was by no means his fault.
As long as he stays healthy, this young goalie will do great things for this team.
2. Gabriel Landeskog.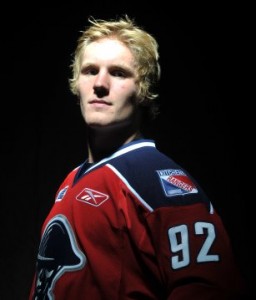 Or "Landesbeauty," as some of his fellow rookies nicknamed him during camp. He made his NHL debut on Saturday, and he did not disappoint. Landeskog shared the lead in shots on goal with Paul Stastny – they both had five – and he threw three hits. He also looked solid on the penalty kill.
In fact, Gabe is one of the five players who dressed last night who didn't finish with a negative rating, and it isn't because he wasn't seeing icetime.He was out there for just over sixteen minutes when all was said and done.
Landeskog, like the rest of the team, may not have put up any points, but it certainly wasn't for lack of effort. He was one of the best players the Avs had on the ice last night, and it's safe to say he did his childhood hero Peter Forsberg proud.
Gabriel Landeskog came to play, and his rookie season is going to be a fun one to watch.
3. "Starting the game on time."
As tired as this idiom is by now, it's nice to hear Avalanche head coach Joe Sacco say they did, in fact, start the game on time. So often last season we saw the opposite of this game: two shaky and lifeless periods followed by a strong third that almost accomplished something. And afterwards, we were treated to a Sacco press conference where he says, "we just didn't start the game on time." It became a routine.
When looked at in that light, this game was an overwhelmingly refreshing change of pace. Coming out of the gate, the Avs and the Wings were as evenly matched as ever. The defense is much stronger, the team as a whole is more cohesive and there's a fire there that got lost somewhere around the All Star break last season. This team doesn't want to get pushed around, and for those first two periods, it was either team's game.
Now, if they can just work on not leaving the game early, we should be golden.
The ultimate takeaway is this: this Avalanche team has loads of potential. They are on the brink of doing some great things.
I may be overly optimistic, but I have faith they're going to surprise us this year.