Following a demolition at the hands of the Detroit Red Wings, it was off to Toronto for the Los Angeles Kings.  Once again taking "The Great One's" advice, that being "You miss 100% of the shots you don't take," the Kings fired 43 shots on the Leafs.  However, unlike "The Great One," who once upon a time broke the hearts of Maple Leafs fans while in a Kings uniform, had more difficulty hitting the net.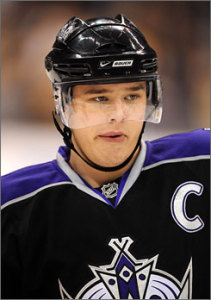 Hence, just as he did in Columbus, Captain Dustin Brown, saved the Kings bacon yet again.
L.A. did manage to strike first against Toronto keeper James Reimer.  Defenseman Drew Doughty dumped the puck in from center ice and it took a wild carom out front.  A wild but lucky bounce for L.A.  That allowed Justin Williams to take advantage out front, putting home his fifth of the campaign in the first.
It was a first frame of fluky hops and Toronto would be the beneficiary of the next one.  Kings netminder Jonathan Quick passed the puck softly from behind the net.  Then Tyler Bozak took the puck and sent it off the opposite boards, where it banked to John-Michael Liles for a slapper and a goal.  Liles' fourth of the year, had the contest knotted up at one after one.
In the second, it was Brown taking charge for the Kings and taking the lead back.  On the power play, a beautiful pass down low from Simon Gagne, found a streaking Brown in the slot for his seventh marker and a 2-1 Kings edge.
Yet early in the third, Toronto tied things again.  With the Leafs on the rush, Mikhail Grabovski sent a pretty saucer feed to Matt Frattin, who batted the puck in on the fly for the tie.  It was an excellent display of hand-eye coordination by Frattin, for his fourth tally of the year.
From there, not much was decided until the shootout.  What happened there was Quick adding to a solid 31 save night, turning aside all three shots he faced and Brown posted the only goal the Kings would need for the 3-2 victory.
All-in-all it wasn't a horrible four-game road-trip, record wise for the Kings.  They finish up with a mark of 2-2, as awful as those two defeats were for L.A.
So now the Kings head home with a new bench boss and a tilt with the lowly Anaheim Ducks on Thursday.