The 2014-2015 NHL season is only a few weeks old, but the race for the Calder Memorial Trophy is already starting to heat up.
This year's rookie draft class is shaping up to be deeper and more skilled than the past few years, and boasts a handful of tantalizing individuals that are already generating plenty of buzz and media attention even though their careers are still in their infancy.
Let's take a look at the early Top 10 contenders for the Calder: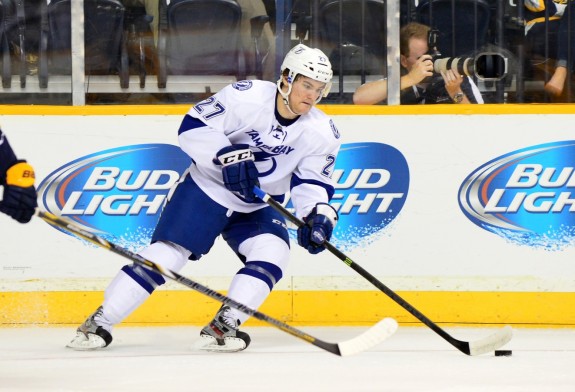 Jonathan Drouin – Tampa Bay Lightning: Might as well start with the obvious front-runner. Drouin was the most dominant QMJHL player since Sidney Crosby, and now he gets to play with Steven Stamkos in the NHL? That's not even fair. Possesses the puck with an almost inhuman level of control and has the offensive instincts to match.
Johnny Gaudreau – Calgary Flames: As skilled as Drouin is, though, the argument could be made that Gaudreau is even better. "Johnny Hockey" is tiny, listed generously at 5'9″, but is an electrifying blend of speed and puck skills. He has three points in seven games so far for the Flames and is going to be given every opportunity to succeed this season.
Damon Severson – New Jersey Devils: How good has the 20 year-old Severson been so far this season? He skipped starting his pro career in the AHL, and has forced the 2011 4th overall draft pick Adam Larsson down the depth chart and into being a regular healthy scratch. He has five points in six games so far and is averaging just over 20 minutes of ice time per game.
Tanner Pearson – Los Angeles Kings: Pearson certainly doesn't seem like a rookie considering he played a strong supporting role in the Los Angeles Kings' Stanley Cup victory last spring, but nevertheless he's still eligible for the Calder. A member of LA's rapidly improving "That 70's Line," Pearson currently leads all NHL rookies with five goals and seven points in six games.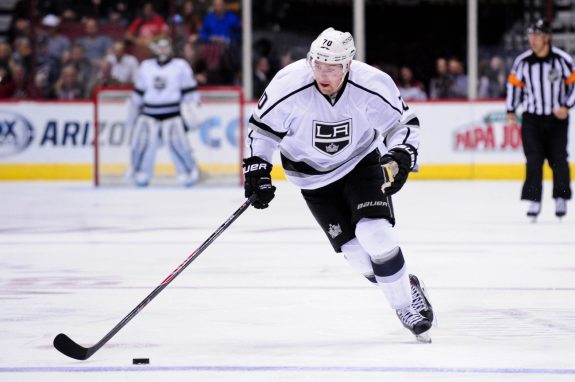 Aaron Ekblad – Florida Panthers: The youngest member of this group and the 1st overall draft pick from the 2014 NHL Entry Draft, Ekblad has always played like a defenceman much older than his years, both mentally and physically. He's already averaging over 20 minutes of ice time per game as an 18 year-old, a number that doesn't look like it's going to go down any time soon.
Anthony Duclair – New York Rangers: Duclair, 19, was considered a long shot to make the Rangers when training camp began, but stuck with the team and has earned all five of his regular season appearances so far. His three assists and overall impressive play suggests that he won't be sent back down to the QMJHL any time soon.
Filip Forsberg – Nashville Predators: Drafted by the Washington Capitals 11th overall in the 2012 draft, Forsberg is now playing in Nashville and making the most of it. The Predators have a couple of regular Top 6 forward spots for the taking, and Forsberg certainly looks like he'll earn one. His five points in six games is currently tied with Mike Ribeiro for the team lead.
Andre Burakovsky – Washington Capitals: The 19 year-old Swede is younger than most rookies, but has an impressive amount of offensive skill. He already has five points in five games, and has the envious benefit of having a player like Alex Ovechkin to watch and learn from every game.
Stuart Percy – Toronto Maple Leafs: The Leafs have a deep blueline group this season, but Percy has fought hard and played well to remain a regular in the lineup, even outplaying the highly-touted Jake Gardiner. The 21 year-old defenceman is averaging 19:34 of ice time per game and has three assists in six games.
Chris Terry – Carolina Hurricanes: Terry is the dark horse of this group, but when you take a closer look at his situation it becomes more clear how he could sneak his way into Calder contention. Injuries to teammates Eric and Jordan Staal opened the door in terms of forward ice time and Terry, a 25 year-old with four strong AHL seasons behind him, responded, with five points in five games so far. If the Hurricanes struggle throughout the season and are out of the playoff race early then the winger could be given more room to grow.