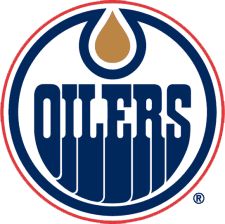 With Oilers fans watching everywhere, first-overall draft pick Ryan Nugent-Hopkins could have shrank from the spotlight in his NHL debut.
He did anything but: scoring a game-tying goal with 4:55 to play in the third period, all while centering the top line with Ales Hemsky and Taylor Hall.
His marker paved the way for his club to make the most of a night with numerous firsts.
Here's how it shook out:
Nugent-Hopkins starts the play out on the near boards and bumped the puck down to Taylor Hall below the goal line
He then beats Ben Lovejoy off the boards to the front of the net
Hall attempts a centering pass to the front of the goal for Jeff Petry
Petry fails to get a good stick on the puck, which allows Nugent-Hopkins to corral the puck while crashing from the half-wall
With Lovejoy draped over the back of Nugent-Hopkins, he beats Brent Johnson with a backhand
"It was really exciting, especially playing against a team that's supposed to be really good this year in Pittsburgh. It's huge to get the two points out of this game," said Nugent-Hopkins in an interview with Oilers media after the game.
He was ready to contribute further, adding he would have shot fifth had the shootout made it that far.
If there were questions about whether he would break camp with the club, he certainly made a case for himself tonight: setting the stage for the Oilers to get two points when it looked as if they were headed for zero.
Though just 2-15 on draws, he logged an impressive 17:03 of ice time and notched three shots, cashing in on his last attempt. Faceoffs will improve for the young centerman, but more important was his sense of humility while nodding to his team's victory before his achievement.  His coach (Tom Renney) was quick to compliment his young player.
"He's a slick kid, just so smart. Never intimidated or overwhelmed by any circumstance. (He) continues to just get his body in places where he can be effective that way too. He's got a nose for the net. He's got a nose for the circumstance. He understands what's required, where to put himself on both sides of the puck. He's got his goal, that's great. Got that out-of-the-way."