For more than a decade now, ice hockey in the United Kingdom has found its niche. While it may not be considered along the same lines as soccer or tennis, it has found a means of maintaining itself and has obtained a level of respect in worldwide hockey. We have seen this mainly in the Elite Ice Hockey League, which is the United Kingdom's top league for hockey. The league has done fairly well in attracting higher-level talent from other countries, and to some extent, developing the UK's native players. Many former NHLers have played in the EIHL, including the likes of Kevin Westgarth, Pavel Vorobyev, Paul Bissonette, and Drew Miller. Those a just a few of the names.
What most fail to realize though is that the United Kingdom has done admirably well at growing their women's game, specifically in Great Britain. In fact, British women's ice hockey is one of the fastest growing women's programs globally. Since 2011, Great Britain has iced a women's U18 team in IIHF international competition. Most recently, the country's U18 team played to a fifth-place finish in Katowice, Poland from Jan. 6 through 12, 2018. Great Britain evaded relegation in the Division 1B competition and will stand strong in next year's tournament.
A vital cog in the Brits staving off relegation was the play of their goaltender, Maisie Gilbert. Or as we have come to call her, "The Coventry Wall". Gilbert is the real deal, and with her turning 16 next month, it is a guarantee that she will be stonewalling shooters against Great Britain for many years to come. This young lady carries an immense amount of passion for the game, and it fuels her performance on the ice.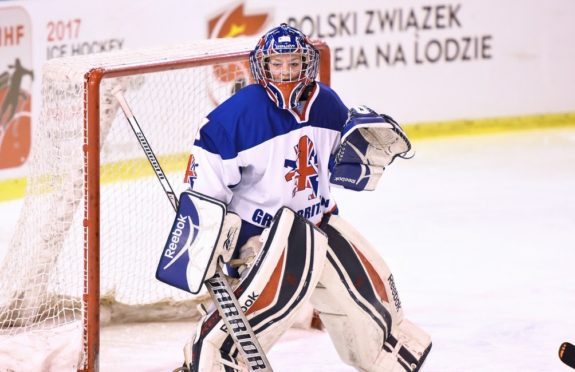 THW caught up with Gilbert shortly after the Division 1B tourney so that we could learn more about her. She was kind enough to share a bit of her story.
A Bit About Coventry
Gilbert started hockey at a very young age. When this is the case, it is always a most fortunate factor in a player's development. She learned the game early, and at a comparable rate as to what is seen in North America or in other hockey hotbeds of Europe. She is originally from Coventry, a city more towards the center of England. With a population of over 345,000, it is the ninth-largest city in England. Coventry also houses the Coventry Blaze, which is one of the founding teams of the EIHL.
Gilbert explained to us, "There is roughly one team per big city and there aren't as many chances as there are in Canada, etc. but there are a fair few. I do wish that hockey was a bigger sport here, but I'm just glad I have the means to play it."
Gilbert's assessment of teams is quite accurate. There are presently 12 teams that comprise the EIHL, with six of them being housed in England while the other half can be found in Wales, Scotland, and Northern Ireland. On the women's side, there are a total of six teams comprising England's women's elite league, including Gilbert's own Sheffield Shadows. She also plays on a mixed male/female team in England's U18 system called the Telford Tigers. She has played quite well for both squads.
Gilbert Has Always Been Around the Game
Though she is not even 16 yet, Gilbert has been playing hockey for a long time now. In fact, she has found herself around rinks all of her life.
Good luck to Maisie Gilbert and the u18 GB Ice Hockey team playing in Poland this weekend. @TeamGBicehockey SBE pic.twitter.com/AeeO2CR9cZ

— Cardinal Newman Catholic School (@newmancoventry) January 5, 2017
"I started playing ice hockey at age four after skating beforehand for two years," Gilbert said. "My parents watched games at the local rink when I was a baby, so from a young age, I was around the sport. My older brother, who is currently 19, took up the sport when he was young. He practiced in the garden, and of course, he needed a goalie. I was put in net to help him train his shooting and it progressed from there."
She went on to say, "I enjoyed being between the pipes and carried on by going on the ice with the full kit. I did try to become a defender, but I was always drawn to goaltending."
Thankfully for Great Britain, that is where she stayed. At the U18 level for women's national, Gilbert has been the country's cornerstone in net for two years now. Considering when her birthday falls, she will be able to backstop Great Britain for two more international tournaments at this level.
Admiring a Montreal Canadiens Netminder
At 5-feet-5-inches and 119 pounds, Gilbert is lithe in net and has both solid movement and sound positioning, much like an elite NHLer whom she admires.
"Like most hockey players, I follow the NHL and since I was rather young I looked up to Carey Price," Gilbert said. "Of course he is considered one of the best goalies in the league, but I also admire how in his early career he was put down and told he was not suitable for the NHL. Like him, I try to not let other people's opinions affect me and carry on playing the sport that I love."
The Montreal Canadiens' Price is an Olympic gold medalist. He is also a recipient of the Vezina Trophy as the NHL's best goaltender and the Hart Trophy as the league's most valuable player. Other trophies and accolades in Price's career abound. Price is also known to be a highly respected spokesperson to youth and encourages youngsters to be themselves. Gilbert has certainly found a most respectable athlete to admire. She has also followed suit.
"(Hockey) has taught me that not everything goes my way all the time, and that is completely fine just as long as you don't just give up and stop trying," she said. "You have to keep moving forward and progress in life because that is the only way you will get stronger and improve."
Sounds like the type of advice Price himself could impart to a young athlete, but Gilbert has picked up this concept of her own accord.
International Success at IIHF Competitions
The 2017 Women's U18 Division 1B tournament was also played in Katowice. With a regulation win and an overtime win, Britain played to a fourth-place finish. Gilbert manned the nets for four of Britain's five games. She was credited with the 2-1 OT win over China and the 4-2 win over Kazakhstan. In the process, Gilbert played herself to a 1.99 goals-against average and an .893 save percentage. Solid numbers for any goaltender, especially the GAA.
She would follow up with a similar performance in 2018. In three games at this year's tourney, she compiled a 2.13 GAA and a .914 SV%. In a 2-0 loss to France, Gilbert still made 37 saves. Her save percentage was fifth-best for all goaltenders at the tournament.
That being said, statistics are not that important to Gilbert. Her focus is more on the intangibles associated with playing a game she loves.
"My favorite part of both the tournaments I have done is when I first pull my jersey over my pads, it's the best feeling I have ever felt," she expressed proudly. "To have the opportunity to represent my country is more than I could have ever asked for and it is truly an honor to be able to play with my country on the front and name on the back."
Future IIHF U18 Tournaments
And as stated earlier, Gilbert should have two more U18 tournaments ahead of her. For the 2019 Division 1B, Great Britain will be facing many of the same opponents. Denmark won the tourney this year and has been promoted to 1A. Taking their place is Norway, which was relegated from 1A into 1B. Australia was the team to be relegated to 1B this year. Their replacement could be either Kazakhstan, Mexico, Spain, Turkey, or the Netherlands. This will not be known until the tournament for 1B qualification gets underway at the very end of January 2018.
So while there will be plenty of fresh faces among two new teams, three of Great Britain's opponents will remain the same: France, China, and Poland. This matters little to Gilbert who is more focused on just playing her very best regardless of who her opponents may be.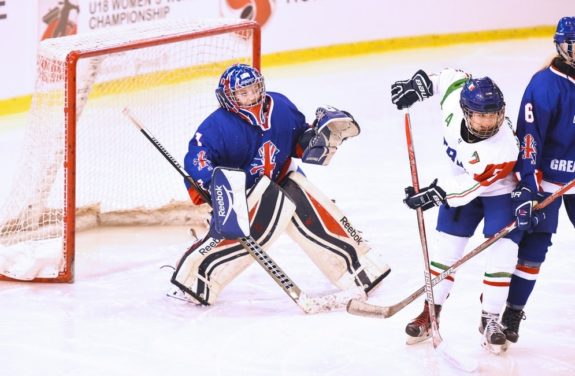 "I wish to carry on playing in the U18s for as long as I am able to, and after that, I want to carry on training hard to make the women's national team," Gilbert expressed. "Even if I do not make the team I wish to always be a part of the squad, and set up to support future players and help them achieve their dreams as I did."
That is certainly a respectable mindset for any young athlete to possess.
Playing in England's Women's Elite League
Separately from her performances internationally, Gilbert has made a name for herself already in England's Women's Elite League. She has played two seasons for the Sheffield Shadows. This is rather difficult to fathom (at first) because she is playing alongside grown women who are twice her age in some instances. But aside from her obvious innate skill, it is Gilbert's mindset that allows her to compete at this level. Not just compete either, but to fit right in.
"The league has quite a high standard," Gilbert explained. "My team used to be a the top of the table, but the past few years players have been lost. Even though we aren't the best team in the league, we have just as much spirit and commitment as any other team does. We are all trying hard to get up in the league and we try to support and help one another through the hard journey."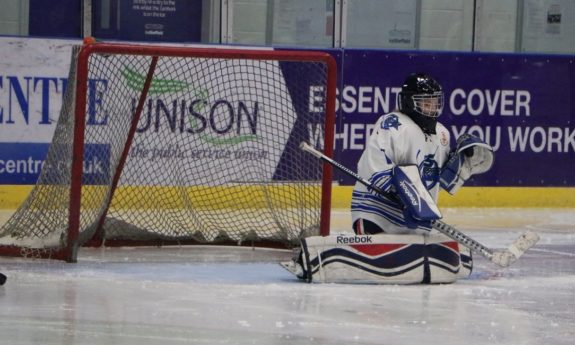 It's safe to say that Gilbert has contributed in her role. During the 2016-17 season, she played in six games for the Shadows. On average—are you ready for this?—she faced over 50 shots a game. So while the 5.33 GAA might look rough, Gilbert's .894 SV% puts everything into perspective. To look at it this way, in 306 minutes of play, Gilbert faced 303 shots. All at the age of 15.
This current 2017-18 season, she has played in four games. The amount of shots Gilbert is facing has lessened greatly—an average of 20.5 a game. Her 1.75 GAA and .915 SV% are great numbers.
Preparing for Great Britain's National Women's Team and Beyond
While facing more than 50 shots a game is a tedious task, Gilbert weathered the storm. She recognizes too that challenging play among grown women better prepares her. We are talking preparation for the British women's national team and beyond.
"Playing against older girls has helped me get an idea of how being in the women's Great Britain team will be," she explained. "I think it has improved me, and knowing the women's goalies has made me a lot more comfortable when I am playing. All the girls on my team have allowed me to grow and coached me over the 2 years."
As many young hockey players do, Gilbert is also thinking about her future. She recognizes the importance of finding a means to play the game she loves while getting an education.
"I wish to do my Advanced level exams after I finish my GCSEs in England. But I do wish to go to a university over in Canada or America," Gilbert expressed. "I want to continue playing hockey whilst getting a higher education and the main part of that is to be in a country that will help me focus on both my sport and future jobs."
Maisie Gilbert the Goalie Is Also Maisie Gilbert the Person
It would not appear that Maisie Gilbert will have difficulty in finding a school in either Canada or the USA that would be interested in her talents. This is a national team goaltender who plays among the very best in her country. There are actually a few NCAA schools that have women's hockey players from the UK already.
But it is more than just Gilbert's God-given talent in the position. A lot of it stems from her personality and what she can bring to any hockey club she plays for. Gilbert has already been doing it for Great Britain, the Sheffield Shadows, and the Telford Tigers.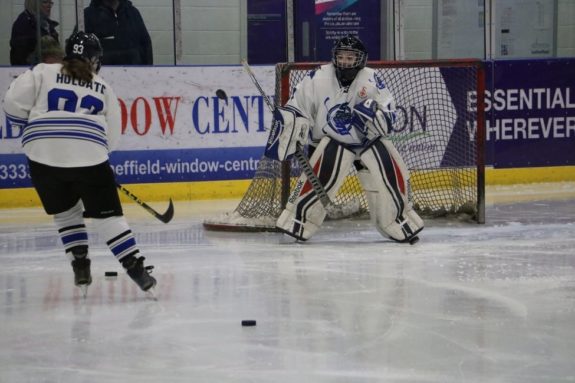 "I personally think that my best characteristic is how much I care and how much passion I have for the sport," Gilbert told THW. "In every game I play, I want to do the best I possibly can, or else I see no point in being on the ice."
That goes beyond hockey. That is the ideal frame of mind for going about life. If you do not do your best, what is the point? Character alone would make a coach want Gilbert on their team. Whether that is a British national team coach, a club coach, or an NCAA coach. Teams and coaches want players with her attitude. It just so happens that she is one heck of a puck-stopper too. Look for Maisie Gilbert donning the Union Jack for many years to come.
Or as we like to call her, "The Coventry Wall".