Six Erie Otters are set to test the NHL waters this week as they prepare for rookie camps. Depending on their ability to turn the important heads at camp, perhaps some may be able to score more than just on-ice goals and reach their ultimate goal of scoring an NHL contract.
More than likely, though, this will just serve as one of many preliminary tests that they must endure before they can achieve a coveted NHL career in the future. Odds are, all will be back in the OHL for the 2017-18 season, but they will certainly garner valuable experience at each of their respective camps in the big leagues that will aid in the development of their game. Here is a quick look at the six Otters attending NHL training camps this week.
Troy Timpano
Otters goaltender Troy Timpano is best known for throwing his stick at the cameraman who filmed the Otters' bench following an emotional Memorial Cup Final loss last season in Windsor. Although he may not win the Lady Byng Trophy anytime soon, Timpano was an integral part of the Otters' championship run last season and should be expected to perform just as well, if not better, in his final season in the OHL. As a free agent and one of the overagers on the Otters' roster this season, it's make it or break it time.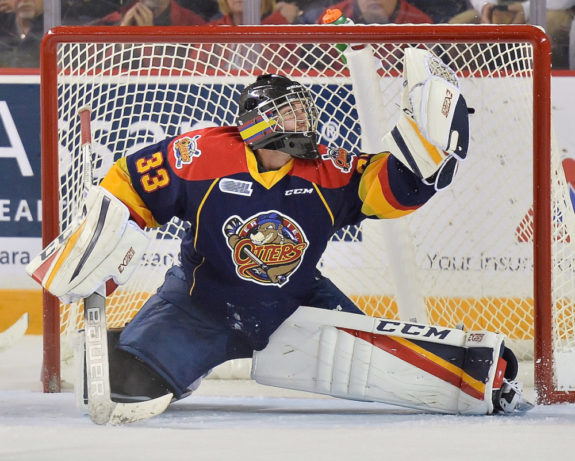 Timpano will be attending the Pittsburgh Penguins' training camp soon. The club hasn't announced an official date yet — perhaps they are still too busy enjoying the Stanley Cup to think about training camp yet, but it will most likely be around the 15th.
The Penguins recently lost their former number one goaltender, Marc-Andre Fleury, to the Vegas Golden Knights, so they could be looking to start grooming another goaltender for the future in Timpano, depending on the impression he makes at camp.
Jordan Sambrook
Right-shooting defenseman Jordan Sambrook will be reporting to Detroit on the Sept. 15 for training camp as an unsigned draft pick. This will be his second Red Wings camp after being drafted by Detroit in the fifth round of the 2016 NHL Entry Draft.  As a lifelong Red Wings fan, Sambrook looked up to Red Wings legend Nicklas Lidstrom. If he can play anything like him then the Wings will be set.
2 months of age and 18 years later! Two of the best moments in my life! @DetroitRedWings pic.twitter.com/iypB2AyMaf

— Jordan Sambrook (@JordanS_9) June 27, 2016
Sambrook had a great season last year with the Otters. However, in order to put to rest the speculation that his strides, particularly in the offensive realm, were merely attributable to the company he was playing with, another season in the OHL with the now less-stacked Otters seems to be the best fit for his development.
Kyle Maksimovich
Winger Kyle Maksimovich is heading to Chicago's training camp on the Sept. 15 as a free agent. He's small, at 5-foot-9, 174 pounds, but offensively gifted and plays like he's 6-feet, 200 pounds, charging headlong into corner battles without a moment's hesitation. Luckily, the NHL is focusing less on the larger players that used to dominate the sport.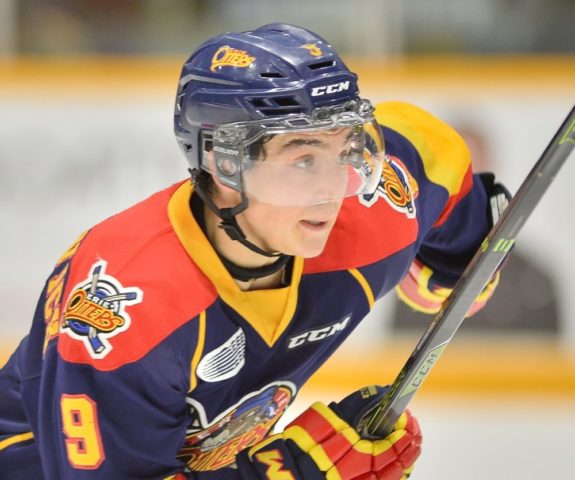 In the 2000's, bigger prospects were going higher in the NHL draft, but now the trend seems to be shifting to smaller, more skilled players. This year's entry draft was full of examples, including the first-overall pick, Nico Hischier, who is 6-foot-1 but only has two pounds on Maksimovich, weighing in at 176 pounds.
Fifth-overall pick Elias Pettersson is like Hischier in stature at 6-foot-2 and 165 pounds. The 15th overall pick, Erik Brannstrom, is perhaps most similar in size to Maksimovich at 5-foot-10 and 179 pounds. The smallest guy in the first round was Kailer Yamamoto (22nd overall) at 5-foot-8 and only 148 pounds. Small, fast, skilled guys like Johnny Gaudreau and Patrick Kane are excelling in the NHL right now, so don't count Maksimovich out just because he's on the small side.
Ivan Lodnia
Forward Ivan Lodnia is not big either at 5-foot-10 and 180 pounds, but he is extremely skilled. His skating is on point, which contributes to his phenomenal playmaking ability and offensive creativity. He attended the Minnesota Wild's Development Camp in July as a 17-year-old after they drafted him 85th overall in the third round of the 2017 NHL Entry Draft.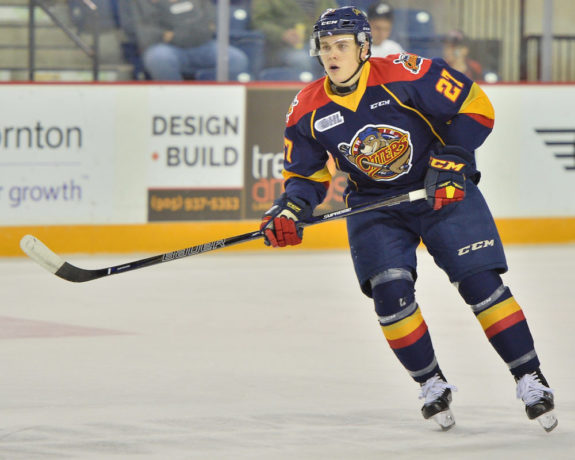 Lodnia will be attending Minnesota's rookie camp next week but will be returning to the Otters this season. He is an NHL prospect worth watching, though, as I wouldn't be surprised to see Minnesota taking a good hard look at him for next year.
Taylor Raddysh
The offensively-minded younger brother of former Otters defenseman and current free agent Darren Raddysh, right winger Taylor Raddysh has already signed a three-year, entry-level contract with the Tampa Bay Lightning.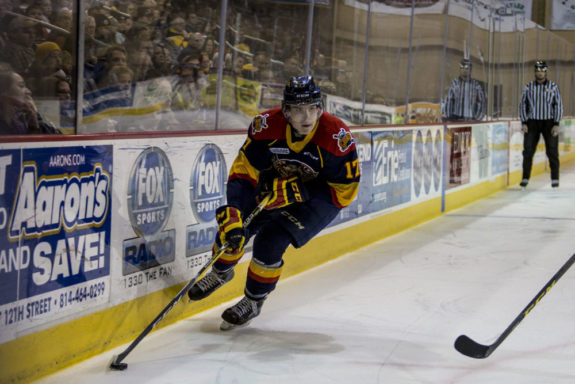 Taylor should be attending Tampa's training camp, but Hurricane Irma is throwing a wrench into those plans as it bears down on South Florida. In fact, the Washington Post's Isabelle Khurshudyan reported that the four-team rookie tournament set to take place in Estero, Florida this weekend has been cancelled due to the impending Category 5 storm that has already decimated many Caribbean islands in its path.
The Lightning were scheduled to play in the rookie tournament beginning this Saturday (Sept. 9) at Germain Arena, along with the Florida Panthers, Nashville Predators and Washington Capitals. The Lightning's camp is currently still set to open on the Sept. 14.
Owen Headrick
The second OHL overager on this list is defenseman Owen Headrick, who is heading to the Boston Bruins training camp on Sept. 14.  He committed to Erie in January after playing two seasons of NCAA D1 hockey with the Lake Superior State University Lakers of the Western Collegiate Hockey Association (WCHA) conference, where he led all defensemen in goals during the 2015-16 season.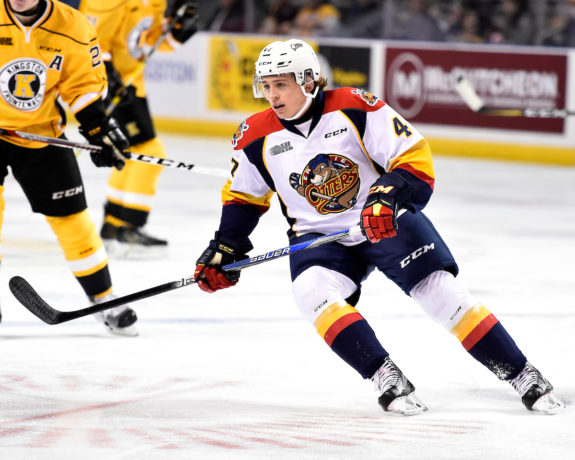 Having had the experience of playing both college hockey and major junior hockey in the OHL, Headrick should be well-prepared to make an impression at Boston's camp as a free agent. For now, his attention is focused on the fast-approaching NHL rookie training camp. But following camp, he will look to Otters management who will have to decide which three of their four overagers will dress this season, since they can only play three. Headrick will have to continue to improve and impress in order to earn his ice time.