Every summer NHL teams bring over free agents from Europe, hoping to find a player that was passed over, or that player who was in the NHL system but wound up needing more time to develop before reaching their potential.
The results are mixed. You get players who have a marginal impact — Sergei Plotnikov — or don't find their way into the NHL for any extended period of time — Michael Keranen. But there is also value to be found. Artemi Panarin is a huge success story this year. And that's not a rare occurrence. The Wild found Niklas Backstrom, their all-time wins leader, as an un-drafted free agent in Finland, and Sergei Bobrovsky was an un-drafted free agent signing out of the KHL.
Here are 13 free agents from major European leagues, including the KHL, who could find themselves under contract with a NHL club next season.
1. Mantas Armalis, G, Djurgårdens IF (SHL)
The 23-year-old goaltender/model was originally linked to the Toronto Maple Leafs by Sportsnet's Elliotte Friedman. It's believed now that he's heading to the San Jose Sharks. The Carolina Hurricanes have also been said to have interest.
Wherever he goes, it looks like Armalis is getting a gig with a NHL organization for next season. The 23-year-old Lithuanian posted a .918 save percentage in the SHL this season.
2. Evgenii Dadonov, RW, SKA St. Petersburg (KHL)
The former Panthers draft pick never managed to catch on in the NHL, despite some success in the AHL. After getting traded to the Carolina Hurricanes, Dadonov went back to Russia where he almost instantly found success.
Last year he put up 19 goals and 46 points through 53 games. He followed up that performance by scoring 15 goals in 22 playoff games, a KHL record for most postseason goals. This season, he upped the ante again, scoring 23 goals and 46 points in 59 games.
His continued success could garner some NHL interest. It's easy to understand why.
3. Linus Hultstrom, D, Djurgårdens IF (SHL)
The Swedish defenseman is an offensive threat, and though he's not big, he has had serious interest from NHL clubs. In fact, this one may be all but a formally done at this point.
It appears as though Hultstrom is signing with the Florida Panthers. He's likely to put pen to paper once his status for the World Championships is sorted out, according to multiple reports.
4. Sami Lepisto, D, Salavat Yulaev Ufa (KHL)
A strong year offensively could lead the 31-year-old defender back to the NHL next season. He's been out of the NHL for four seasons, but with a return to form this year that could be changing soon.
In an interview with Championat, Salavat Yulaev General Manager Leonid Vaysfeld says that Lepisto has already drawn interest from NHL clubs.
5. Mike Lundin, D, Barys Astana (KHL)
Another 31-year-old defenseman is generating interest according to multiple outlets.
Lundin previously played parts of six seasons in the NHL, but saw 17 or fewer games in each of his last two seasons. Similar to Lepisto, he had an outpouring of offense this year, posting 11 goals and 33 points. The most goals he'd ever scored in a single season since graduating college was six.
6. Peter Mueller, W, Malmö Redhawks (SHL)
The eighth overall pick in the 2006 NHL draft may find his way back into the NHL. It's an outside chance most likely, but his agent told Elliotte Friedman that there's "a curiosity about him" from NHL clubs.
Out of the NHL for a few years now, Mueller had large concussion concerns that drove him out of the league. His agent suggests that those issues are a thing of the past. The 28-year-old forward is working with Adam Oates as a skills coach and put up 25 points in 42 games for Malmö.
7. Justin Pogge, G, Farjestad BK (SHL)
The former Toronto Maple Leafs prospect has had a lot of success through his four years playing in Europe. That culminated with an impressive .926 save percentage last season (third in the SHL) and a .922 this year (tied for second).
In a post by the Professional Hockey Players' Association earlier in the season, it was suggested that Pogge is looking to get back into the NHL. Many players are, but he's had some good numbers. If he found a deal, it might be a situation a little like that of Jussi Rynnas last year, where a little NHL time is offered, but the leash is short.
After two seasons with @farjestad_bk My wife and I just wanted to say thank you for all the love… https://t.co/1G6Xyg1ZZM

— Justin Pogge (@pdiggler) March 29, 2016
8. Nikolai Prokhorkin, C, Salavat Yulaev Ufa (KHL)
The talented forward was a 2012 Los Angeles Kings draft pick. He was rumored to be a part of a trade proposal with the Edmonton Oilers at the trade deadline, but the deal fell apart over reported concerns on whether Prokhorkin would really come to North America.
Elliotte Friedman reports that "you can expect LA to divest itself" of Prokhorkin, and that once he's a free agent, interest from Edmonton may crop up again. Friedman also notes that he believes "there's other NHL interest, too."
https://twitter.com/NHLbyMatty/status/703685152627535873
Prokhorkin played eight games with the Manchester Monarchs back in 2012, but returned to the KHL shortly after. He's been there ever since. The 22-year-old scored 19 goals and 36 points through 55 games this season.
There's interest on the NHL side, but no guarantee there's interest in coming to North American on the part of the player.
9. Daniel Pribyl, C, HC Sparta Praha (Czech Liiga)
The 6-foot-3 forward is young and skilled, and, according to TSN's Bob McKenzie, is getting a lot of interest from NHL clubs.
He scored 45 points in 45 games this season for Prague. That's part of how he's generated interest from Calgary, Nashville and Pittsburgh, as well as at least three other teams that McKenzie doesn't list.
Pribyl was a Canadiens draft pick once upon a time, but the team opted not to sign him, making him a free agent.
10. Alexander Radulov, RW, CSKA Moskva (KHL)
Radulov was recently linked with the Toronto Maple Leafs as a possible destination for the star forward to land in the NHL. There was also a report that there wasn't any truth to the rumor. It's become an annual Ross and Rachel situation with Radulov and the NHL.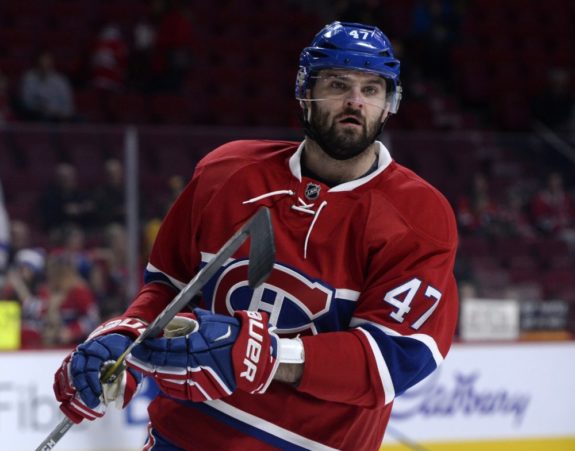 He certainly has the talent to come back and make an impact in the NHL. However, there are many factors involved and we've been down this road a few times before. It's possible, but don't believe until the ink is drying.
11. Vadim Shipachyov, C, SKA St. Petersburg (KHL)
While no great sources have linked Shipachyov to a NHL club, he's a name that comes up a lot. The 29-year-old has tremendous skill and has put up at least a point per game in the last two seasons, as well as in 22-game and 14-game playoff runs in those seasons.
12. Vladimir Sobotka, C, Avangard Omsk (KHL)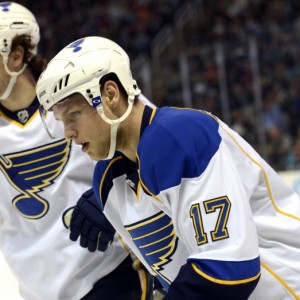 After a contract dispute with the St. Louis Blues, Sobotka took his talents to the KHL, where he's played for the last two seasons. The Blues have definitely missed him in the lineup. He provided reliable, possession-driving depth.
Sobotka has a one-month window each summer where he's permitted to opt out of his KHL contract to find work in the NHL. ESPN's Pierre LeBrun reports that "all indications" are that he will come back to St. Louis next season.
13. Nikita Zaitsev, D, CSKA Moskva (KHL)
This is another deal where it's all done but the actual signing, according to Elliotte Friedman. Zaitsev is expected to be suiting up with the Toronto Maple Leafs next season. In fact, it's become such a sure thing that he's the reason that Radulov, his KHL teammate, has been linked to Toronto.
The 24-year-old has some offensive skill and is a smart player. He will get a good chance to make a mark in the NHL and prove he deserves regular time playing on a thin Toronto blue line.