The NHL Trade Deadline is a spectacle in and of itself.
It is the only sport from the "big four" (football, basketball and baseball) that has wall-to-wall coverage for eight hours speculating for longer periods of time than it takes for real trades to occur on the day. It's nerve-wracking yet exciting for fans around the League. What will your favorite team do? Who will be shipped away? What can we acquire?
For the Boston Bruins, speculation is running rampant about what they'll do. Among the many questions, some of the more popular ones include…
What can they get for Loui Eriksson? What do they need? Is there a blockbuster in the pipeline? Has Don Sweeney got a trick up his sleeve?
There's lots of chatter but no one definitively knows the answers. However, we know enough about the Bruins and their current situation to play a game of fact-or-fiction regarding what may happen on Causeway Street next week.
"The Bruins Should Be Sellers" – Fiction
How many times has this been said in the last month?
Two bad losses to the Anaheim Ducks and Los Angeles Kings nearly sent Bruins Nation over the Tobin Bridge amid cries to ditch this season and retool for the future. You'd think the club was in hockey purgatory; not good enough to make the playoffs yet not bad enough to net a top-10 draft pick.
#Bruins shouldn't sell. @DJ_Bean said it best on Sunday skate. Only one scary team in East come playoff time. Anything could happen.

— wear a mask (@DoritoPurist) February 22, 2016
Well, Boston currently sits in third place of the Atlantic Division amid a terrible home record and maddening stretches of play this season. Sweeney knows his superiors (Cam Neely and Charlie Jacobs) want playoff hockey back at the Garden in two months time. They can't go another year without postseason hockey in town. Period.
Coupled with the fact that Brad Marchand is in the midst of his best season as a pro and several key players are in their prime, it is ludicrous to think the B's will sell off parts to just anyone.
"Boston Must Trade For A Defenseman" – Fact
This could be the difference between being above or below the playoff line.
There's no question Sweeney needs to do something on the blue line. Zdeno Chara and Dennis Seidenberg are not getting any younger and lead the D-corps in ice time most nights. Torey Krug has filled in admirably but still has plenty to learn about defensive zone coverage. The rest of the blue line is filled with depth guys or young players ala Colin Miller and Joe Morrow.
Boston has to find a player who can step in and play in upwards of 20 minutes a night to ease the pressure on their two aging defenseman. It will be difficult to find a willing trade partner and agree on a price but Sweeney must seal the deal and benefit his club not just now but in the future as well.
"They Can Trade Zdeno Chara" – Fiction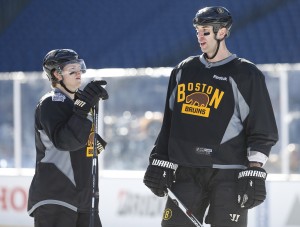 I find this one amusing.
Yes the captain is going to be 39 in the next few months and he's definitely not the same player he was but on the flip side, he's still the Bruins' best defenseman, which goes to show you how average their defense is.
Not to mention he still has two years left on his contract with a combined $10.9 million cap hit ($6.9 million next year, $4 million in 2017-18) and a no-movement clause.
As you may recall last year, I wrote that Chara is one of Boston's untradeable players for the array of reasons listed above. The same is true this year. The Bruins defense will regress even further if they trade away their 6'9 defenseman and don't acquire something of decent value for him.
Then again, who out there will take on the inflated contract, that kind of cap hit with salary cap concerns next season and a player who's deteriorating? Better yet, can Sweeney really get anything besides a bag of pucks and sticks for him?
"Loui Eriksson is worth a first-round pick" – Fact
What a convenient time for Loui Eriksson to get hot.
Another Loui Eriksson goal for the trade suitors pic.twitter.com/OIMVVJInmo

— Pete Blackburn (@PeteBlackburn) February 23, 2016
The impending free-agent winger has five goals in his last five games and now is second on the Bruins with 23 tallies. He's enjoying a renaissance at just the right time. It's a contract year for Eriksson and he's looking to cash in on what could be his final long-term, big money contract.
Nothing has been publicly discussed between Sweeney and Eriksson's camp regarding a new deal and, with just days remaining until the deadline, the focus now shifts to what they can acquire for him.
If we're to believe that Winnipeg Jets' forward Andrew Ladd is worth a first-round pick and prospect, Eriksson is worth the same, if not more, than that. The 6'2 Swede can be a valuable player on a team that is looking for that extra infusion of offense (Anaheim, Nashville, etc.).
Interestingly enough, both the Ducks and Preds have young defenseman that Sweeney is probably keen to inquire about. Is there a match potentially?
Eriksson is Boston's trump card. If Sweeney plays his cards right, his top-six forward could net a sizeable haul in what is a fairly weak trade deadline marketplace.