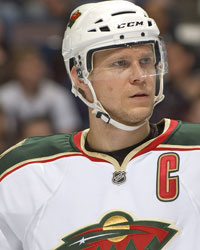 Mikko Koivu has quietly led the Minnesota Wild to a league best 33 points and the top spot in the Western Conference playoff picture. His twenty points not only lead the Wild in terms of scoring, but his plus/minus, shots on goal, and average time on the ice suggest that the Turku, Finland native has been a key cog in Minnesota's success.
So far this season, there has been nothing wild about Minnesota's scoring prowess. While it is very surprising to see the league's 27th best (or worst) offensive team sitting atop the Western Conference, Koivu's subtle seven game point streak has enabled the Wild to hold their position in conference and divisional standings. Koivu might not be the most fleet-footed of Finns, but his ability to get shots to the net and find openings for his line-mates have been a tremendous boost for an otherwise anemic offense.
On the other hand, Minnesota's success stems from its penalty kill, an area that Koivu and fellow forward Cal Clutterbuck have excelled in. Together, Clutterbuck and Koivu have seven shorthanded points, with the former recording three points (all goals) and the latter posting four points (1 goal, 3 assists). Scoring while shorthanded can change the outcome of the game and deflate an opponent's spirits, but Koivu's average time on the ice (20:55) has shown that head coach Mike Yeo has the utmost confidence in his first line center, whether it be at even strength, on the powerplay, or even down a man.
While offensive contributions from centerman Kyle Brodziak have helped the Wild maintain their winning ways, Koivu's playmaking abilities cannot be understated. He leads the team in powerplay points and is tied for third in terms of shots on goal. Koivu is certainly not a center who is inclined to shoot the puck as he has four times as many assists as he does goals. However, Koivu has nearly doubled the assists of offensive weapons such as Dany Heatley and Pierre-Marc Bouchard and has not missed a game so far this season. Even though Koivu's point production has remained steady for the past three seasons, the onus will be on the Finn to keep the top line productive enough until Minnesota's offense can run wild instead of remaining mild.
A general increase in scoring will benefit Minnesota as a pair of 5-2 losses to Edmonton and Calgary demonstrated that scoring two goals a game or less in the modern day NHL will usually result in a loss. But who is to say that a strong defensive and goaltending core, along with timely scoring, cannot get the job done? Nicklas Backstrom rebounded from his sub-par showing against Calgary and put together a pair of victories against the Lightning and Oilers, demonstrating that the Wild still remain extremely formidable on the goaltending front. However, certain players such as Pierre-Marc Bouchard must step their game up, especially in the continued absence of Guillaume Latendresse.
The Minnesota Wild will soon embark on a five game road trip that pits them against the likes of teams such as the Los Angeles Kings, San Jose Sharks, and the Phoenix Coyotes. Even though the Wild are perfectly capable of winning all three of the aforementioned games, they will be tested by teams that have found the back of the net more often than they have. In order to keep up their strong play, Minnesota has to remain disciplined and individuals such as Brad Staubitz must stay away from the lure of the penalty box. Similarly, Cal Clutterbuck should refrain from dousing any more players with a water bottle since such antics usually inspire tougher play from the opposition. Overall, the Minnesota Wild are still a force to be reckoned with in the Western Conference, but they must bring the same type of energy with them on the road and prove that they can beat playoff contenders away from the confines of the Xcel Energy Center.