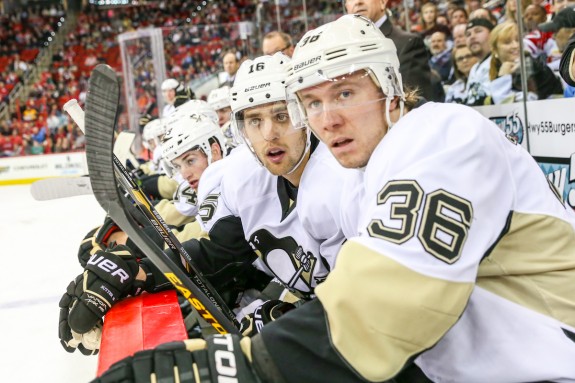 Is Dan Bylsma the first coach to informally play the #BucciOvertimeChallenge or simply the first coach to admit it?
"I always pick a game-winner when a game goes into overtime of all the other games," Bylsma said on Friday, referring to any playoff games not involving his Penguins.
Bylsma went on to say that IF he were to pick an overtime goal scorer for his team, it'd always be Jussi Jokinen.
Bylsma would never do that, of course.
Or at least not in front of the television cameras:
If Bylsma has been throwing money on the board in the Penguins locker room for Jokinen to get game-winning goals these playoffs, he's probably collected a nice wad of cash.
Heading into Monday action, Jokinen was tied for the league-lead in goals with six, including three game-winners.
"I will never be able to convey how smart he is as a player," Bylsma said.  "He's probably one of the smartest players I've played with — not only from a hockey standpoint, but from a systematic standpoint. He understands the game. He's got high intelligence…hockey IQ if you want to go down that road…hockey sense. He's in the right spot at the right time."
Bylsma even said that Jokinen's hockey smarts and skillset inspired a powerplay setup that's been adopted by many teams across the NHL.
"There's a powerplay breakout in the league," he explained.  "It's named something else, but it's because of Jussi Jokinen.  It's standard issue for a lot of teams and it's because of his smarts and his intelligence."
[If you're enjoying this post be sure to sign up for our free newsletter for more like it]
___________________________________________
The Finnish Breakout
Jussi Jokinen was a sixth-round draft pick of the Dallas Stars in 2001 but spent four seasons in the Finnish Elite League before making his way to the NHL.
His rookie year coincided with the end of the 2005 lockout and the introduction of the shootout to end games tied after overtime.
Jokinen made a name for himself as one of the league's top shootout specialists because he perfected two moves — one left and one right — that left goalies dumbfounded.
During his three season stint with the Stars, Jokinen and his teammates also perfected the powerplay breakout that Bylsma referred to.
In some NHL coaching circles the strategy is known as the Finnish breakout, likely a nod to the Stars' three Finnish forwards who figured prominently in the setup: Jokinen, Antti Miettinen, and Niklas Hagman.
Video highlights from the mid-2000's aren't readily available on NHL.com, but this 2012 clip of Jokinen and his fellow Fins executing the breakout is one of the cleanest I've ever seen:
The announcer doesn't seem impressed.  I sure was.
When the five players execute this flawlessly, it looks like a football play where the wide receiver ends up downfield by himself.
Everyone has a role. Everyone needs to be on the same page. Without proper timing, the breakout is easily snuffed out by a penalty killing unit.
To stick with the football analogy, the Finnish breakout has wheel route characteristics.
Here's how it works: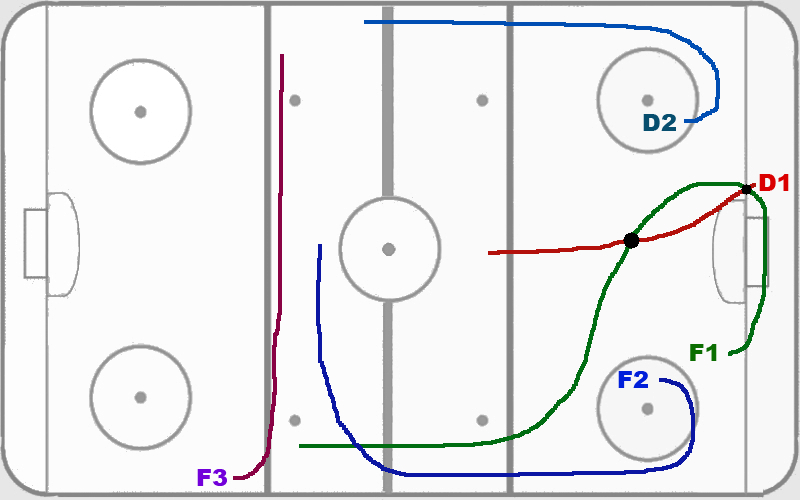 I've seen some teams use the double drop pass to kickstart the breakout.  Others simply have D1 start up the ice with the puck.  If the penalty kill isn't bringing heavy pressure, the double drop pass is an unnecessary wrinkle.
D2 doesn't have a significant role.  He's basically a decoy.  If this rotation works correctly, the forwards will be dragging pressure over to his side of the ice and make it difficult for him to gain the offensive zone without a dump.  D2 just has to concentrate on his timing so that he doesn't end up flat-footed at the blue line waiting for the play to develop.
F3 sets the rotation in motion, but he's also a decoy.  If he receives a long stretch pass, he's heading towards the far boards and would need to make a greater than 90 degree turn to attack the net.  Most penalty kill defensemen will be able to handle that.
F2, Jussi Jokinen in this example, is where the fun starts.  Jokinen skates up the left boards and has to read the penalty killers.  His job is to trail F3 and try to find a soft spot in the defensive coverage for a pass.  He wants to have enough speed that he can catch the pass and turn up ice quickly.  Jokinen splits the defense perfectly in the above example and walks in for the easy goal.
Most penalty killing teams will communicate enough to prevent the F2 in Jokinen's role from getting a clean breakaway.
F1 is the real challenge.  After curling behind his own net, F1 should be able to get a full head of steam as he attacks the far blueline.  As the final option, his role is less about timing and more about speed.  If a pass hits him in stride, the flat-footed penalty killers are in trouble.
And once you realize F1 is named Sidney Crosby, you're REALLY in trouble.
The Penguins haven't scored on any breakaways as a result of the Finnish breakout in this year's playoffs, but pay close attention to this clip of Jokinen's rebound goal in Game 2 against the Rangers:
James Neal's (F1) shot seems innocent, but it was actually a deliberate attempt to produce to a rebound for Jokinen to pounce on (Breakdown of the Pens' Pass of the Pads strategy)
Don't let yourself stare at the puck and Neal either.  Focus on the other players and their rotations in the Finnish breakout.
Brandon Sutter (16) is in the F3 role.  He ends up a little flat-footed and can't turn quickly to attack the net.
Jokinen as F2, on the other hand, drives through the neutral zone with speed and positions himself to knock home the Neal rebound.
This is exactly what Bylsma is referring to when he talks about the impressive hockey sense Jokinen exhibits on a nightly basis.  Jokinen isn't an exceptional skater, he's not big and he won't overpower defensemen, but he knows how to find the soft spots in coverage.
That hockey sense makes him the perfect F2 — and he'd be the top option in that role on any team that doesn't have Crosby, Evgeni Malkin, and James Neal.
The perfect F3 for the Pittsburgh powerplay is Kunitz.
The Penguins set a lot of illegal soft picks (remember the key to the James Neal faceoff play?).  Other teams know this, the referees know this, but in the playoffs it'll take a big collision for any of those picks to be called interference.
Kunitz does a great job crossing the blueline and disrupting the penalty killers with soft bumps and seemingly inadvertent collisions. It's also tough to see this on TV.
On this Jokinen goal last season, all we see is Jokinen sprung for a breakaway and assume it's a result of his incredible hockey sense:
Fortunately, a fan in the upper level of the Prudential Center does a great job of capturing the goal and breakout from a wider angle.
It's still tough to see Kunitz crossing the blueline, but notice how New Jersey defenseman Adam Larsson (5) gets so distracted defending him that he leaves a lane wide open for Jokinen to cut through.
It's easy to fall into the trap of going through the motions when you've practiced these breakouts hundreds of times, especially for a guy like Kunitz who knows he probably isn't going to get the puck.  Kunitz executes his role to perfection.
Now you'll know what coaches and analysts are raving about when they say Chris Kunitz does all the little things on the ice to help his team.
Another key to success on the Finnish breakout is D1.
When the Finnish breakout was brought to Dallas, D1 was Sergei Zubov, one of the era's best powerplay defensemen.
When Jokinen was dealt to Tampa and took his breakout with him, D1 was Dan Boyle — certainly no slouch on the powerplay either.
In Carolina, Jokinen fed off the passes of fellow countryman Joni Pitkanen.
All three defensemen are good skaters and see the ice well.  The ideal pass is to Jokinen the F2 but smart teams will shut that down, especially after getting burned once or twice.
Like any quarterback, the defenseman has to sell his pass if he wants the penalty killers to cheat and open up holes.
In this example from Jokinen's Carolina days, Pitkanen comes up the ice and turns to make a pass to F1 just off the bottom of the image.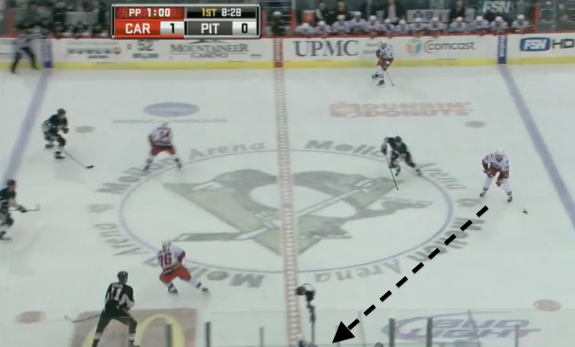 Jordan Staal (11) cheats just enough to open up a passing lane for Pitkanen to hit Jokinen.  He splits the defense for a breakaway and a powerplay goal.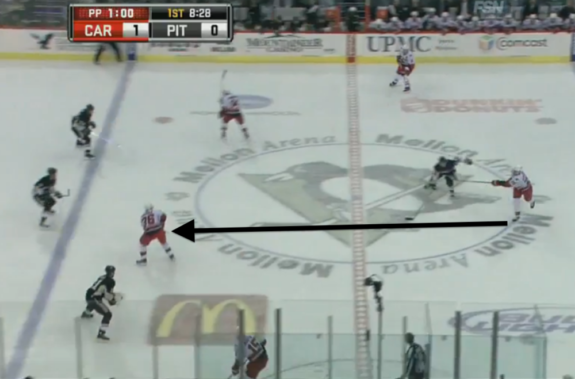 One problem for Jokinen is that he's becoming a bit of a journeyman.  He brings his Finnish breakout to every new city he goes to.  Opposing coaches and penalty killers know the reads and fakes we've described above and should be able to shut down the strategy, right?
For example, Bylsma threw Jokinen onto the powerplay late in a game against Carolina back in October.
Jokinen's time on the Hurricanes wasn't too memorable. I guess neither was his breakout that they ran for multiple seasons:
When Jokinen, an unrestricted free agent at season's end, hops over the boards for Florida's powerplay next season, someone should probably remind Dan Bylsma of his comments from Friday.
Just to be safe.
__________________________________