As the Blues take the ice on Friday night, it will mark the official beginning of the second half.
And while the Blues find themselves in a good position in the standings, they can't afford to let off the gas pedal. Parody in the NHL is as strong as ever and any losing skid will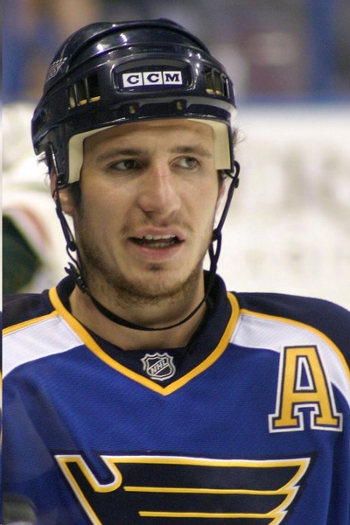 leave them within reach of the fringe playoff teams. Here is a look at the five keys for second half success:
Road Woes
Despite being fifth in the Western Conference with a 29-13-7 record (65 points), the Blues have not been road warriors. They have compiled a 8-10-3 on the road including an 0-3 mark against conference leader Detroit. To achieve the goal of raising Lord Stanley's Cup, the Blues must play a better road game. The Blues play 11 of their last 18 games on the road so getting a nice cushion heading into that stretch is key.
Health
Blues left-winger and resident speedster Andy McDonald hasn't played since Oct. 13th with post-concussion symptoms. There are encouraging signs that McDonald is inching closer as he just shed the red "no-contact" jersey in practice  this week. However, Jeremy Rutherford of the St. Louis Post- Dispatch reports that there is still no timetable for McDonald's return.
Alex Steen's has been out since Dec. 27th with post-concussion syndrome and his situation seems a little more muddled. The versatile two-way winger was reportedly set to return a few weeks ago, but is said to be not quite "there". Steen is a valuable member of the club as he is still sits fourth on the team in points (13 goals, 11 assists in 36 games), first in +/- rating (+20) and is a strong penalty killer.
Scoring
The Blues are doing it from the back end out. The goaltending duo of Brian Elliott and Jaroslav Halak has been one of the best in the game and the defense has allowed the fewest shots on goal in the league (26 per/game). But the Blues scoring output has been disappointing this season. The Blues are currently ranked 23rd in goals for after finishing 10th last year. The club needs young players like Patrik Berglund and Chris Stewart to pick up their game to match their season totals from last year.
Trade Deadline
Blues GM Doug Armstrong has shown he is not afraid to pull off blockbuster deals and will surely scour the market for scoring. Young goaltender and recently named AHL all-star game MVP Ben Bishop may be shopped now that he is blocked at the NHL level with the re-signing of Elliott. Teams out of the race could see a fit for the 6′ 7″ 23- year old St. Louis native as part of a package for a veteran scorer. Also Kent Huskins is nearing a return from a broken ankle and will cause a log-jam of NHL- caliber defensemen on the blue line. Will Armstrong trade from these positions of depth for scoring? History suggests he won't stay status quo.
Ownership Situation
The Blues' ownership saga has been a long drawn-out process. Will Tom Stillman, a current minority owner and CEO of Summit Distributing in St. Louis, close the deal that Chicago businessman Matthew Hulsizer was unable too? A stable ownership would likely allow for me leeway for Armstrong to acquire players. The organization has been in flux since current owner Dave Checketts and SCP Worldwide put the club up for sale last March. Stability is needed in all successful organizations and a settlement would be a nice topping on the second half run for the St. Louis Blues.
The Hockey Writers is:
1) a top tier emerging media hockey resource
2) a collective of some of the best hockey writers on the Internet
3) a radio show
4) one of the best NHL Prospects resources on the net
4) a source for an in-depth look at the NHL
5) your first destination for 'meatier' hockey information