As the season finally gets underway, almost every team has a shiny new player that they are anxious to show off.  Admittedly, the free agency crop has been diminishing in star talent over the past few years. Most teams are now locking up their elite talent at a young age:  superstars like Steven Stamkos and Drew Doughty were signed over the summer to five and nine year contracts, respectively.  Players of this ilk simply are not being allowed to make it to unrestricted free agency.
Nonetheless teams that failed last year are still banking on major contributions from the players they picked for nothing more than cash.  Here are five of those pick-ups who are most likely to have teams regret opening their check books in July.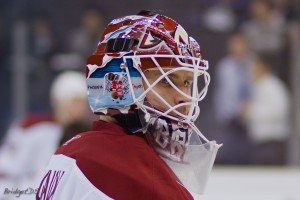 1.   Ilya Bryzgalov.  Yes, he got off to a good start, defeating the defending Stanley Cup champions in their home opener.  Still, the expectations for his performance are sky-high:  not only is he their first legitimate number one keeper in more than a decade, but Flyers' fans have to see him as at least partially responsible for the exodus of stars Jeff Carter and Mike Richards.
Bryzgalov is a bit of a different cat (his comments about Winnipeg were certainly interesting). Can his kids' survive a Philadelphia winter?  Will they go to the park if its -20 C?  Seriously though, can he maintain focus and consistency among media pressure the likes of which he has never even come close to seeing?  This is the city that cheered Mike Irvin's horrendous knee injury and booed Santa Claus; this is the city that just saw its favoured Phillies get knocked off by the underdog St. Louis Cardinals in the MLB playoffs, and whose Eagles are stinking up the NFL despite lofty expectations.  The Flyers may soon be the only show in town.
More importantly than dealing with media and fan scrutiny, can Bryzgalov deliver in the playoffs?  The Flyers have enough talent to succeed in the regular season, but they brought in the Russian netminder to avoid a repeat of last season's three goalie disaster against the Boston Bruins.  Bryzgalov's playoff numbers the last two seasons (.892 SV % and a 3.90 GAA) hardly inspire confidence.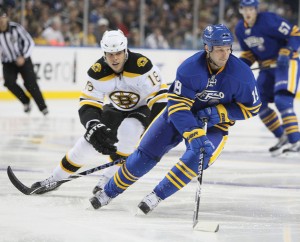 2.  Tim Connolly.  Playing Betty to Brad Richard's Veronica, Tim Connolly was there waiting for the team that had two qualities:  one, they were desperate for a play-making centre, and two, they didn't have enough money or commitment power to go steady long-term with Richards.
And the Toronto Maple Leafs fit the bill perfectly.  After a summer of Leaf Nation wondering if he can stay healthy, Connolly, well, couldn't.  Their new acquisition promptly got hurt in the pre-season and starts the year on injured reserve.  The injury is not serious (he should return by next weekend and projects to only miss two games) and there is plenty of time for him to prove his worth as the team's number two centre.  But with the surprisingly healthy Matthew Lombardi, who returned unexpectedly from concussion to start the season, there is a chance that Connolly will have to find another spot in the line-up to make an impact.  Lombardi demonstrated (albeit in a one-game sample) the speed and the left-handed play-making ability that Leaf fans have been craving to see play alongside sniper Phil Kessel.
It is all about maximizing Kessel's production, and whoever displays the best chemistry will earn the spot.  Connolly does possess the type of offensive consistency (.82 Points Per Game over the past 6 seasons) that could be a huge boon to the streaky Kessel.  Even if Lombardi impresses, the Leafs will be dependent on Connolly, who is useful on both the power-play and the penalty kill, to improve upon their dismal special teams' performance last season (28th on the PK, 22nd on the PP).  The biggest reason he could be a bust remains the serious possibility that he simply won't play enough games to produce like he can. Buffalo fans sure don't seem to be lamenting his loss.
3.  James Wisniewski.  The Wiz proved in Montreal last year that he is an extremely useful player, a gem on the power-play (29 of his impressive 51 points from the back-end came on the PP).  Columbus's 29th ranked power-play could certainly use the boost.  He is also decent in his own end, and plays bigger than his 5-11 frame.  While his point progression over the past few years (24 in '09, 30 in '10) does hint at a player finding his comfort zone in the league as he enters his prime, it would be surprising if Wisniewski can consistently put up 45+ points as a defenceman.
Character issues have also propped up.  Not only is he most famous for this this wholesome little moment, he has also been traded twice in one year, and four times in his career.  He isn't starting off on the best of feet either, as he will miss the first eight games due a suspension for a pre-season hit.
Still, the Blue Jackets have categorically failed to build through the draft—developing their own youth has been an unmitigated disaster.   And so his signing and the trade for Jeff Carter represent a much needed organizational shift.  Spending money on new players comes with risks though, and Wisniewski's contract will quickly become an albatross if things go sour on the ice. Columbus is desperate for playoff hockey, and a regression in Wisniewski's production would be devastating to those dreams.
4. Christian Erhoff.  I am a much bigger fan of the other free agency prize that Sabres' new owner Terry Pegula threw money at:  Ville Leino gives them a legitimate second line playmaker to set up Drew Stafford.
Erhoff hopes to be money on the power-play (how many power-play points does 10 million buy you these days?).  But after being insulated on two excellent offensive teams inSan Jose and Vancouver, can he produce as much with Derek Roy, Thomas Vanek, Jason Pominville and Stafford?  This isn't the Sedins or Joe Thorton and Patrick Marleau that he will be passing to.  It will also be worth watching how he fits into Lindy Ruff's defensive system.  Erhoff will start the season paired with another offensive-minded guy in Jordan Leopold, and teams may try and make the Sabres pay for aggressively activating their "D".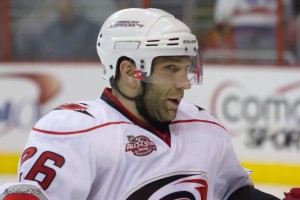 5.   Erik Cole.  With fans clamouring for a power-forward to bring size to the offensive ranks, GM Pierre Gauthier plucked Cole away from Carolina for 4.5 million over four years.  But coach Jacques Martin, in perhaps a strange move to appease troubled Russian Andre Kostitsyn, has Cole opening the season playing on the third line with David Desharnais and Mathieu Darche.
I'm all for spreading the offense out, but Cole is a guy who had extremely limited success the last time he moved away from Carolina and elite playmaker Eric Stall (Cole totalled 27 points in 63 points with Edmonton in '09).  He will need to play with the Habs' more skilled forwards to have any chance of living up to his contract.  Even then, he is anything but a sure thing, with injuries and inconsistent production definite possibilities.