Goodbye to Ottawa: Three Reasons Why It's Time for Chris Phillips to Go
The time has come.
Sure, Ottawa Senators fans may want to debate it. Heck, they may even want to deny it.
But the time has come for Chris Phillips to go.
In a way, it seems like only yesterday that Chris Phillips was drafted first overall in the 1996 NHL Entry Draft:
After the draft, Phillips found his way into the Senators lineup quickly. Within a few seasons, Phillips and the Sens were rounding into a competitive club.
But times have changed.
During the past year, the Ottawa Senators are a team transformed.
Long-time Senators Jason Spezza and Daniel Alfredsson have moved on to other franchises (and then retirement for Alfie).
Paul MacLean is out, replaced by first-time NHL head coach Dave Cameron.
Even the Palladium/Corel Centre/Scotiabank Place/Canadian Tire Centre may change as Senators owner Eugene Melnyk contemplates a move to LeBreton Flats.
Throughout the upheaval, the Ottawa Senators are searching for a new identity. Captain Erik Karlsson leads an increasingly youthful group of next-generation Senators who are 25 years-old and younger. This group includes Kyle Turris, Mika Zibanejad, Mike Hoffman, Curtis Lazar, Mark Stone, Alex Chiasson, Cody Ceci, and Robin Lehner. In fact, the Ottawa Senators are now the NHL's eighth-youngest team (average age of 27.02 years old).
As the Sens move deeper into their roster rebuild, the need to bid adieu to Phillips is becoming increasingly clear.
Here are three reasons why the Ottawa Senators must accept the inevitable and trade their long-time leader this season.
1. Chris Phillips Leads No Longer
Though Chris Phillips has never wore the "C" for the Senators, his role as a leader has always been clear.
Just check his Twitter feed. It's filled with links, photos, and retweets of the charitable events he and his wife spearhead in the Ottawa region.
And look at the great work he does in welcoming rookies to the team:
Best Sunday night ever! @CPhillipsFour took me to see Santa Claus so I could tell him what I want for Christmas!! pic.twitter.com/DUBOuYLCBL

— Curtis Lazar (@CurtisLazar95) November 3, 2014
In September, Chris Phillips publicly expressed his desire to become captain after Spezza's departure for Dallas.
When he was passed over for Erik Karlsson, Phillips did his best to respond in the way a leader should.
As Bruce Garrioch writes for the Ottawa Sun after the captaincy decision:
Chris Phillips put up a brave face. While the Senators' defenceman was disappointed he wasn't named captain Thursday, he was quick to throw his support by new leader Erik Karlsson…This is the second time Phillips has been passed over for the letter. He was considered last year when Daniel Alfredsson left, but the Senators decided to give it to Jason Spezza.
When Daniel Alfredsson is your captain, there's no shame in leading without a letter on your jersey. When Spezza was chosen instead of Chris Phillips last year, the choice was debatable but understandable. Spezza had put in his time with the Senators as well.
But when young Swede Erik Karlsson was chosen instead of Phillips, the writing was on the wall.
Time for Phillips to move along.
2. Chris Phillips' Fancy Stats Show a Player in Full Decline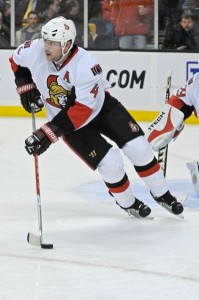 Chris Phillips is reputed as a steady, defense-first defenseman.
He'll even tell you himself.
Speaking to Ken Warren at the Ottawa Citizen, Phillips described himself as a defensive defenseman and said:
I'm really the last guy who cares about stats a whole lot… I try to be steady and reliable defensively.
But Phillips' skill on the blue line is waning. Fast.
After 26 games, Phillips' 44.3% Corsi For percentage ranks second-to-last on the Senators. He has posted negative plus-minus rating in four of the past five seasons, compiling a minus-42 rating since 2010-11.
Ouch.
Slightly deflated defensive statistics happen for defensemen all the time. Usually, it's partly because of a high percentage of defensive zone starts. But Phillips ranks tenth on the Sens roster with a defensive zone start percentage of 34.1%. This ranks behind defensemen Eric Gryba, Mark Borowiecki, and Jared Cowen, all d-men with better Corsi For stats.
It's become increasingly clear that Phillips' role in Ottawa is being phased out. He has been a healthy scratch twice in just over a week. Chris Phillips had never been a healthy scratch in his career prior these scratches.
For the Sens stalwart, declining stats and a reduced role show that a new team that could use Phillips' experience is the best way forward.
3. Chris Phillips Still Has Trade Value
Despite the crumbling statistics, Chris Phillips still could be a valuable addition for the right team.
That's where Peter Chiarelli's Boston Bruins come in.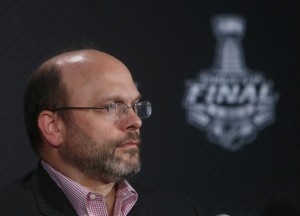 Under Chiarelli, the Bruins have a history of acquiring veteran defense help by trade. Since 2011, the Bruins have traded for a slew of defensive additions, including Joe Corvo, Greg Zanon, Wade Redden, and Andrej Meszaros. One common denominator is the clear link to past Senators players as Corvo, Redden, and Meszaros all spent time in Ottawa (to say nothing about the Bruins-Senators trade involving ex-Senators forward Chris Kelly).
The Bruins have been connected to Chris Phillips trade rumours since last season, particularly around the trade deadline.
With the Bruins sitting just outside the playoff picture, a veteran addition to the blue line makes sense. The Bruins would need to send salary back to the Senators (they have less than $2 million available, Phillips earns $2.5 mil/year through next season) but the basic interest and possibility are present.
For the Bruins and Phillips, the fit seems right.
For fans of the Ottawa Senators, dealing away Chris Phillips would signal the end of an era. But, with Phillips' level of play dropping, an opportunity to deal the veteran and recoup some assets may be too tempting to ignore.
What do you think, Sens fans? Should the Ottawa Senators say farewell to Chris Phillips? Or, is it best to hang on to the veteran blueliner until Phillips decides to retire?