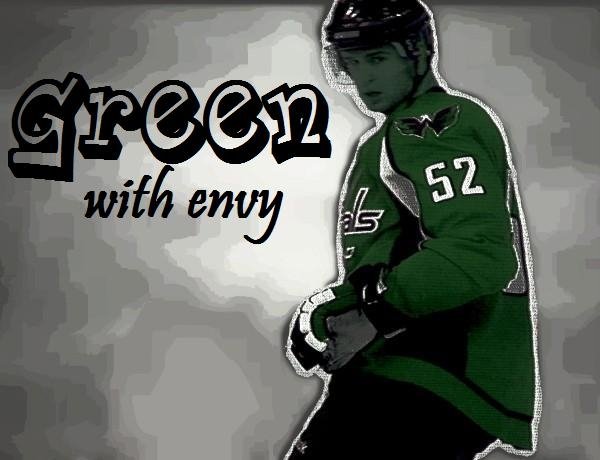 By scoring on the power play Saturday night, Mike Green set the record for consecutive games with a goal by a defenseman.  Green's primary shot was blocked, but he took a slap shot from point-blank range that went right through Kari Ramo.  He was then mobbed by Ovechkin, Semin…and the whole team.  Coach Bruce Boudreau actually asked for permission to have Green's teammates on the ice for the celebration.
Green now has 17 points in his eight game scoring streak.  If he scores tonight, he can tie Mike Gartner and Alan Haworth for the franchise record for consecutive games with a goal.  Green was even more pleased to get the record with his Dad in attendance.
"To do it in front of Big Dave, that was great," he said. "I can't wait to give him a hug. I think he would have been here no matter what, whether it was the fathers' trip or not. But that one was for him."
Once a year, the Capitals orginization invites the Dads of all the players to an away game (usually in Florida).  It is a great idea, but some people think otherwise.  Even Michal Neuvirth's (NOY-virT) father flew in from the Czech Republic to watch his son make his NHL debut.
Green now has 50 points and 22 goals in just 43 games (missed 13 games due to a shoulder injury).  That would translate into 42 goals and 95 points over an 82 game span.  This leads some to ask if he can score 50 goals in one season.  Green's offensive production comes to now surprise of Caps fans that saw him put up 13 points in the final 12 regular season games.  He has also six points away from matching his season totals from last year, in half the amount of games.  After watching this video, it was clear to me that "Lambo-Green," "Greenie," Mike "Game Over" Green, "Gang Green," or whatever you want to call him would be an offensive threat one day…But goals in eight straight by a 'D' man is unreal.
Mike Green Goal vs Colorado 10/25/06