Griffin Reinhart THW Close-Up:
Date of Birth: 1/24/1994
Place of Birth: West Vancouver, B.C.
Ht: 6'4" Wt: 202 lbs
Shoots: Left
Position: Defense
NHL Draft Eligibility: 2012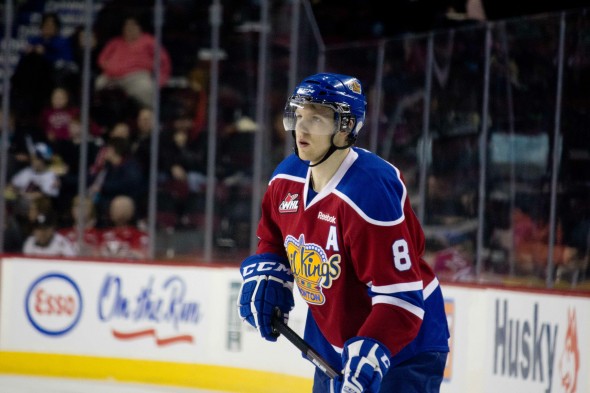 Bloodlines are strange things. Sometimes they don't matter a bit, sometimes they're all that matter.
Growing up, it's natural to become interested in your father's occupation. Even moreso when your father is employed doing something really exciting, like being a doctor, lawyer or fireman. Therefore, it's not all that surprising to see the sons of professional hockey players all following in their father's footsteps.
It is a bit impressive, though, when it appears possible that his sons may ultimately surpass him.
Paul Reinhart was, by most accounts, a very good NHL player. He was drafted in the first round by the then-Atlanta Flames in the 1979 NHL Entry Draft, played 648 regular season and 82 playoff games for the Flames and Vancouver Canucks, and retired in 1990. He was a very talented and consistent player in the run-and-gun 1980s and aside from an injury-shortened 1987-88 season, he was always one of the better places on the ice, for either team.
Paul and his wife, Theresa, settled in Vancouver following his retirement. They had three sons: Max (born February 1992), Griffin (born January 1994) and Sam (born November 1995). Despite never seeing their father play a single professional game, all three sons have followed in his footsteps. At present, Max and Sam play for WHL's Kootenay Ice – Max was drafted in 2010 by the Calgary Flames, while Sam is draft-eligible in 2014. This season, though, all the draft talk in the Reinhart family has been about the middle child: Griffin.
While his father was a primarily offensive-minded player, the Edmonton Oil Kings defender is much more balanced. Strangely, the same qualities that have made him a great WHL player are also what may put him "under-the-radar" as far as high-end prospects are concerned. Reinhart is a coach's ideal of a two-way defender – he's big (6-foot-4 and 200 pounds), surprisingly mobile for his size and positionally-strong. He's also blessed with a good eye, something that has come in handy while quarterbacking the Oil Kings power-play (5 of his 12 goals this season have been scored with the extra man).
That said, Reinhart is not one to steal the puck and go end-to-end on a rush. He's not Paul Coffey. He's also not prone to going for big crushing hits and taking himself out of position. He's not Dion Phaneuf. But he's a strong two-way defender and can help anchor a team's back-end. The theme of this draft is "The Year of the Defenseman," and Griffin isn't getting quite the attention of the Ryan Murrays and Matt Dumbas of the world. That said, he could be just as crucial to his team's success over the long-run.
There's also the question of intangibles. Griffin has the invaluable benefit of having a father with a decade of NHL experience and an older brother who has been a recent draft pick. While Griffin will likely go higher than Max did in 2010, the advice of someone who's been there will likely smooth any bumps in the road for the younger Reinhart. Griffin's dad also went to the Stanley Cup Finals in 1986, while his older brother went to the Memorial Cup last season. Does anybody else in the draft have access to that amount of big-game experience?
It's unlikely that Reinhart's game will translate directly to pro without him spending some time bulking up and learning to use his physical tools effectively at the NHL level. That said, the sheer amount of hockey knowledge available to him is nearly unmatched, and will undoubtedly help smooth the transition.
Scout's Honour:
"He is really making his name as a two-way defenceman. Reinhart is a great passer with excellent vision. Known for a strong and accurate first pass. He also excels at keeping the puck in at the offensive blueline while quarterbacking the powerplay. Excellent body position in this situation and great hand eye co-ordination. A good shot, although he doesn't use it enough. A nice physical player as he isn't afraid to battle hard in the corners and along the boards. With that being said, I would like to see him throw his weight around much more than he does."
-Cody Nickolet, WHL From Above
Statistics:
Bio/Interview(s)/Link(s):
International Tournaments:
Reinhart represented Canada at the 2011 Ivan Hlinka Memorial Tournament. He played in all 5 games for Canada as they won a gold medal, but failed to register any points. He also represented Team Pacific as captain at the 2011 Under-17 Hockey Challenge. He had 7 points in 6 games, winning a bronze medal.
ETA:
2 years
Risk-Reward Analysis:
Risk = 0.5/5   Reward = 4/5
NHL Potential:
Shut-down defender, power-play quarter-back
Strengths:
*See "THW Close-Up" section above.
Very good vision.
Good passer, skilled at puck distribution.
Strong shot from the point.
Good positioning, knows where to be in most situations.
Flaws/Aspects He Needs To Work On:
Continue to improve his skating, particularly his acceleration.
Continue to train to increase strength and add mass to frame to handle the rigors of the NHL.
Continue to develop his neutral zone play.
Avoiding injuries. He missed six weeks last season with a broken wrist.
Fantasy Hockey Potential:
Offensive = 8.0/10   Defensive = 9.0/10
NHL Player(s) Comparison:
Potentially a Gary Suter-type – physical, two-way defender.
Video(s):
Off The Iron (Interesting Notes):
Second of three sons of former NHLer Paul Reinhart.
Despite playing for the Edmonton Oil Kings and having an older brother drafted by the Calgary Flames, remains a Vancouver Canucks fan.
THW's The Next Ones prospect profile template design architect: Chris Ralph