The Vancouver Canucks get the stretch run of the season started with a marquee game against the Chicago Blackhawks in Rogers Arena Tuesday night. You remember the Blackhawks right? Before the Boston Bruins came around the Blackhawks were public enemy number one in Vancouver.
This rivalry has been overshadowed by the Canucks-Bruins mash up this past summer, and then again a few weeks ago.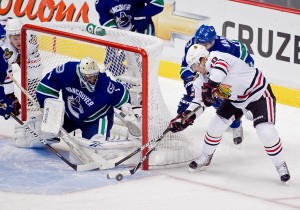 While the Blackhawks and Canucks are still must see television, the rivalry has lost a bit of its steam. There has been little to no inflammatory press stories leading up to the game and most blogs have yet to preview the game. You could even argue that this game isn't even the most important game the Canucks will play this week.
Chicago and Vancouver came to hate each other back during the 2008-2009 season during a March game in Chicago. With Vancouver leading the game, Blackhawks forward Dustin Byfuglien took a run at Roberto Luongo and all hell broke loose on the ice.
Before that moment these teams had nothing really bad to say or feel about each other. It was just another game on the schedule. Everything changed that Sunday afternoon. A huge scrum broke out and Kevin Bieksa and Ben Eager scrapped leaving Bieksa stripped down to his t-shirt mocking the easily mock-able Eager.
Blackhawk fans will be sure to mention the Alex Burrows hair pulling incident which has left him on their black list. A list he probably will never get off, even if he cured cancer. Even then there would still be Chicago fans saying "Yeah, the cancer thing was cool, but he pulled Keith's hair, what a sissy".
As fate would have it the two teams met that year in a second round playoff series which Chicago would go on to win. The earlier game in March amped up the hate for the playoff series. That series featured the Chicago bench chirping an injured Ryan Kesler, who chirped back in the press about the cowardice of Andrew Ladd.
The rivalry was on and continued as the teams have met in the post-season each seasons since then. The Blackhawks have had the better of Vancouver in the post-season, until this past season when public enemy number one, Burrows, won it in Game 7.
Tuesday's game is the third installment of this year's version of the rivalry. While it will feature two of the top teams in the NHL with loads of firepower on each side, it just doesn't feel like it did in 2009. Or even last spring.
For one, many of the main combatants of the past scrums have moved on. Yes, Dave Bolland is still on the Chicago roster and can still get Canucks fans skin to crawl, but some of the other "most hated" guys have moved on.
Dustin Byfuglien, Ben Eager and Andrew Ladd, all key figures in the rivalry have moved on to other teams. Outside of Bolland there really won't be a Canucks agitator on the ice Tuesday. Does the site of Marian Hossa get your blood boiling?
On the Vancouver side of things, Shane O'Brien has taken his swizzle sticks elsewhere and former pests Kesler and Burrows have toned down their after whistle antics.
This off-season the Blackhawks signed Dan Carcillo, who tried to stoke the Canucks-Blackhawks rivalry in his press conference. He claimed he was looking forward to playing Vancouver as several of their players were playing "outside of their skates" during the playoffs. He then went to mention Tanner Glass, Raffi Torres and Max Lapierre as the main culprits. Glass and Torres signed elsewhere earlier in the off season.
It is hard to advance a rivalry when one team's goon calls out two guys who don't play for the other team any more. In his first shot at the Canucks, Carcillo was pretty quiet, other than a forgettable scrap with Aaron Volpatti. Lapierre escaped the lessons Carcillo had to offer.
Carcillo is out with an injury so he won't be a factor on Tuesday.
Dave Bolland tried to stir the potearlier this season when he referred to Daniel and Henrik Sedin as the "Sisters" and said they were not welcome on his team. This tired and somewhat offensive taunt resulted in a couple of funny chirps from Kevin Bieksa but it died down pretty quickly. Bolland even walked the comments back a few days later.
Tuesday's game is the first meeting between these two teams since Bolland's comments but there has been little chatter about that leading up to the game and it is doubtful anything will happen on the ice. Compared to the vitriol and rhetoric out of Boston this season, Bolland's comments seemed pretty tame.
Drying out the rivalry more has been the play on the ice. The teams have split the two games they have played this year, but both games were snoozers. The Canucks won in Chicago 6-2 only to drop a home game to Chicago a few weeks later 5-1. These games were decided pretty early and not all that memorable. Someone new to the sport would never guess, from those two games alone, that these teams were a heated rivalry.
Rivalries lose steam over time. The intensity dies down, players move on and the games become tame. Remember how intense Detroit-Colorado was in the 1990's? That rivalry slowly died down to the point where nobody even mentions it any more.
Are we seeing the first signs of that with Vancouver and Chicago?
Sure there are still the insults and back and forth on internet message boards, but the players don't seem to have that burning hate anymore. Have they found new teams to hate? Has Boston supplanted Chicago in Vancouver's minds?
Perhaps we'll find out on Tuesday. After all, it probably wouldn't take too much to get the hate flowing again. A Bolland cross check to Henrik Sedin might do, or perhaps Alex Burrows will get under Jonathan Toews skin and get things going again.
If nothing else, a nice and intense game would be acceptable. These teams appear to both be headed for another possible head to head encounter in the playoffs, and that always is good for a rivalry. The rivalry needs it.
So here's to some new bad blood surfacing Tuesday night, bad blood that will reignite a feud that has been great to watch for three years now.