Throughout the Wilkes-Barre/Scranton Penguins' 15 years of existence, only one member of the team has been present for every home game: Tux, the Penguins' seven-foot mascot.
Tux's presence at the Mohegan Sun Arena does not go unnoticed. From the time the gates open, he can be seen interacting with fans of all ages, performing skits with members of the crowd and using his bag of tricks to create an exciting atmosphere and motivate the Penguins players. He is also present at team functions such as season ticket holder parties and goes into the Northeast Pennsylvania community to liven up kids' birthday parties, charity events and weddings.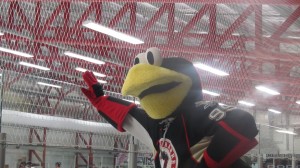 But away from the rink, the man in the costume, Chad Spencer, has a busy life, which is detailed in the new Hulu documentary Behind the Mask, which follows mascots at all levels of athletics. He is the father of a 14-year-old son, Cody, and has a fiancée named Darla. The documentary shows the challenges and joys Spencer faces in his line of work, whether it's not having as much time with his son as he'd like or using a friend as a crowd plant during a skit where Tux pies an opposing fan in the face.
On Thursday, Spencer agreed to an interview with The Hockey Writers to talk about what it's really like in the Tux suit, how he got involved with Behind the Mask and his hopes to get to the big leagues.
Getting Started
Spencer's journey to the professional ranks started when he dressed as Darth Vader when he was about nine or 10 years old for a telethon. "I loved it at that moment then," he said "because no one knew who I was and everybody was giving me all this attention and I decided it was really neat."
He became further intrigued several years later while working for Goodyear building tires. He was attending a Medicine Hat Tigers game and watching the mascot in action.
"I thought, 'Wow that looks like the coolest job ever'," Spencer recalled. "So I used to know the Zamboni driver and him and I used to go have coffee once in a while, and I'd always bug him, 'If that job ever opens up let me know."
Eventually, he secured an audition and split his time wearing a chicken suit as Roscoe for a local restaurant and Rory, a tiger. He stayed at Goodyear and would have his shifts covered if he had to work a Friday night game, but he started wondering what it would be like to be a professional mascot. As he found, mascots "were doing pretty good" and decided he wanted to make a career out of it. With that, he decided to make the leap in 2005 and took a job as Derek, the mascot for the Calgary Roughnecks of the National Lacrosse League.
But his first pro gig was far from glamorous.
"I would get like $400 a game for it," Spencer said. "They only had eight home games a year. It wasn't enough for me to actually jump, so I started selling cars on the side."
Becoming Tux
Spencer applied to play Tux in 2006 when he saw a posting on Teamwork Online, a job board for openings in the sports industry. He had to send a resume and video and was flown to Wilkes-Barre for an interview. When he accepted the job, he had to make a three-day drive to the area and rent a U-Haul to help move his belongings. While it was a tall order, Spencer explained that he had moved around his whole life and "it was just another adventure" for him.
At the time, the Penguins were in the playoffs against the arch-rival Hershey Bears, but were eliminated so Spencer only worked one home game. He spent his first summer in Pennsylvania getting to know the character of Tux, which he said was "a process in itself."
Spencer decided to play Tux because it would bring him one step closer to his goal of being an NHL mascot. Just as hockey players aspire to make the big leagues, he said, "My whole goal was to be at the top." However, he clarified that he would be open to working in any major sport in the future.
Life On and Off the Ice
When there is a home game, he likes to have a healthy breakfast and has a pasta dinner before the game so he can get energy from the carbohydrates. Then, he will arrive at the arena around 4:30 or 5:00 p.m. for a 7:05 p.m. start to suit up and get ready for the game.
He starts out on the concourse at 6:00 to greet fans for about half an hour as the gates open, then gets a short break before putting skates on and doing a pre-game skate with the Penguins team flag. Once the puck drops, he can be found around the seating area, banging a drum to get fans cheering and going to wherever he needs to be for various team promotions and contests.
http://youtu.be/B72ETdb8m3I
Not unlike players, Spencer has superstitions of his own for games that he hopes can help the Pens win.
"I always like to get on the side where the opposite goalie is," he said. "I always try to stay on that side because they score more when I'm on the side of their goalie."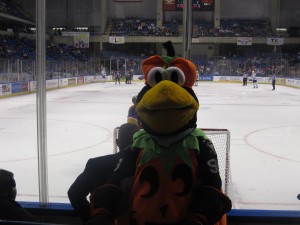 When the Penguins are on the road or have off days, Spencer keeps busy with over 275 community appearances over the course of a year. Although a typical appearance may only last an hour, he detailed that an event can turn into a five-hour affair by the time he travels to the appearance, changes into his costume and takes it for maintenance. He said weekends are especially busy, as he might do five appearances on a Saturday, for example.
"My weekends are always busy; very rarely do I get a weekend off," he said. "I'm usually doing a birthday party or a charity event. My weekends are usually a Monday and a Wednesday or a Monday and a Tuesday."
Spencer was quick to point out that being in the Tux costume can be dangerous, as it can feel like it's 115 or 120 degrees inside and he doesn't have a lot of oxygen to breathe. He said it takes "a tremendous amount of energy" to do a five-minute skit, but it is not his style to merely stand around and wave to people. He believes a mascot should be active throughout a game.
Rewards and Challenges
The biggest drawback of his job is easily being away from his son Cody, who lives with his mother. The two have a strong relationship and communicate through Skype and text messages, but as Spencer put it, "When you're chasing your dream, you have to have sacrifices." He added that Cody is very supportive and wants to see him succeed. His son has not entertained being a mascot as a career, but is interested in magic, which Spencer has performed for over 20 years.
The two spend summers and Christmas together, but the rest of the time is tough on Spencer. "Not physically being able to give him a hug and a kiss, that kills me; that's the hardest part."
But on a positive note, Spencer got excited when talking about how the Penguins fans treat him. He said he gets a lot of love and smiles and that the fans "constantly lift" him. "It gives me more energy, more power, more creativity. It's a lot of glory."
On Behind the Mask
He first got involved with Behind the Mask while attending a mascot camp run by Dave Raymond, the original Phillie Phanatic, who he calls "his rock star idol." He explained that Josh Greenbaum, a director, and other members of the research team talked to him for a couple hours and that Greenbaum even wore the Tux suit. The movie they were looking to do never came to be, but about three years later, Greenbaum called Spencer and told him about the documentary he wanted to put together.
http://www.hulu.com/watch/544473#i2,p5,d1
Once the Penguins approved of the idea, filming went ahead in Wilkes-Barre.
Spencer believes that fans will come away with a better understanding of what it's like to be a mascot.
"People will see this and see the different personalities," he said. "Each one of these mascots has a passion for what they do and why they do it. The show portrays why we love this job so much and our passion for it. It will give people a new respect for mascots. There's never been any kind of thing out there that's like this."
Behind the Mask can be seen on Hulu Plus with an account subscription and also features the mascots from Lebanon Valley High School in Pennsylvania, UNLV in Nevada and the Milwaukee Bucks of the NBA.