Morning Folks,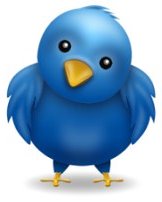 This installment of 5 for Writing is brought to you by Twitter. I'm finding that I get more and more of my news from Twitter, also a ton of good posts get mentioned.  We'll start off with a Twitter Who's Who in the hockey world [The Cult of Hockey]
You can follow us at Twitter here:  @TheHockeyWriter
Here is just a sampling of the things we see on Twitter.
@rockhockey Magnus Pajaarvi lights it up in Edmonton [Bleacher Report]
@The_NHL_Arena Filatov trying to be a good teammate [NHL Arena]
@HockeyBash shares a link to boo-birds getting into mid-season form on day 1 or the pre-season [THN]  and shares another Hockey Tweeters List (we're at 35)
@DarrenDreger tells us: Auld and Mayer will split tonights game in Mtl.  Leclaire and Brodeur expected for Ott.
Laura wants to ban a whole slew of hockey fans, are you with her? [Too Many Men]
@TheViewFrom111 shares a post on the Preds Rookies vs Carolina [Big Kev]
There you go – a typical hour on Twitter.  Don't forget about our Radio Show launching this Sunday at 6pm eastern
..another thing we see a lot on Twitter is #FF, which is Follow Friday where folks recommend to their followers others that they want to follow. This one type of Tweet has helped our growth on Twitter quite a bit. Here's a short list of some FFs we've received today – Many thanks to you all.