Ian Laperriere hasn't played for the Flyers, or in the NHL for that matter, since Game 6 of the 2010 Stanley Cup Final. And despite playing only a single season in Philadelphia, the current Flyers assistant coach has reveled in being in the city that mirrors his identity since. So what makes Laperriere the quintessential Flyer? Where do I begin?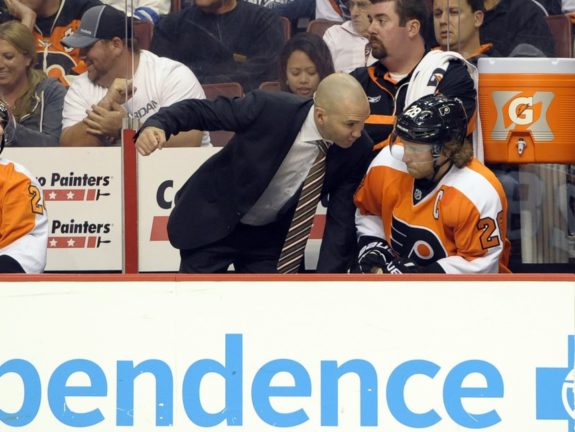 A Bully on Broad Street
Ian Laperriere never really struck fear in his opponents' hearts in the goal scoring department. But the 18-year veteran more than made up for his lack of scoring with stout defense, and the kind of toughness that makes sandpaper seem like cotton.
"I think my style of play is why fans connected, the way I played the game," Laperriere recalled. "I was physical, played hurt, played the way Flyers fans are. They're blue-collared people who work hard for their money. When they see the same guy who works hard on the ice they connect.
"It was a short time. That was one of my only regrets, it was so short. Wish I could have played here in my mid-twenties, more of a chance to show what I could have done."
It's that type of mindset that propelled the St. Louis Blues' seventh-round draft pick in 1992 to a career that spanned over nearly two decades. The man fans and peers call "Lappy" flirted with offensive prowess a time or two, registering 45 and 29 points in consecutive seasons with the Colorado Avalanche. But the gritty forward's bread and butter was undeniably his physicality, totaling 1,956 penalty minutes in 1,083 NHL games.
When Laperriere brought his blue collar style to Philadelphia in 2009, former GM Paul Holmgren knew what he was getting.
"Ian is a warrior," said Holmgren after signing Laperriere. "He is certainly one of those players does what it takes to win, or does what he can do to win. He always loved his character even going back to when he played briefly with the Rangers. At this time he brings a wealth of experience to our team. As I said, he is a very durable player. He can play with skilled players and he can also kill penalties and play against the other teams better players because he relishes that role as well."
Holmgren may have known Laperriere was durable, but it's unlikely he knew how tenacious he would be in an orange and black sweater. Laperriere's 1,001 regular season appearances before joining Philadelphia appeared less impressive after the abrasive agitator endured the full 82-game slate in 2009-10.
In November of that season, Laperriere took a puck to the mouth while killing off a penalty against the Buffalo Sabres. And despite receiving enough stitches to make his mouth look like a zipper afterward, it still wasn't enough to keep him from jumping back out on the ice in that very game. That alone could explain Philly's love affair with Lappy. But Laperriere's legend was still growing.
After the 4-2 loss to the Sabres, Laperriere boarded a plane with a swollen lip and seven missing teeth. He also played against the Atlanta Thrashers the very next night. Laperriere continued to flirt with immortality, logging 13:20 of ice time on 17 shifts that night, and maintained his position as a linchpin in the Flyers' lineup for the rest of the season.
Then came the quarterfinal round against the New Jersey Devils. The Flyers quickly disposed their divisional rivals in five games, but not before Laperriere took another puck to the face. This time, there was no return – right away that is. The veteran forward not only suffered a fracture to his orbital bone, but a concussion that resulted in a brain contusion as well.
"I think this is significant. They saw a spot there [on his brain] initially, and I think they were hoping, like we all were, that it would dissipate a little bit," said Holmgren after the Flyers secured their spot in the second round. "Right now, it's not safe for him to play."
How did JVR learn about playoff intensity? Watching Ian Laperriere take slap shots off the face; called that a 'wake-up call'

— Mark Masters (@markhmasters) April 22, 2013
Laperriere was indefinitely placed on the shelf with his playoff run with the Flyers, and NHL career in uncertainty. The Flyers moved forward, engaging the Boston Bruins in perhaps the greatest playoff series in franchise history. And for Laperriere, the extended series that began with his teammates in an 0-3 hole gave him the time he needed to return in the Eastern Conference Finals.
Little did everyone know, however, Laperriere would re-join the Flyers for Game 4 against the Montreal Canadiens, and play all the way through Patrick Kane's overtime goal in Game 6 of the Stanley Cup Final.
"It feels great," said Laperriere after Philadelphia's Game 5 triumph over the Habs. "I told a couple of the young guys before the game that it took me 15 years to get where we are going. It's a great feeling. I'm feeling great. I can't imagine winning the big one and how great it will feel."
After running the well dry of adrenaline in the 2010 playoff push, however, Laperriere wasn't feeling so great after all. The aftermath of the concussion suffered in the opening round would keep him out of action, and ultimately into retirement.
"When I get the lights going and there is movement around me, it gets worse and worse and I feel like I'm not myself," Laperriere said after announcing his retirement.
"That's what scares me and that's why I can't play. They don't want me to get hit again and I don't want to get hit. If I feel this bad right now, how will I feel on my next hit? If I'm not sharp out there, especially with my game, I'm going to get killed."
No one blamed Ian Laperriere for retiring. Not even after captain Chris Pronger was lost in a similar fashion in 2011. But what stands out ahead of Laperriere coming up inches shy of a Stanley Cup is how revered he remains to be after only playing 95 games in a Flyers sweater.
"It's not often that a city accepts you in as one of their own, after a single season, wearing the hometown sweater.  The chance of that city being Philadelphia, the city of grit, determination, and hard work, is even more rare.  For Ian Laperriere, he has not only found that to be the case here in the City of Brotherly Love, but he finds himself among the most beloved sports figures this city has ever known." — Tim March, Orange & Black Pack
Politicians yearn for this type of support in such an environment that's perceived to be harsh. And in any other case, a first-year newcomer in Philadelphia would likely not experience the admiration Laperriere receives to this day. But in the case of Ian Laperriere, the city that beholds their former warrior as royalty isn't a surprise. He and Philadelphia are one in the same.
New #Flyers coaching staff has done a very good job. How good? These last 5 games will help provide the answer. pic.twitter.com/WIzqnXS4Yi

— Sam Carchidi (@BroadStBull) April 6, 2014
The Legend of Ian Laperriere Today
Before Laperriere ever retired, he utilized the two-year gap between his last NHL game and his official retirement to mentor players within the organization. It was his involvement from the X's and O's aspect that not only landed him the role of Director of Player Development in 2012, but also recognition with the Bill Masterton Memorial Trophy in 2011.
"Laperriere is the first Masterton Award winner to have not played a single game in the season for which he was honored.

That's because Laperriere, rather than heading back to his native Canada to lay low, decided to assume an unofficial coaching and mentoring role with the Flyers. Starting in November, Laperriere began making trips around North America – including to Glens Falls, N.Y., and throughout Canada – to impart words of wisdom on the Phantoms and future prospects.

"By April, Laperriere was running practices for the Flyers' scratches in the playoffs." — Frank Seravalli, philly.com
Laperriere would continue in that capacity until early in the 2013-14 season. The Flyers were off to their franchise worst start in franchise history, and changes were on the horizon. Fired after a pair of seasons and some change was Peter Laviolette. And with his former assistant, Craig Berube, stepping in, the winds of change also involved Berube's staff.
The newly named assistant joined John Paddock to round out Berube's bench staff, which designated Laperriere to specialize in the penalty killing unit. A group that gained much improvement, finishing seventh in the league with an 84.8 PK percentage. His efforts were nothing short of terrific, considering Philadelphia's 14.4 penalty minutes per game, which were the most in the entire NHL.
"As a player I would look around the room and pick up good stuff from all the things from my teammates — the good stuff — and I did that with my coaches too, both good stuff and the bad stuff," said Laperriere.
"I told them that at the development. If you are smart, you will look around the room and pick little things that can help you become a better player. I did that as a player. I did that with my coaches."
Fortuitously, the mindset of the second-year assistant just happens to align with first-year GM Ron Hextall's. It was Hextall who stepped into the role, bringing a philosophy of developing talent below, and improving in the skating aspect. As Hextall made minor adjustments to both alleviate salary cap pressure, and increase skating speed, Laperriere's work in the latter department was displayed when fourth-line forward Jay Rosehill won the Flyers' speed-skating race in training camp.
"Berube said the Flyers were 'getting faster as a team, and it's my job to make these guys faster too, in their practices. We're working on getting quicker. We have to do things quicker; we all know the game is about speed and puck (control), and practices are designed around that.'" — Sam Carchidi, philly.com
Lost in Berube's upbeat practice tempo is Laperriere's invested time with Rosehill. The two spent time together this past offseason, working on foot speed through an array of drills.
"Rosehill said he trained hard this summer to increase his leg strength and push-off, doing more heavy leg lifting with weights.

"As an enforcer, Rosehill is not an everyday player, which means he spends a lot of time post-practice skating with the coaching staff. He feels the hours of sprint work he did with Ian Laperriere last season paid off." — Tim Panaccio, CSN Philly
Just off the phone with Ian Laperriere. First joke he makes when he answers: "I am not a candidate to be GM of the Canadiens!"

— Adam Proteau (@Proteautype) March 30, 2012
Who knows how long the Flyers will have their admired figure on the bench for? The lights that glow in NHL arenas blurs his vision from time to time, although he admits to being just fine. But if Laperriere continues to add value to the franchise that regards him as a blood relative, it's not out of the realm of possibility that he'll be considered for future head coaching or GM positions in the future. Until that bridge is approached, however, his focus is set on developing the team, as well as his own coaching abilities.
"It's great, you know," said Laperriere as he looked back on his promotion to assistant coach. "That's what I wanted to do four years ago when I met with Paul Holmgren. When he gave me the opportunity, I jumped at it. It's something that myself, I bring my experience on board and I try to help those guys become better individually and as a team get better.
"It's good. It's a lot of, the first couple of games on the bench were fast. As a player, you worry about yourself, but as a coach, you've got to worry about twenty three guys. It was faster, but now I'm a little bit more. I've got two great guys, well more than two, four great guys to learn from. Berube and John Paddock have tons of experience as coaches and I learn from two good guys. I'm just at school right now. I'm learning."
Lappy in Pop Culture
Laperriere's popularity in Philadelphia may have been solidified on the ice, but it has since been nourished off of it. In 2012, Laperriere made his big screen debut in the Hollywood box office hit, This is 40.
The cinematic rookie joined former teammates Scott Hartnell, James van Riemsdyk, and Matt Carle as they portrayed themselves flirting with actresses Leslie Mann and Megan Fox at a nightclub. The scene included Fox, a four-time Teen Choice Award winner, inserting Laperriere's false teeth into her own mouth. It was a role that Laperriere not only landed for his missing (real) teeth, but one that he put dental work aside for.
Asked Ian Laperriere about appearing in Judd Apatow movie This Is 40. Says he loved the experience, but wondered where his Oscar invite was.

— Eric Duhatschek (@eduhatschek) February 24, 2013
"There's a friend of mine in L.A. who told a PR guy in Philly they're looking for a guy without teeth for a small part. So I give them my name and if it works, it works," Laperriere recalled. "Sure enough, a month later we were in L.A. filming and Hartnell, JVR, and Carle were there with me. I was in the right place at the right time with no teeth."
Pro Hockey Talk reported that former Flyer, Dan Carcillo, was originally in the running to capture the role, but hadn't obtained a green card. Probably for the best since Carcillo was last seen taunting the Wells Fargo Center crowd as a member of the New York Rangers in last season's quarterfinal round.
Perhaps he had an edge with his previous appearances in commercials, from ads promoting Kiwi's "Soles4Soles" campaign, to a spot in the NHL's post-season's History Will Be Made series.
"I'm just a gifted individual. I'm that guy that likes to try everything, and I don't care if I embarrass myself," joked Laperriere. "I've done it before and I will do it again."
The Jack-of-all-trades isn't just Philadelphia's adopted son, he's the quintessential Flyer.