In this interview originally appearing in Russian language on the Russian portal SovSport.ru, Blue Jackets goalie Sergei Bobrovsky talks about the pre-season, remembers his time in Paris and replies to the Proust Questionnaire.
– Sergei, congrats. A shutout in your first pre-season game is a good way to start.
– Thank you. It was a good game. The guys helped me a lot and I had a good confidence for the first game.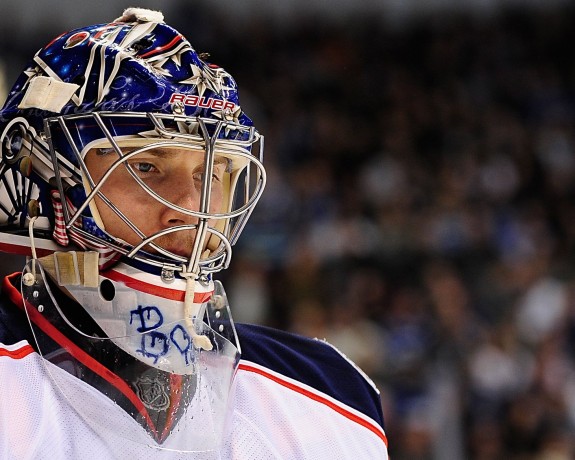 – The game was right after your birthday. How did you celebrate?
– Nothing special. My wife Olga cooked a tasty cake, we had a dinner at home and drank some tea.
– Did your team mates in Columbus shove a shaving cream cake in your face?
– No, nothing similar happened. (Laughs.)
– How did you choose your new mask's design?
– The design is pretty much the same as the one I already had in Columbus. There are the team's logo, the American flag, the Russian flag, and the emblem of [my hometown] Novokuznetsk. And a brick wall on the background.
– I understand that you put the American flag as a sign of respect for the country in which you work. But aren't you scared about getting involved in political talks? Ovechkin, Malkin, Varlamov didn't hide their views.
– No, I'm not going to talk about this in public. I'm not a politician, therefore I'm not going to talk about these things.
– How much time do you spend on social networks?
– I don't have any account. My wife has an account on Instagram, and it's enough.
– Yes, through Instagram we noticed that you love museums. And this summer you visited Paris.
– There is the great Louvre Museum there. It's huge! In two days we visited two parts only. The best part of it was the Italian art. It was my first time in Paris. A great city, with many excellent restaurants.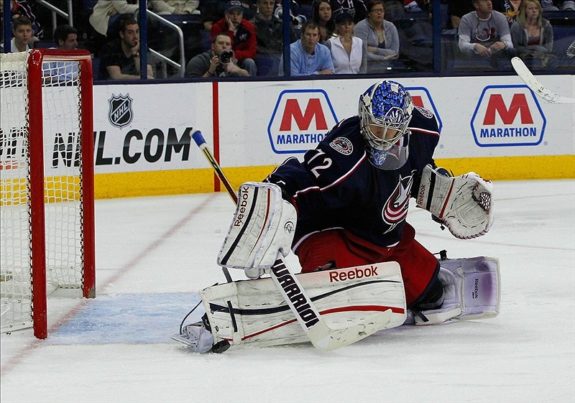 – It looks like Paris doesn't allow people to be indifferent: either you love it, or you hate it.
– I'm in the first category. I have really fallen in love with Paris. A beautiful city, very rich in architecture. The pearl of Europe. Then I spent two weeks at the Maldives, and five weeks in Austria, where I started practicing for the new season.
– Goalies need to practice a lot to avoid losing flexibility.
– Every goalie has his own methods. Finding the right program and the right place is a whole science.
– Vladislav Tretiak used to practice with tennis balls against the wall. How do you practice your reaction?
– I use tennis balls for warm-ups. I practice my reaction during the normal practices.
– Swimmers say that the most important thing for them is the feeling of the water. What's the most important thing for a goalie?
– Hard question. Probably, the feeling of yourself. You need to perfectly understand your body, emotions, and psychology.
– Can you give advice to younger goalies? How do you gather energy before a game?
– There is no ultimate answer to this question. Goalies are individualist people. Each goalie makes what's good to him. If something helps a goalie, it's not given that it would help another one. I think that the most important things to me is keeping on working hard on myself.
– What KHL news impressed you the most?
– Nowadays I don't follow the KHL. I'm practicing hard for the new season and I try to spend my free time with my wife. She helps me a lot and also needs my attention.
– How do you spend your time in Columbus?
– I like the "Easton" shopping complex. There are many shops and restaurants.
– Do you started playing hockey on goal?
– I started playing as a defenseman. But I always wanted to play goalie. Goalies have a great equipment, I always loved it.
– What was your favorite subject at school?
– I can't even say one. When I started playing hockey at high level in Novokuznetsk I rarely attended school at all. And I regret it. About five years ago I was hit by some thirst of knowledge and I'm trying to catch up.
– Do you think you'll start studying again?
– It would be good, but when you play in the NHL it's hard to focus on anything else. You have to think about hockey.
[…]
– At the 2014 IIHF WC, the Best Goalie Award went to Pekka Rinne, and not to you. Many people were unhappy about this. What was your reaction?
– The team's win was much more important. Individual awards are nice too, but the Gold Medal means much more.
– Where is it now?
– At my parents' place, like all other awards I won.
– And what about the Mercedes you got from President Putin?
– We'll see, I'm yet to decide.
At the end of the interview, Bobrovsky replies to the Proust Questionnaire.
– What do you value the most in men?
– Courage, sense of responsibility.
– What do you value the most in women?
– Sense of responsibility, loyalty.
– What is the main trait of your character?
– Discipline, confidence, tranquility.
– Where would you like to live?
– Hard to say. There are many good places in the world.
– What vices do you feel most tolerant towards?
– Laziness, stupidity.
– Who is your favorite figure in literature?
– Erast Fandorin from detective novels by Boris Akunin. Not a fictional character, but I always respected a lot Leonidas from Steven Pressfield's Gates of Fire.
– What is your hero in real life?
– Fedor Emelianenko. I think he's a great athlete.
– What are your favorite food and drink?
– French fries and freshly squeezed juices.
– Who are your favorite characters in history?
– Spartans and Leonidas, and Tamerlane.
– What is your favorite aphorism?
– Impossible is nothing.
– If the Devil would offer you immortality, will you accept?
– No, I would not. I'm an Orthodox man, I believe in God.
– What would you tell God when standing in front of him?
– I'm not ready to reply to this question.