In this translated interview originally appearing on chelyabinskhockey.ru, Lightning prospect Nikita Nesterov talks about his first year overseas, describes his current relationship with his KHL team Traktor Chelyabinsk and tells that he's not planning getting back to Russia.
– Hello Nikita, do you feel good now?
– I've been out with a concussion, I got hit from behind and got a puck in the face during a game against Ottawa's farm team. But the worst has been the hand surgery. It's not fully healed yet. I hope I'll be 100% ready for the season's start.
First year in the AHL
– Did you expect that the first year overseas would have been that hard?
– I left home not prepared enough. I didn't know the language, the guys, the league. But after six months I got used to everything and things started going well. Even if "colloquial" English is still hard to me. I understand instructions and hockey terms, I can say something, but nothing more. It's hard to learn English because in the team I had a lot of people who talked Russian. Six people: Namestnikov, Kucherov, Sergeev, Belorusian Korobov, and Latvian Gudlevskis. And now Vasilevskiy too. We try to hang out together. Earlier I rented a flat with Kucherov, but then Nikita was called up to Tampa and I was alone. Now I live with my girlfriend.
– The team didn't offer you an English teacher?
– There were lessons almost every day, but we didn't go much. You know, practices, travels, games. Then you're so tired that you haven't any gas left for studies.
– Where did you get more experience, in the KHL season when your Traktor was a runner-up or this season in the AHL?
– I think this season in the AHL. Here they need other skills and you can grow faster. I started playing tougher. I improved pretty much in everything: skating, shooting, vision of the ice. I learned to think faster. If you don't know what you do you can always shoot the puck along the board. And the forwards won't give up battling for the puck until they fall.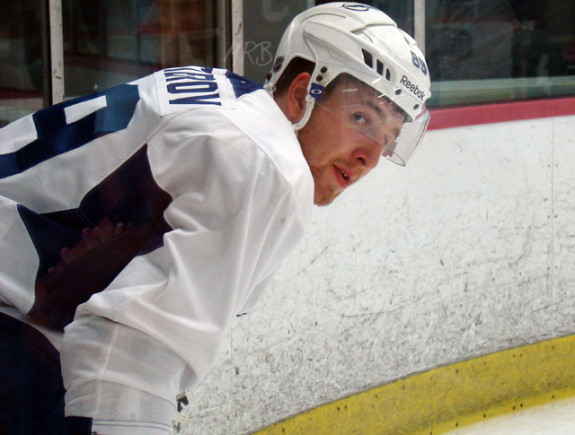 – Do the Syracuse Crunch have a big audience?
– Yes, the arena is almost always full. The arena isn't the biggest one out there, about six thousand people. They sing the hymn and then support us, no matter how we play. But in general, the city simply loves basketball. They've got a very good college team.
– Did you have any enforcer in Syracuse?
– Yes, Eric Neilson and Charles Landry. Thay are good guys and good fighters. They can show you how to deal with fights, how to deal with the opponent jersey, and so on. But I didn't take any lesson from them, I didn't went there for that.
– AHL is pretty much an autobus league. How was it for you?
– Well, usually the distances aren't big, a couple of hours and you're at the arena. But there are also longer travels. The one to Norfolk for example, a whole 12 hours of travel. We couldn't fly because of the bad weather. But we had good seats, so I didn't have any discomfort.
– Usually hockey players can't forget about their first goal and their initiation. Was it crazy for you?
– They got each young player dressed in women outfit, and we went to the party that way. But I don't want to talk about it. What happens in Vegas has to stay in Vegas. In the AHL those things happen every time if you're a rookie.
– Did you drive a car in Syracuse?
– I got a card that allowed me to drive. Me and Kucherov bought a Honda Pilot for 12.000 dollars. A normal car, without frills.
Life in the States
– Syracuse is not far from New York. Did you visit the "Big Apple"?
– We went there during Christmas holidays. It was nice, the streets are decorated with garlands, there is a lot of blinking and lights. In America you do feel Christmas. At our arena they had a little toy on each seat and when we scored, they threw them on the ice.
– Do you like living in the USA?
– I like playing hockey in the USA. No stress, no problems. But for living, I prefer Russia. I wouldn't stay in the States [after my career].
– Did you feel nostalgia?
– After about three months I started missing home. I got nervous, made some mistakes. The crisis lasted for one week and half, two weeks. Then my girlfriend arrived and all was good again.
– How do you spend time with her in the States?
– I like spending time at the wellness center: I go to the banya, or get a massage. With my girlfriend we go to the park. There is a pond with ducks and she likes it a lot.
– In Chelyabinsk your sister plays hockey. Do you give her advices?
– I just gave her some sticks. Special ones, from a special order. Unfortunately I'm yet to see her playing.
– Did Traktor try to get you back?
– No, no one called me. I didn't see anyone from the team.
– Maybe they're angry? Maybe they persuaded you to stay before you crossed the ocean.
– Girls are usually persuaded. We simply decided that I was going. We shooked hands and greeted. What's the point in calling me if they know I'm not getting back? Maybe once my contract will run out, they'll try and call me back.
– What did Tampa personnel tell you after your season in the AHL?
– They said I've got a good potential, that I should keep on working and all will be great. No one has a guaranteed spot on the team. Even players on an one-way contract can be sent down. I'm under contract for two more years and I'm not planning on leaving. I don't want anyone to think that I gave up, moreover considering that I didn't achieve a thing yet.