In this translated interview originally appearing on popular Russian portal championat.com, Predators prospect Vladislav Kamenev talks about his first steps in hockey, discusses comparisons with Evgeny Malkin, and says that his ultimate dream is to play in the NHL.
* For the original interview by Alexander Rozhkov, click here.
– Does feeling the coaches' trust help you on ice?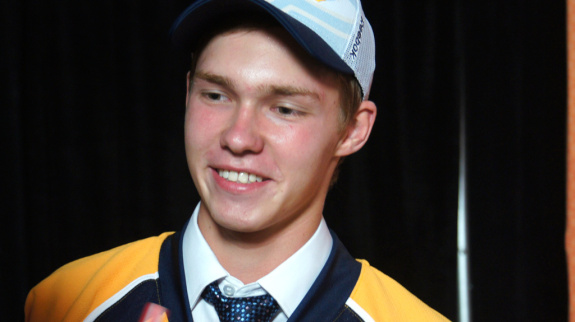 – Yes, of course. I have much more trust in myself. My team mates also support me a lot. Thank to them I can score points even when I don't play my best games. This is great too. But the most important thing is that the team is winning, and only after it I can have a look at my stats.
– What is the most difficult thing for a 18-years-old player in the KHL?
– To get some consistency in your game. Play each game at a KHL level. I understand that this will come with the experience. You need to work hard and all will be great.
– During an interview you said that you discuss every game with your father. What is the last time he scolded you?
– I was the third player to get to the crease. He told me that a center should play in front of the crease, and not behind it. We talk on the phone after every game, we discuss some moments together.
– What are you trying to learn from [Metallurg Magnitogorsk team mates, KHL scoring leaders] Sergei Mozyakin and Danis Zaripov?
– I'm amazed by how quietly they play. No panic at all, not a single movement too much. Nose for the net, vision of the ice, puck skills – all at the highest level. I watch at them and I try to learn as much as I can. This is very important. Not every young player has the chance to play side to side with such great masters and under such great coaching [led by Mike Keenan].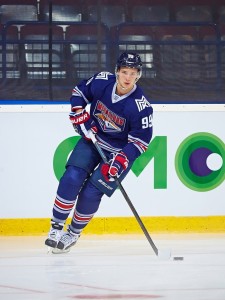 – What is the most useful piece of advice you received from Metallurg's training staff?
– That you always need to work hard on yourself. You shouldn't skip any practice and try to perfect yourself on ice. You always have to mantain yourself above the average.
– Many times, veterans say that young players are always the first to leave the rink.
– I never leave the practice first. I try to spend there as much time as possible. I also like to spend some time on the locker room, I don't run at home right after we're done.
– Many compare you to Evgeny Malkin. What do you think about it?
– Not bad! Of course, it's pleasant when they compare you with one of the best players in the world, but there is a long way ahead of me before I can get to his level.
– The fact is that you both play center, have a good size and also had good stats at a very young age.
– I wouldn't do such comparisons. I've heard that last year I became the youngest player to ever score a goal for Metallurg, and the record belonged to Malkin himself.
– What would your father say if you'll get back home and say: "I'm the new Malkin"?
– (Laughs.) I can't even imagine saying that. There is still a long way ahead of me before getting close to his level, I still have a lot to work.
– Your age difference is 10 years only. Did you grow up watching Malkin playing?
– Well, I was born in Orsk, I started playing there and I moved to Magnitogorsk only when I was 12. Of course, during the lockout I observed his play. But, frankly speaking, I was more focused on Sergei Fedorov.
– Who had the most influence on your life?
– My father. I started playing under his supervision. He put me on skates when I was only three.
– How did you get to Metallurg?
– My father knew one of their coaches, Vitaly Solovyov. He called him and I got on a try-out. After it they told me that I could stay playing for them.
– Did having a coach as a father mean that you spent the whole day at the rink?
– Yes, of course. My father used to coach the reserve squad, therefore I even skated with him. I wasn't even ten. I also skated with older guys, and thus I had two or three practices a day. I even had launches at the rink. We also ran, played football.
– This summer it looked like you really wanted to continue your career in North America.
– Well, actually, I didn't know what I wanted myself. I thought a lot about keeping on playing here or in North America. I was confused.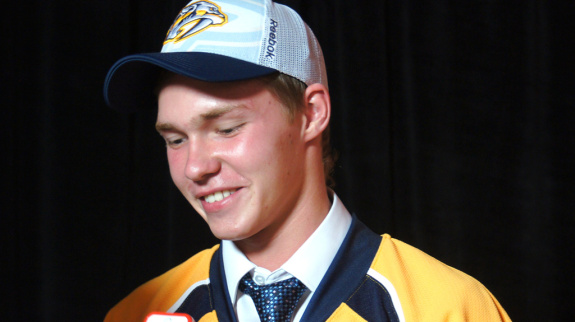 – Staying in Russia, did you take the correct decision?
– I think I did. They trust me in Magnitogorsk, they give me ice time. I have a contract until the end of the next season. I think I'll play here through it, and then we'll see.
– Who did persuade you in not leaving overseas?
– I was thinking about it last year already. Maybe it would be better if I stay in Magnitogorsk? Maybe it's still early to move to North America? I also discussed with my parents and they were worried about me living alone in another country.
– Do you follow the Nashville Predators?
– Yes, I watch the highlight of every game. I know that they had a good start.
– Is playing in the NHL your dream?
– Of course it is! Every young player dreams about playing there.
– Yes, but many players sooner or later get a good contract in the KHL and change their mind.
– No, it's my dream. Money is not important to me. I really want to play there.