13 goals in his first 13 games. No, we aren't talking about Steven Stamkos.
The St. Louis Blues have received a gift in the goal-scoring department to open 2013-14 as Alexander Steen has catapulted to the top of the NHL leaderboard. Currently, Alex Ovechkin sits in second with 12 while Stamkos has the third spot with 11 tallies.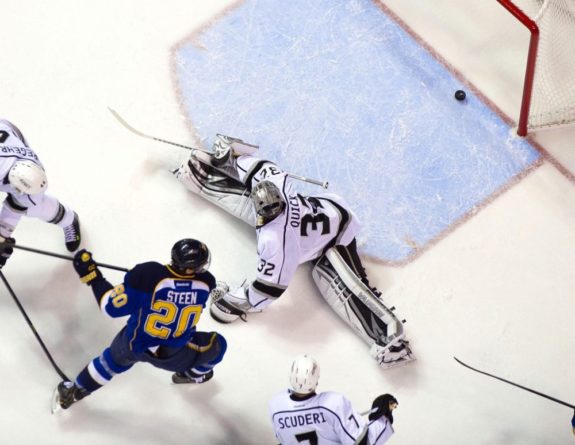 So how is it that Steen, whose career high is 24 goals, has been able to produce at such a remarkable pace?
Your critics will tell you hot start. While that is definitely part of it (just ask Tomas Hertl of the San Jose Sharks), there is something much deeper at work here.
Ice time increased
Steen has primarily been a role player for the Blues, mixing a steady defensive game while providing a slight scoring touch on the second and third lines. This season, Steen has been mainly used as a top-three forward.
His ice time since arriving in St. Louis is as follows:
[table id=244 /]
As you can see, Steen has mostly seen a steady increase every season in terms of his usage in games. This provides a player with more confidence, resulting in willingness to drive the puck more… which ultimately leads to plays like this: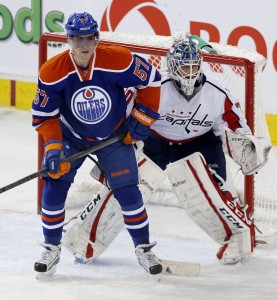 Benefitting from Perron Trade
Although the Blues acquired a roster player in Magnus Paajarvi from the Oilers in exchange for David Perron, they were also able to bump Steen up the depth chart. With Perron off the roster and top-six forward Andy McDonald retiring, the roster had some holes for Steen to slide into.
This included Perron's spot on the top line. According to Dobber Hockey, Perron played 23.96 percent of his even-strength shifts in the 2012-13 season with T.J. Oshie and David Backes. Now, Steen has spent 53.63 percent of his even-strength time with the same scoring line through the first 13 games of this season.
Nobody has benefited more from the Blues' biggest trade of the summer than Steen.
Shots hitting the net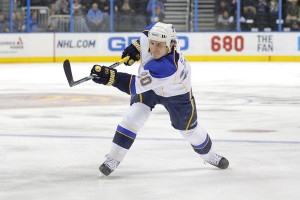 It wasn't long ago that Steen was chastised for his inability to shoot pucks at the net. In July 2011, Scott Cullen of TSN supplied a list of players who miss the net most often. Steen climbed his way to 11th on the forward list, misfiring 35.5 percent of his shots.
Fast forward to today. Steen still leads the team in missed shots (20) while also leading the team in counted shots (that is, shots that actually hit the net), with 43 on the season. That marks his missing percentage at 32 percent.
But the shots he's taking are more opportune. In 2010-11, the season on which Cullen's piece was based, Steen's shooting percentage was a sub-par 9.2 percent. This season, Steen has seen his percentage rise to 30.2, which currently leads the team.
In summation, Steen is still missing the net but has found a way to make the ones that hit the net, count.
—————-
Steen has faced his fair share of injuries throughout his career but he hasn't had the benefit of the big Backes on his line ready to defend him at every turn. If health remains to not be an issue, there is reason to believe that Steen will easily eclipse his career highs.
Better yet, Steen could be the man who leads his club to a deep playoff run with timely offense finally being existent for the Cup-hungry Blues.