At Friday night's Friends of BU Hockey Awards Banquet, the awards portion of the night went along with no surprises. Jack Eichel won the Ed Carpenter Award for Most Points, and the George V Brown award for MVP. It wasn't until the end of the ceremony that things got interesting, when the captains for next year's team were announced.
Matt Grzelcyk was a no brainer choice for captain considering he filled that role this year, and seniors-to-be Danny O'Regan and Matt Lane were no surprises for As. However, there was one very curious letter given: an A for Jack Eichel.
2015-16 captains: Matt Grzelcyk (C), Matt Lane (A), Danny O'Regan (A), Jack Eichel (A) #ProudtoBU pic.twitter.com/hidNHgvw8I

— BU Men's Hockey (@TerrierHockey) April 18, 2015
Why make Eichel an Assistant Captain if you know he's going to leave? The only reason to do so would be that Eichel has not ruled out returning next year.
To this point, everyone had assumed that Eichel would automatically sign to play in the NHL next year after he's drafted 2nd overall in June. Everyone except Eichel, that is. If you look back at what he's said about the NHL over the past year, it doesn't appear so cut and dry that he's leaving.
A Look at the Evidence
This season, Eichel has maintained a very professional and reserved approach when speaking about the NHL. The message hasn't changed all year:
"I don't go out of my way to look up who the bottom teams are or anything like that because there's still a lot of time left," he says. "I'm not looking past the rest of our season; I'm sure at the end of the season it will all take care of itself."

"I don't know," Eichel says. "It's going to be a decision made after the season."
Then there's comments from his coach David Quinn:
"I don't think he's rushing out the door," Quinn says. "He loves BU, he loves his teammates and he loves playing here."
Everyone had written that off as lip service on Quinn's part, but it appears that the door is still open. The more you dig, the more it appears that it could happen…
"It's been everything I dream of and more, playing at BU," Eichel says. "It's an unbelievable facility to play at."
When asked specifically about what returning to BU would mean for him at the Hobey Baker ceremony, he said the following:
"It would be another great year of development, college hockey and life with coach (David) Quinn," Eichel said. "There are positives to it any way you look at it. At the end of the day, when a decision has to be made, I will make it with my family and with my heart. I don't want to be somewhere that I don't want to be."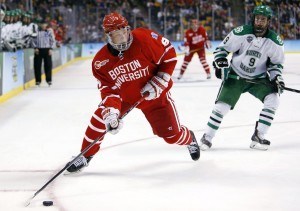 The curious part is the last sentence because, for all intents and purposes, Eichel knows where he's going. Assuming nobody trades into the top two (it would take a king's ransom to do so), there are only two teams that can pick #2 overall. If the Sabres win the lottery, Eichel goes to Arizona. If anyone else wins the lottery, he goes to Buffalo. He'll know where he's going by tonight.
Does he dislike something about one of those two destinations? Who knows.
Consider how much Eichel has enjoyed BU and playing for a school for the first time in his life, then add in the extremely sour taste left after the disappointing loss in the National Championship. The NHL will be there waiting for him whenever he decides, but there's no going back to college.
Finally, two of college hockey's most knowledgeable and respected insiders have lent some credence to the possibility of his returning:
There have been some rumblings that Eichel could stay at BU next year. I kind of dismissed them, but this is an interesting twist.

— Chris Peters (@chrismpeters) April 18, 2015
Then, Scott McLaughlin of College Hockey News wrote the following:
Eichel has said that he hasn't decided anything as far as going pro vs. returning to BU, and people close to BU have suggested that there is more of a chance of him returning than people might assume.
I don't think he'll return, but I'm definitely going to consider it possible, something I hadn't thought all year.