To the Columbus Blue Jackets faithful: the standoff with Ryan Johansen is still active, but it will soon will be over. Trust me.
Ever since the Blue Jackets got bounced from the playoffs on home ice against the Pittsburgh Penguins on April 30, the marquee re-sign of the off-season would be Johansen. Don't get me wrong, bringing back Brandon Dubinsky with an extension was huge — for both the Blue Jackets future and Dubinsky's bank account. However, Johansen was the white hot target the Blue Jackets wanted to return; Dubinsky still had a year left on his deal prior to the extension being signed.
There are a litany of reasons why Johansen should return (Jeni's Ice Cream, White Castle, the clothing store Homage that's a few miles away from Nationwide Arena) to the Blue Jackets, but a few stand out more than others.
Observations Must Continue
Johansen is instrumental to the offense, there is no doubt about that. Being responsible for 63 total points in 2013-2014 regular season is nothing to sneeze at, but at the same time, one year of greatness doesn't register a long-term deal that breaks the bank. Johansen needs to have a second season of stratospheric point totals, if he wants a monster contract.
The best place for him to show his worth is in Columbus. He knows his teammates, schemes, and tendencies of the coaching staff; therefore, it shouldn't be asking too much for him to recreate what he did last year. A short term deal would iterate the fact that Johansen needs to prove more to the staff before huge stacks of cash are exchanged.
The Antithesis of Rick Nash
There are some rumblings on the internet that points to Johansen being 'Rick Nash 2.0'. This is not the case. Nash spent a long tenure in Columbus that resulted in mediocre finish after mediocre finish. While Nash might've been the main star, there wasn't anything else to pave the way for a shot at a championship.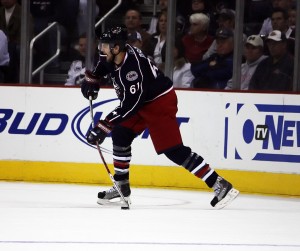 In the three years that Johansen has been with the Blue Jackets, the Blue Jackets have either made the playoffs or have been in the chase for the playoffs in two of those seasons — more than in the Nash-era. The cohesiveness in the organization is greater than what it was five years ago.
For Johansen, the cast of characters around him are astonishing. Scott Hartnell, Nathan Horton, and Brandon Dubinsky are just three of the talented names on the Blue Jackets. Johansen has help, but more importantly, has help that paves the way for more points — which will dictate the kind of money Johansen gets in the future. To leave Columbus, Johansen would have to find a team that fits his needs, and can help him get points. Looking around the league, Johansen would be hard pressed to repeat his talented 2013-2014 season outside of Columbus.
The Sharks in the Water Aren't Circling
Something that the Blue Jackets have in their favor is that other teams haven't been very vocal about snatching Johansen. Yes, teams eyeing the chance to pick him up, but will they be willing to answer the asking price? If Johansen had two or three years worth of 60 point seasons, then teams would be knocking down Johansen's door. However, Johansen only had one 60-point season in the NHL; a long-term deal with a huge dollar sign isn't very appetizing to teams right now. The Blue Jackets could play this side of the deal, and make Johansen come back to Columbus at the price they want.
The Verdict
From Johansen's perspective, it's understandable that he wants to be paid big money for big results. He wants to ensure that his future is set because at any given time his career could come to a screeching halt.
The Blue Jackets' want to give a reasonable amount of money to Johansen, but are unsure at how consistent his results will be. If the Blue Jackets give into the demands, then other up and coming players will want the same ballpark money once their rookie contacts expire. In addition to giving Johansen a long-term deal with $40-50 million, what stops Johansen from not doing his best? If Johansen gets upset at the situation in Columbus, he could stop giving 100%, while still picking up 100% of his paychecks. A slippery slope occurs if the Blue Jackets give him a long-term deal right now.
Right now a short deal (2-3 years) with $3-4 million a year seems feasible. If Johansen stays consistent throughout this time, then it would be fair to give him a long term deal with the money he wants (probably somewhere between $5-6.5 million a year).
Not only would the Blue Jackets love to have Johansen back, but the Jacket backers would love to see this kind of goal happen for future seasons:
.
Currently a student at The Ohio State University. Play-by-Play announcer for Ohio State football, basketball, and other sports on student radio. Writer of the Columbus Blue Jackets and other sports for U Weekly Newspaper. I believe I'm the real life version of Ted Mosby.