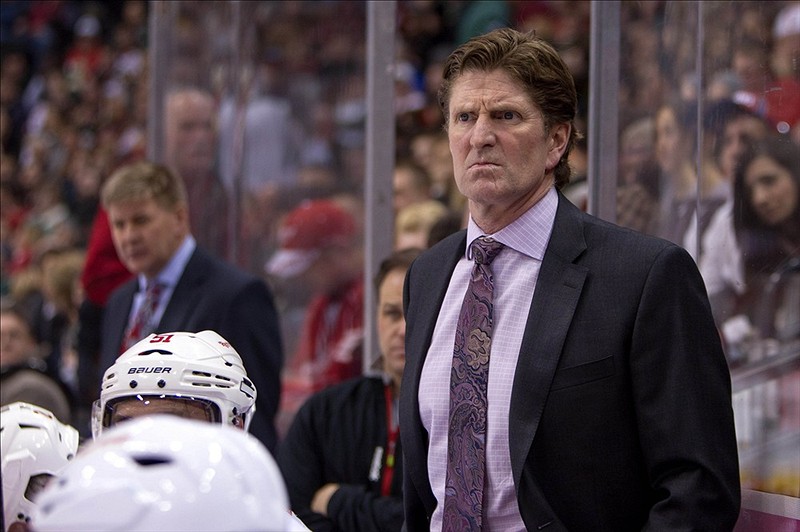 Head over to the Detroit Red Wings home page and you'll find a promotion for tickets to Round 1 Home Games of the 2014 Stanley Cup Playoffs. Playoff hopes march forward in April for the Red Wings, with fans hoping their team's streak continues for its 23rd consecutive season. The team has faced a lot of injury this season, but has maintained its resilience with the help of coach Mike Babcock. The Jack Adams Award is presented to the coach who has contributed the most to his team's success. Although previous efforts over the past eight seasons have not resulted in Babcock winning this NHL honor, he makes for a strong contender during his run through the tumultuous 2013-2014 season.
Adjustments and Injuries
Babcock has been forced to handle many adjustments as the Red Wings head coach, including injuries to elite players on his squad. Henrik Zetterberg has been injured for Detroit since the Olympics, as well as star center Pavel Datsyuk. Zetterberg underwent back surgery after the Olympics where he played just one game for Team Sweden before succumbing to a herniated disk. The good news is that the captain is expected to begin skating this week and hopes for a postseason return. Datsyuk has been out with a knee injury that he sustained against the Ottawa Senators back in February. Unlike Zetterberg, however, Datsyuk has since returned to the Wings' lineup this past week after missing 16 games – just in time for the final efforts of a playoff push.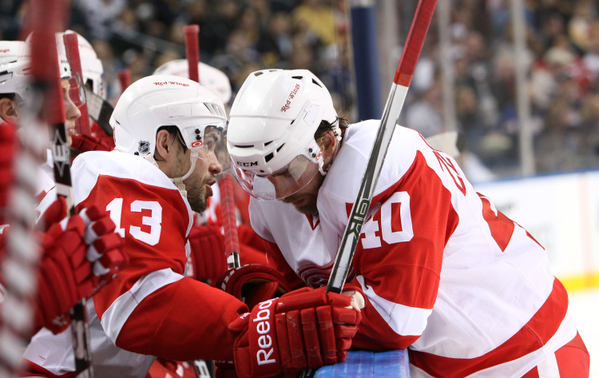 Jonathan Ericsson capped off his 2013-2014 regular season just shy of 50 games played. The Swedish defenseman suffered three different injuries this season including broken ribs, a separated shoulder, and most recently, a broken middle finger in March. Ericsson underwent successful surgery on his middle finger, but is not expected to return to the Wings lineup this season, and would most likely not return until a secondary playoff round.
I'll refrain from going into detail about all of Detroit's injuries, but they have lost many players for various periods of time including: Johan Franzen (concussion), Jonas Gustavsson (groin), Joakin Andersson (ankle), Tomas Jurco (rib), Todd Bertuzzi (lower body/flu), Justin Abdelkader (leg laceration), Darren Helm (concussion), Stephen Weiss (hernia), Daniel Cleary (knee), Mikael Samuelsson (shoulder), Daniel Alfredsson (back), Cory Emmerton (finger), Gustav Nyquist (groin), Danny DeKeyser (shoulder), and Brendan Smith (shoulder).
A New Era
The Red Wings have also had many players retire in recent years including Tomas Holmstrom (January 22, 2013), Nicklas Lidstrom (May 31, 2012), Kris Draper (July 26, 2011), and Chris Osgood (July 19, 2011). Having key components to the Red Wings core retire has forced Babcock to rely on younger talent as Detroit shifts to a new era of hockey. Mike Babcock has been utilizing everything he has in order to make the Red Wings a successful franchise.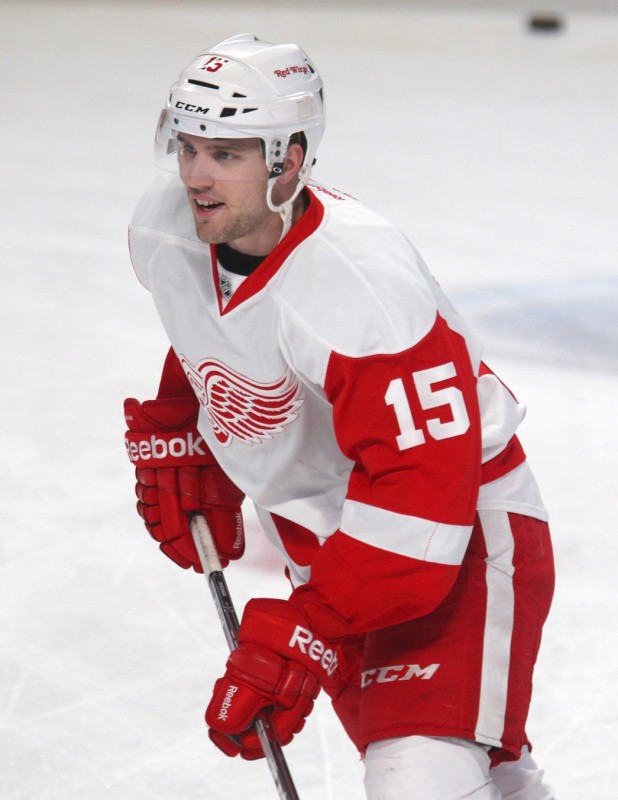 The Red Wings have had 9 rookie players playing in their first NHL games or first full seasons this year. The 2013-2014 rookies include: Luke Glendening (center, 52 games), Riley Sheahan (center, 38 games), Tomas Jurco (right wing, 32 games), Landon Ferraro (center, 4 games), Xavier Ouellet (defenseman, 3 games), Teemu Pulkkinen (left wing, 3 games), Adam Almquist  (defenseman, 2 games), Mitch Callahan (right wing, 1 game), and Alexey Marchenko (defenseman, 1 game). Babcock has made notable use of Michigan native Luke Glendening who has been playing close to 20 minutes a game – a player who last year was playing for the Toledo Walleye in the ECHL.
Finding Their Groove
Tomas Tatar has been stepping up, playing his first full-length NHL season, while Jimmy Howard has been struggling during the first year of his 6-year contract extension. Despite being solid between the pipes for the team in previous seasons, 2013-2014 has been what is hoped to be an anomaly for the Red Wings new franchise goaltender. Fortunately, Howard has fared well for his team down the stretch in past seasons and with only 4 games left in the regular season, it's hoped that he can improve his 20-18-11 record.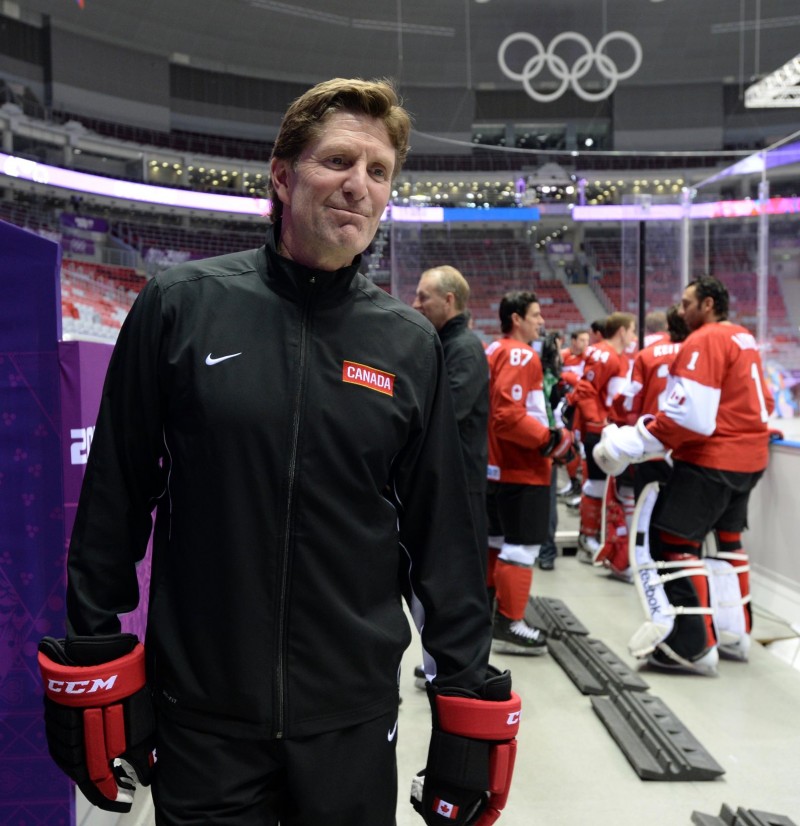 A Memorable Season
Babcock has taken no time off this season. Recall that coach Babcock was a gold medalist, coaching Team Canada through the 2014 Sochi Winter Olympics. This was his second year coaching Team Canada to gold, which added to his resume that already includes Stanley Cup Champion head coach when the Wings won during the 2007-2008 season. Babcock also starred in HBO's 24/7 Red Wings/Maple Leafs: Road to the Winter Classic. In the series, fans got behind-the-scenes access to their head coach as he ran around the rink for exercise. Fans also witnessed as coach Babcock contemplated adding his daughter to his injury-plagued locker room. Watch the video below for this frustrating, yet funny clip of Babsy hard at work:
The 2013-2014 season has easily been the most difficult Detroit has faced in recent years, demonstrating just how crucial Babcock has been in the success of Michigan's MotorCity. The Jack Adams Award is surely within Babcock's reach. I think that if the Red Wings manage to make it into the playoffs, Babcock is a shoe in for the Jack Adams.
Might I add that Babcock has a Facebook fan page dedicated to his hair?