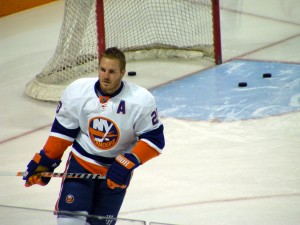 The Columbus Blue Jackets learned today that newly signed defensemen James Wisniewski will sit out for the remainder of pre-season and for eight regular-season games, as a result of an illegal check to the head of Minnesota Wild forward Cal Clutterbuck during a pre-season contest on September 23rd.
The announcement was made today by NHL Senior Vice President of Player Safety Brendan Shanahan. Wisniewski will be eligible to return to the Blue Jacket lineup on Tuesday October 25th when the Red Wings visit the Nationwide Arena in Columbus.
The free agent acquisition that contributed greatly to the busy summer by General Manager Scott Howson, will not only have to wait for regular season action, he will forfeit roughly $536,000.00. It's plain and simple folks, a repeat offender is absolutely going to pay a hefty price for his actions. James Wisniewski will do just that.
"Wisniewski's suspension history weighed heavily into my decision, as well as, the fact that he intentionally targeted a defenseless player when play had ended," Shanahan said.
As for the hit itself, it was intentional after the final horn went off in the Blue Jackets and Wild game. Wisniewski was coming to the aid of defensemen Fedor Tyutin, after Cal Clutterbuck stirred the pot. It may have been a minor penalty at the time, but right now it negatively impacts the new look blue line in Columbus.
Protecting your teammates is one thing, being irresponsible is an entirely different story. May this be a lesson learned, certainly not the first time for the 5'11 defensemen, but hopefully the last. The Blue Jackets are counting on the services of the Canton, Michigan native, but will have to wait for almost the entire first month of the season to officially welcome him to their lineup.
As for Brendan Shanahan, his strict policy is a welcomed addition to the National Hockey League. Players are getting bigger and faster, the rink size hasn't changed. Hopefully the Three-time Stanley Cup Champion with the Detroit Red Wings is getting his point across.