The following essay was submitted to The Hockey Writers by Calvin White in response to our earlier piece, "Why the Blues Should Sign Jaromir Jagr," written by our own James Gaughan.
While non-sports fans will not care, nor even know about, NHL legend Jaromir Jagr's so-far-failing quest to play another NHL season in which he will turn 46 years old, and sports fans will have a restricted view that it is a "hockey" stalemate, perhaps there is a deeper societal issue at play.
Currently, we are all hyper-alerted to how racism, sexism, and identity discrimination emerges, and the raucous denunciations are quick to result. Maybe with Jagr's plight, we are watching a clear example of ageism. And perhaps, a bit of ethnocentric discrimination.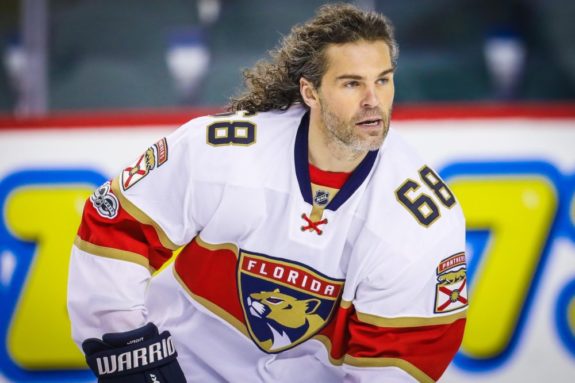 Jaromir Jagr's Worth
Jagr is, and has been, a phenomenon. He continuously garners terms like legendary, ageless wonder, incredible, and exemplary. No one disputes his level of physical fitness and his attitude to game preparation. With the second highest number of career points in NHL history, he is acknowledged as a certain first ballot Hall of Famer.
This past season he scored 16 goals and played all 82 games while having to play with a variety of line-mates due to injuries to his normal ones. The previous season he scored 27 goals in 79 games. The past two seasons his plus/minus is positive, which means he has been on the ice for more goals for his team than against. Stats show his puck possession is strong, and all commentators mention how difficult it is to get the puck from him due to his lower body strength and his experience. He seldom misses games from injury.
This past season, he made sports highlight reels with a "wow" play in which he stole the puck behind the net from 25-year-old defenceman, Josh Manson, of the Anaheim Ducks and in several nifty moves scored an unassisted goal.
So, obviously, the stellar Jagr can still play at an elite level. In addition, all reports say that teammates like him, that he shares knowledge abundantly, that his attitude in the locker room is great and that he inspires. So, too does he draw fans.
Ageism Hurting Jagr
Yet, as the off-season moves closer to training camps, no teams are making offers to sign him? Lesser players, by anyone's assessment, are being signed and at rewarding salaries and contract term lengths, while Jagr is not getting a sniff. Something is amiss! And it's the age factor. Not age as in can't do it hurts the team, but in age as age.
Simply put, it bothers NHL coaches and management that someone so old can compete so well in a "young man's" game that is riding on the impending glories of young superstars, Connor McDavid -20 years old and Auston Matthews – 19 years old. It's bad for the brand, so to speak.
This last season, for instance, a reporter asked Jagr if he would have a 45-year-old playing on the number one line of the Kladno team that he owns in the Czech premier league. Such a disrespectful question clearly embarrassed him, and he replied that coaches make line decisions. The question was ageist because it directly implied there was something wrong with a 45-year-old being in such prominence. Imagine if the reporter had asked a black or gay player the same question.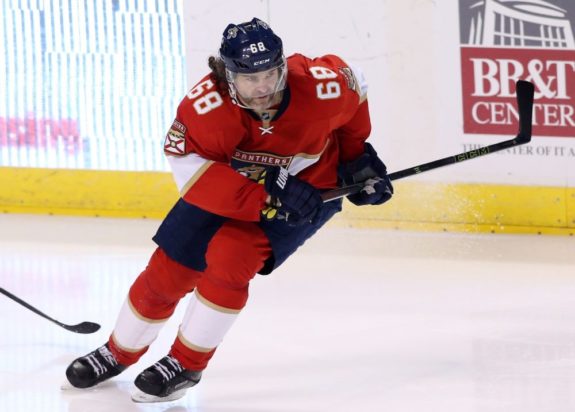 As well, many in the coaching and management circles are former players. It is not a stretch to wonder if it galls them that Jagr can keep playing at such a high level and that he wants to keep playing rather than "bowing out gracefully" which they all were forced to do because of diminishing skills or desire. In other words, somewhere in their psyche do they feel he makes them look less than?
Plus, Jagr is a Czech. He's not a good old Canadian boy or an American cousin, but a "foreigner", a Euro. And according to on-air comments by TSN analyst and former goalie, Jamie McLennan who once played with Jagr, he's a fantastic player but a "strange sort of dude". How does all of that sit with the North American old boy's network?
Jagr Deserving of a Spot
Now the one seemingly reasonable explanation offered for the reluctance to sign a player capable of putting up 20 goals and adding to team chemistry and leadership is that Jagr is too slow. Throughout the past season, this was never brought up, but each of his record breaking feats were and the fan adulation was.
Every team has a mix of faster and slower players. The too slow argument would only hold ice if other teams had no skaters of Jagr's speed on their top two lines.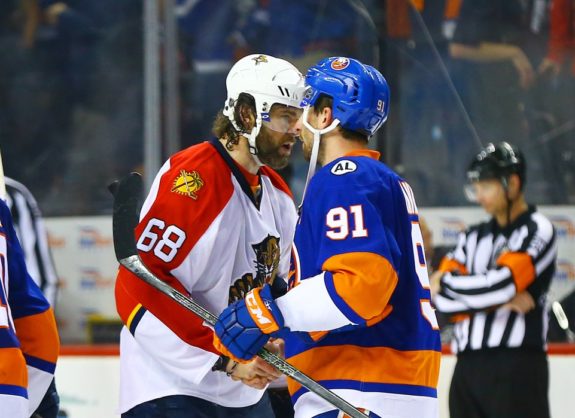 Similarly, the refrain that "we're going younger" sounds good at first glance but falls apart when reality shows that every team wants players who can score 20 goals and not have a negative plus/minus. Everyone also knows that youth does not guarantee year after year performance. No one disagrees that Jagr's pedigree and track record indicate that a 20 goal level in the coming season is a fairly good bet especially with consistent line mates.
A team may still come to its senses and snap up the legend, but right now the only conclusion to be drawn is that there is a distinct prejudice against age.
-Calvin White
Cam is a Broadcast Journalism student at the University of Maryland. He's the Boston Bruins Beat Writer at The Hockey Writers, and is an avid college hockey fan. Find him on Twitter @CamHasbrouck!